Tuesday night was an important win for Jaroslav Halak and the St. Louis Blues.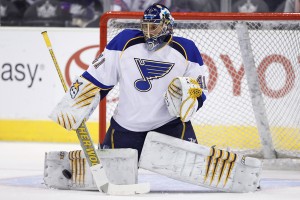 After a disastrous 4-1 loss in Washington on Sunday, the Blues bounced back and were on the good side of a 4-1 score against the Buffalo Sabres. Brenden Morrow scored two goals while Vladimir Tarasenko and Magnus Paajarvi added the others.
But the important story came in goal. Jaroslav Halak, who surrendered three goals to the Capitals on six shots in the first 16 minutes of play Sunday, found himself back between the pipes in Buffalo.
It didn't start out looking like a keen game for the Slovakian netminder. Just 10 seconds into the game, Tyler Ennis tipped in the first goal of the game after a few defensive coverage mishaps from top defensemen Alex Pietrangelo and Jay Bouwmeester.
But Halak was perfect from there, stopping the next 23 shots. His best came just before Morrow's second goal at 14:09 of the second period, which gave the Blues an important two-goal cushion.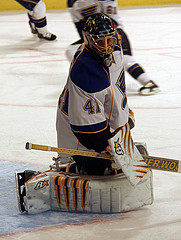 It shouldn't be a surprise that Halak sprung back with such a force. Since the Blues hired Ken Hitchcock on Nov. 6, 2011, Halak has been dynamite when returning to the crease after recording a loss. He has posted a 12-5-1 mark in that time (including a few non-decisions). This season, Halak has logged a 3-0-0 record after his three losses. His .938 save percentage and 1.67 GAA further the point that the Blues goaltender is not to be trifled with after his team loses.
The ability to rebound continues into overtime and the shootout for Halak. In his bounce back performances on Oct. 17 against Chicago (3-2 SO win) and Nov. 5 against Montreal (3-2 SO win), Halak stopped all three shots in overtime and all six shootout attempts. Some of these shooters included Patrick Kane, Jonathan Toews and Brendan Gallagher.
Halak has appeared in 16 of the Blues' 20 games, posting an 11-3-2 record with a .903 save percentage and a 2.38 GAA. He recorded his 17th shutout as a Blue on Oct. 5 against the Florida Panthers, giving him the franchise record.
I am a former NHL media member and reporter for the St. Louis Blues, working for various media outlets. Currently, I am an NHL News Writer and Editor for The Hockey Writers. I live in St. Louis and work as a freelance copywriter in numerous industries.