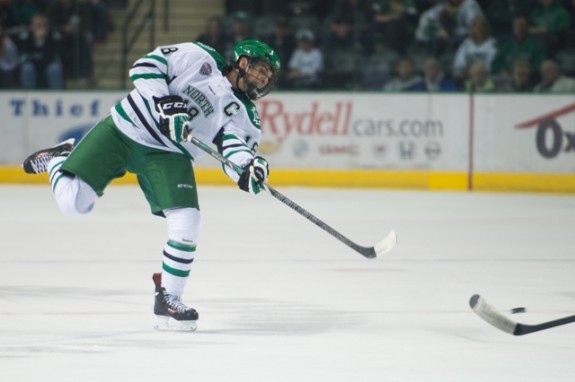 The University of North Dakota Hockey team traveled to Burnaby, B.C. to take part in the Great Northwest Showcase. Other teams participating in the showcase were Princeton University (ECAC), University of British Columbia (CIS) and Simon Fraser University (BCIHL).
Coming into the weekend, the UND coaching staff approached the Great Northwest Showcase as a business trip.
"We're not going on a vacation," coach Dave Hakstol said. "This has to be a valuable part as we build on our second half (of the season)."
Whether the mission was accomplished is another discussion.  Nonetheless, the UND fan base was less than impressed with their team's results in the Great Northwest Showcase. After Friday's loss, UND hockey fans went on social media to express their displeasure with the UND hockey team.
UND experiences rusty after 20-day layoff
First the good news—both games were considered exhibition games and don't count for anything, other than pride. Also, these two games will have no bearing on the Pairwise Rankings. Currently, UND is sitting at 17th in the Pairwise, so the boys in "Green and White" have some work to do to make the NCAA tourney. Regardless of the results, UND still has a five-game winning streak.
Now for the bad news – UND lost the first game 3-2 in overtime to the UBC Thunderbirds. With 1.04 left in the overtime period, Thunderbirds defenseman Jason Yee scored his first goal of the season, spoiling the opener for UND.
Now for the hockey clichés—on paper, UBC was a team UND should have beaten. All game long, UND was a step slow and was outhustled by the pesky Thunderbirds.  In the end, UND's lackluster play would come back to haunt them. Proving a point from earlier in the season, you can't take a shift off. No matter whom the on-ice opponent is.  In retrospect, it also appears that UND might have underestimated their opponent as well.
The UBC Thunderbirds head coach Milan Dragicevic was ecstatic about his program's win over UND.
"This is a huge win for our program," said UBC head coach Milan Dragicevic. "That is a team with a three million dollar budget and 15 NHL draft picks. I give them a lot of credit for coming here and playing, but this is an enormous win for our program"
In the UND locker room, the UND hockey players were unimpressed with their effort in game one. Freshman defenseman Troy Stecher was very vocal about this.  
"I don't know where to start," Stecher said. "We come in here. We're spoiled. We get to go to a Canucks game. We get wined-and-dined last night. We think we're going to walk all over these guys. That was our first mistake and it cost us a hockey game."
Junior Stephane Pattyn's comments seemed to echo Stecher's statements.
Guys weren't ready to play," Pattyn said. "Guys weren't expecting to be challenged here and I think that was our first mistake, starting from our leaders, obviously."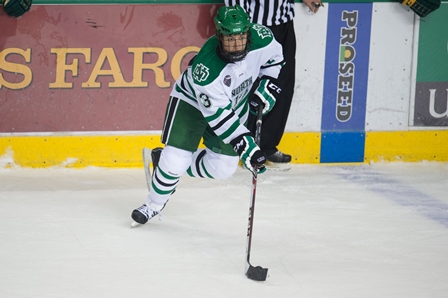 UND better in game two
If there was some positives to take away from the weekend, UND did play better in second game against Simon Fraser.  UND outshot the Clan 51-17 and was all over the Clan forwards and defense. Unfortunately, UND again ran into the proverbial hot goalie, again.
Before the game against Simon Fraser – during the pre-game radio show – UND head coach Dave Hakstol called out a few of his upperclassmen by name.  The UND head coach sounded a bit agitated.
When asked about junior forward Michael Parks, coach Hakstol said "he did not have a very strong game last night."
Moving on!
The radio host then asked the head coach about Mark MacMillan, who's from nearby Penticton, B.C., Hakstol said, "Mark had three good shifts."
The tone had been set. There was no grey area in coach's comments; he was none-too-pleased with his hockey team's effort Friday night. And from the play on the ice, it appeared that the UND hockey team had received that message.
Although, the game was closer than it should have been, UND did get a strong effort from its mobile and active defense corps. Senior captain Dillon Simpson would lead UND with a (2g-1a—3pts). His playing partner, sophomore Jordan Schmaltz, would chip in a (0g-1a—1pts) and was also very good all weekend long.
In the end, you can slice it anyway you want. UND needed a win against Simon Fraser and they got it. That part of the mission was accomplished. Insert cliché, it is what it is.
The negatives of this trip
The trip might have been more costly than an exhibition loss. Sophomore forward Rocco Grimaldi suffered an apparent leg injury that may or may not cause him to miss some time. After the game, coach Hakstol did not seem to think the injury was very serious.
Losing to a CIS team like University of British Columbia did not sit well with the UND hockey team. The effort was not there on Friday night and it was evident from the scoreboard. I would imagine that the coaching staff is concerned about this. If the team can't get up for a game like this, how are they going to get up for a league match-up against Denver or Colorado College?
Lack of focus buries team
If I have seen anything from this year's team that concerns me, it's the lack of focus. Key players, at key times, are taking silly, undisciplined penalties. Goaltenders are not covering their post when they should be. Defensemen are making lazy, across the ice passes that are picked off by the forechecking forwards.
Forwards are not getting the puck deep into the offensive zone when they need too. You also have forwards and defensemen turning over the puck deep, inside the defensive zone that end up in the back of the net. I saw this happen a few times this past weekend. Lastly, if the head coach does not have his team attention now, he might never get their attention. The talent and skill is there, they just need to focus.