On December 29th, the Sharks faced the Anaheim Ducks at home.  Early in the first period, Tommy Wingels crashed awkwardly into the boards.  He had only completed two shifts.  On Saturday, the Sharks announced that they would be placing him on Injured Reserve.  The Tommy Wingels injury is the latest in a growing list of key players sitting out.  Coupled with the injury to Tomas Hertl, the list of names that Sharks fans don't recognize has grown even more.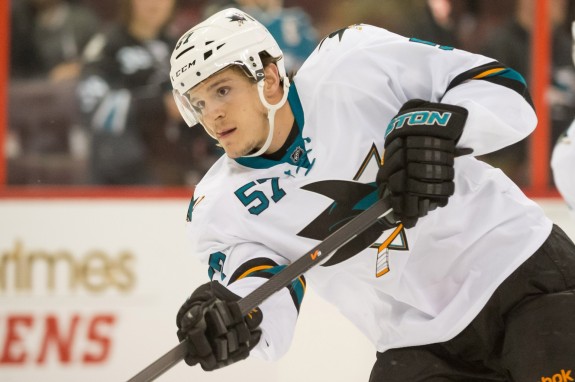 Tommy Wingels Injury and Its Impact
[table id=266 /]
Prior to this season, Tommy Wingels was a very forgettable part of the Sharks roster.  He often floated in between the third and fourth lines.  This season he has grabbed the attention of many (at least on the West Coast) with his maximum effort plays.  His upper body injury has forced the Sharks into a scramble for replacements.  Take a look at the Sharks forward lines for their gritty win on Sunday night:
Pavelski-Thornton-Burns
Marleau-Couture-Nieto
Sheppard-Kearns-Desjardins
Hayes-McCarthy-Brown
When you compare that to the opening night lineup, only eight of the twelve forwards are there.  It can be argued that only five of those skaters are worthy of the top three lines at full strength.  With Hertl, Kennedy, and now Wingels sitting out, the Worcester Shuttle (the nickname of the back-and-forth trips to the Sharks' AHL affiliate) has been busier than ever.
Names So New They Aren't in the Sharks Store Yet
Bracken Kearns and Eriah Hayes.  Two names that have less than 15 games of NHL regular season experience under their belts.  Half of those games (from Kearns) are not even in the Sharks organization!  Kearns played in six games for the Panthers over two seasons but has never gotten extended time in the big show.
Up to the Old Guard Once Again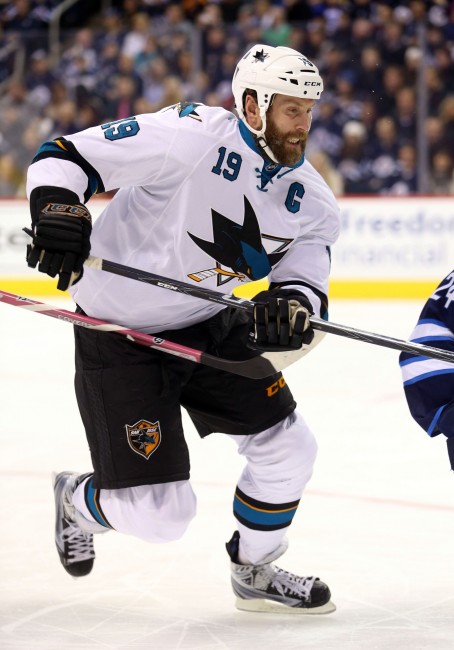 The Tommy Wingels injury takes another young talent out of commission.  Logan Couture is now the only starting forward under the age of 25 that has played more than 75% of the season.  Patrick Marleau and Joe Thornton, get your capes ready.  But the old veterans must now guide this incredibly inexperienced and hurting roster through the tough times.  Jumbo has proven himself thus far by staving off Father Time and leading the league with 43 assists.  He hopes to keep up that rabid pace throughout the time when his young guns are recovering.
As for Marleau, he must continue his quiet production.  It seems as though he strives in the times when nobody is watching him.  The Tommy Wingels injury might change that, but for Team Teal's sake, hopefully I'm wrong.