So far, we've looked at the bottom ten of the top 20 former and current Toronto Maple Leafs who have contributed to their country's success at the World Junior Championships. Players like James van Riemsdyk, Tuukka Rask, and Bryan McCabe are just some of those players who filled out the first half of this four-part series. And whether offensively or defensively, all have had some role in their team medalling at the annual tournament. With the tournament coming to a close, it seems only fitting that we take a look at the top 10.
Now, as we move into the top 10, some of the players named will be – without a doubt – players you'd expect to see on this list. However, there are some surprises and the top five might even shock you. This section of the list features only one current Leaf and two former buds that starred in the 1984 World Junior tournament.
10. Phil Kessel ('05 and '06)
Phil Kessel was part of arguably one of the most questionable trades in Maple Leafs' history. While Tyler Seguin, Dougie Hamilton, and Jared Knight went to Boston, many people including fans questioned Kessel's ability to play in a media savvy market like Toronto.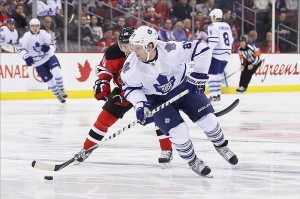 His career in Toronto is much like his career in the World Junior Championships – roughly a point-per-game player without the overall team success. While he's got time to work on that in Toronto, Kessel's two years in the tournament left him without a medal.
As the host country in 2005, the Americans lost to Russia in the semi-finals before losing to Czech Republic in overtime in the bronze medal game. The following year wasn't much different in Vancouver. The Americans were handed a 5-1 loss at the hands of the Russians in the semi finals, followed by a 4-2 loss to Finland in the bronze medal game – leaving them with a second consecutive fourth place finish.
NHL STAT DU JOUR: Since 2008, only the Leafs Phil Kessel (175) has scored more goals than Ottawa's Bobby Ryan (160) among US-born players.

— Stan Nieradka (@smn013) January 3, 2014
Kessel, however, had individual success finishing first in tournament scoring with 11 points (1g-11a) in seven games. Yet, he wasn't named to the first all-star team and was topped by Evgeni Malkin for the top forward award. Leaf fans hope that Kessel can continue his upward climb and lead them once again to the promise land.
WJHC Stats: 14GP 5G 12A 17PTS 4PIM
WJHC Medals: 0G 0S 0B
9. Shayne Corson ('85 and '86)
In 1985, Team Canada was the most dominant of any team. Over their seven games played, the team finished 5-0-2 without a single loss in regulation. They outscored opponents by 30 goals in the round robin formatted tournament and finished as the top team – taking home their second gold medal in the tournament's history. It marked the coming out party for one-time Leaf Shayne Corson who had a decent tournament scoring six points (3g-3a) in the seven games.
But it was the 1986 tournament that Corson – who played for the Leafs from 2000 to 2003 – really demonstrated some offensive ability. He led Canada in goals and was tied for the team lead in points and recorded a point in all of the team's seven games. Although Canada finished second in the tournament, receiving the silver medal, Corson led the tournament in scoring with 14 points (7g-7a) and was named to the tournament's all-star team alongside fellow Canadian Sylvain Cote.
As a Leaf, however, Corson never really became an offensive stud. In 197 games, over three seasons, he recorded 74 points (27g-47a). A far cry from his point-per-game average in the tournament.
WJHC Stats: 14GP 10G 10A 20PTS 8PIM
WJHC Medals: 1G 1S 0B
8. Dave Andreychuk ('83)
The 1983 tournament was arguably one of Canada's less dominating years at the World Junior Hockey Championships. Finishing 4-2-1 over the seven game round robin, Canada was topped by Czechoslovakia and the Soviet Union. They finished third and took home the bronze medal.
Dave Andreychuk led the way for the Canadians in that tournament. He finished fifth in tournament scoring with 11 points (6g-5a) – a type of game that he would demonstrate throughout his National Hockey League career.
Andreychuk played for the Maple Leafs from 1992 to 1996 – after 11 seasons with the Buffalo Sabres. During his time with the blue and white, he recorded 219 points (120g-99a) over 223 games including a 53-goal season in 1993-94. He was part of the 1992 and 1993 Leaf teams that came so close to Stanley Cup Final appearances.
WJHC Stats: 7GP 6G 5A 11PTS 14PIM
WJHC Medals: 0G 0S 1B
7. Nikolai Borschevsky ('84)
He scored one of the most memorable goals in Maple Leafs history. But it was the 1984 tournament where Nikolai Borschevsky showed how important he could be to whichever team he played for. As part of the Soviet Union, Borschevsky recorded 13 points (6g-7a) in seven games.
The Soviets went 6-0-1 in their seven games, outscoring their opponents by 33 goals. They cruised to a gold medal win over Sweden defeating them 8-2. It was their fifth tournament championship since 1977. Borschevsky finished tied for fourth in tournament scoring and was named as one of three forwards on the all-star team.
He only played parts of three seasons for the Leafs with his rookie season being his best in the NHL. He recorded 74 points (34g-40a) in 78 games that year, no point bigger than his goal agains the Wings. Although the small winger was only in the NHL for five seasons, he succeeded in becoming a part of history with that goal.
WJHC Stats: 7GP 6G 7A 13PTS 4PIM
WJHC Medals: 1G 0S 0B
6. Russ Courtnall ('84)
Although Russ Courtnall wasn't part of a medal-winning Canadian team in 1984, he did succeed  in demonstrating his abilities offensively recording 13 points (7g-6a) in seven games and finishing fourth in tournament scoring. Canada finished fourth in the tournament and didn't medal for the first time since 1981.
Courtnall would continue his offensive success during his time with the Leafs. Drafted seventh overall by the Leafs in 1983, he recorded 218 points (90g-128a) in 309 games for the blue and white between 1983 and 1989 when he was moved to the rival Montreal Canadiens.
WJHC Stats: 7GP 7G 6A 13PTS
WJHC Medals: 0G 0S 0B
Also check out Part 1 (#20-16), Part 2 (#15-11) and Part 4 (#5-1).
For questions or comments, you can follow Andrew on Twitter @AndrewGForbes or on Google+