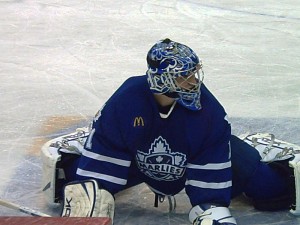 It's finally time to unveil the top five former Toronto Maple Leafs to play at the World Junior Hockey Championships. This short list of players includes no current Leafs and might surprise some of you. But without further adieu, here's a look at five of the most impactful players to don the blue and white after playing for their country in the under-20 tournament.
5. Justin Pogge ('06)
As the host team in 2006, Canada had a step up on every other country in the World Junior Hockey Championships – their goalie. His name was Justin Pogge. The 19-year-old demonstrated skills well beyond what was expected from the 2004 Maple Leafs' draft pick.
However, he impressed the entire tournament. He backstopped his country to a gold medal in his only world junior tournament – Canada's 12th medal in the tournament's history.
Pogge only gave up six goals in the tournament including shutting out Finland in the semi-finals and Russia in the gold-medal game. Even with his outstanding numbers – including a .952 save percentage – Pogge didn't receive recognition as a tournament all-star or as the tournament's top goaltender. Instead those honours went to Finland's Tuukka Rask – another former Leafs' draft pick that was traded to the Boston Bruins.
WJHC Stats: 6GP 6W 3SO 6GA 1.00GAA
WJHC Medals: 1G 0S 0B
4. Jason Allison ('94 and '95)
Originally drafted by the Washington Capitals in 1993, Toronto-born Jason Allison found his way to his hometown team late in his career. But before all that, he played two years in the World Junior Hockey Championships.
In 1994, Canada finished the tournament with a 6-0-1 record. They went on to win their seventh tournament title and Allison finished tied for third in the tournament's scoring with nine points (3g-6a).
But it was 1995 when Allison really demonstrated his abilities. He finished the tournament with 15 points (3g-12a). He led Canada in assists and still holds Canada's record for most assists in one WJHC. Canada went on to win gold for the third consecutive year. It was their eighth all-time and third of five straight gold medal finishes.
Allison tied for first in tournament scoring in 1995 with teammate Marty Murray and was named to the all-star team along with three other Canadians. Allison finished his NHL career with the Leafs in 2005-06 scoring 60 points (17g-43a) in 66 games at the age of 30.
WJHC Stats: 14GP 6G 18A 24PTS 8PIM
WJHC Medals: 2G 0S 0B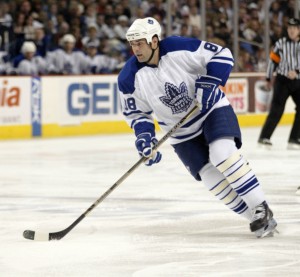 3. Eric Lindros ('90, '91 and '92)
Eric Lindros is one of the few former Leafs who played in three World Junior Hockey Championships. As part of the Canadian squads from 1990 to 1992, Lindros demonstrated a strong offensive presence – one that he would carry into his career as an NHL power forward.
In his first year, his squad went 5-1-1 in their seven games. They topped the Soviet Union and Czechoslovakia to take home gold – their fourth in tournament history. Lindros scored four goals in the seven games, but didn't have much of an affect on his team's outcome.
The 1991 tournament was a different story. Lindros unleashed 17 points (6g-11a) on Canada's opponents and helped his country win their second straight gold medal. He led Canada in points and finished second in the tournament behind only Doug Weight. He was named a tournament all-star winning his second career WJHC gold.
He was named team captain in 1992 and remains the only player to lead Canada in points in two tournaments (1991 and 1992). While Canada finished sixth in 1992, Lindros went on to be a big part of the Philadelphia Flyers in the NHL and later a part of the Toronto Maple Leafs. There isn't much question whether or not concussions ended his career early – but when he was on the ice he was a dominant player.
WJHC Stats: 21GP 12G 19A 31PTS 32PIM
WJHC Medals: 2G 0S 0B
2. Alexander Mogilny ('87, '88 and '89)
He was one piece of one of the more lethal lines the Leafs have seen in some time – Mats Sundin, Darcy Tucker, and Alexander Mogilny. For three seasons, he found a way to put the puck past the opposing goalies for the blue and white. But it was the three years that he spent in the World Junior Hockey Championships that solidified his place as a Russian sniper.
In his first tournament in 1987, Mogilny five points (3g-2a) in six games. The Soviet Union didn't medal. In fact, they were disqualified along with the Canadians for a brawl that lasted for roughly 20 minutes including having the lights turned out throughout the arena.
Mogilny, however, made a name for himself in the 1988 tournament. He recorded 18 points (9g-9a) in 7 games helping the host Soviets win a silver medal in Moscow. He led the tournament in scoring and was named to the all-star team, a hint of what was yet to come.
He continued his offensive success the following year in 1989 when he recorded another 12 points (7g-5a) in his country's seven games. The Soviet's won their eighth gold medal at the tournament. Mogilny tied for fourth in scoring and would go on to represent his country in the National Hockey League for 17 seasons including 176 games for the Maple Leafs.
WJHC Stats: 20GP 18G 17A 35PTS 10PIM
WJHC Medals: 1G 1S 0B
1. Robert Reichel ('88, '89 and '90)
Who would have guessed that Robert Reichel would top the list of 20 best Maple Leafs ever to play at the World Junior Hockey Championships? Going in, I certainly didn't expect it. But the former NHL centre – who played 3 seasons with the Leafs – definitely opened the eyes of scouts at his three WJHC tournaments from 1988 to 1990.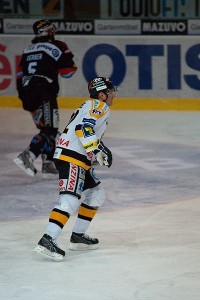 As part of the fourth place Czechoslovakian team in 1988, Reichel had 11 points (3g-8a) in seven games. He finished tied for fifth in tournament scoring and topped his team in scoring that year.
In 1989, his offensive output dropped eight points (4g-4a) in seven points, but his country finished in third giving them their first of two straight bronze medals. Again, Reichel was held off the tournament all-star team, but had an impact when it came to his team's overall standing.
But it was in 1990 that Reichel absolutely dominated at the tournament. The Czechs were led by Jaromir Jagr, Bobby Holik, as well as Reichel, on their way to finishing third and capturing a second straight bronze medal.
Reichel, however, also found individual success that year racking up 21 points (10g-11a) in only seven games and finishing first in tournament scoring over fellow countryman Jagr (18). He was named a tournament all-star in his final year at the event before joining the NHL where he played in over 800 games, recording 630 points.
WJHC Stats: 21GP 18G 22A 40PTS 10PIM
WJHC Medals: 0G 0S 2B
Also check out Part 1 (#20-16), Part 2 (#15-11), and Part 3 (#10-6).
Any questions or comments, we'd like to hear from you or you can follow Andrew directly on Twitter @AndrewGForbes.