As the Scotiabank Saddledome stands rapidly emptied following a 5-0 Calgary Flames loss at the hands of the St. Louis Blues, the newest Flame sat in his locker room stall, attempting to process the night's events.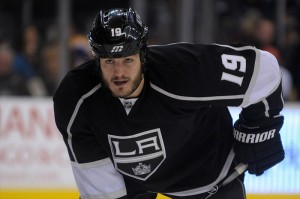 Acquired on December 30 from the Carolina Hurricanes, Kevin Westgarth was brought to Calgary to provide some size, physicality, and likely a different energy to the locker room. The Princeton graduate also brings a Stanley Cup ring to town, a souvenir from his tenure with the Los Angeles Kings. But after five games (and four losses) in a Flames uniform, that championship seems a distant memory as Westgarth describes the Flames' 23rd loss of the season.
"They're [the Blues] obviously a team that's kinda clicking right now and they've got a solid squad, but we didn't take advantage of a lot of our chances and once you get down on a team like that, they're going to be playing solid defensively and we didn't play the way we had to in our own end," said Westgarth. "It was good to see everybody from top to bottom pushing back and getting pissed off, but it's pretty crappy consolation right now."
The shutout is the team's sixth loss in their last seven games, and the fifth game since Christmas in which the team has failed to register even a single goal. And while the Flames out-shot the Blues – a rarity this season – they failed to score first. Frustration evident in his voice, Westgarth noted that the team needs to be better in their own end in order to be successful.
"We gave up way too much defensively. Our goaltenders have been playing well for us and we're just not helping them enough. We owe each other a lot more in this dressing room. We owe.. even the fans deserve more than we've shown the last couple games," said Westgarth.
Since Christmas, the Flames have been out-scored by a 24-5 margin. And while different factors have played into many of the deficits the club has faced, against St. Louis a major difference was the Flames power-play. Calgary failed to score on six man advantages (the Blues scored twice on their six tries), generating just 10 shots in 12 minutes of power-play time. Following the game, head coach Bob Hartley noted that confidence remains a hurdle for his team.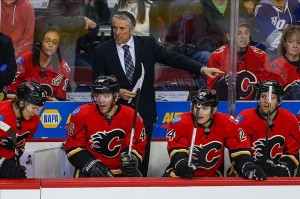 "Right now, the net is awfully small for us. That's a result of not scoring. Obviously our confidence is really minimal right now and, defensively, it seems that every time we make a mistake, the puck is in the net," said Hartley.
Despite the "re-build" label on the Flames franchise, Hartley has remained steadfast about maintaining a certain standard of play for his club. While his team may occasionally get schooled by the NHL's elite, such as St. Louis, he noted that these experiences are part of the learning process for a team with many young players.
"They're tough lessons, but that's going to make us better," said Hartley. "I want to see the compete level of the 20 guys in the line-up on every game. We will not accept mediocre commitment. Obviously the results are not what we want to be, but at the same time, we will not lower the expectations of this organization at any point."
Westgarth echoed the sentiments of his new coach.
"These are top teams we're playing," he noted. "That's our measuring stick. That's where we want to be and that's kinda what [ticks] us off the most. We can't get down after letting up a couple, no matter how they come. If it's a solid goal or a couple bad bounces, whatever it may be, we have to band together and make sure it doesn't happen, and doesn't snowball from there, and we've seen the last couple games and it's just unacceptable."
There was very little booing by the Saddledome crowd during the loss to St. Louis. That may be a sign that, like the fans three hours up the road in Edmonton, Flames fans are preparing themselves for the growing pains of a rebuild. That sentiment was not shared in the Flames locker room, as the players – just weeks removed from a 4-3 shootout win over these same St. Louis Blues – refuse to simply shrug off another sub-par result.
However, with the NHL's March 5 trade deadline gradually approaching – and trade rumours swirling regarding Calgary's many pending free agents – one wonders how many more sub-par results Flames players and fans will have to sit through before the season is through.
Ryan Pike has covered the Calgary Flames and the NHL Draft extensively since 2010 as a Senior Writer for The Hockey Writers and Senior Contributing Editor of FlamesNation.ca. A member of the Professional Hockey Writers Association, he lives in Calgary.