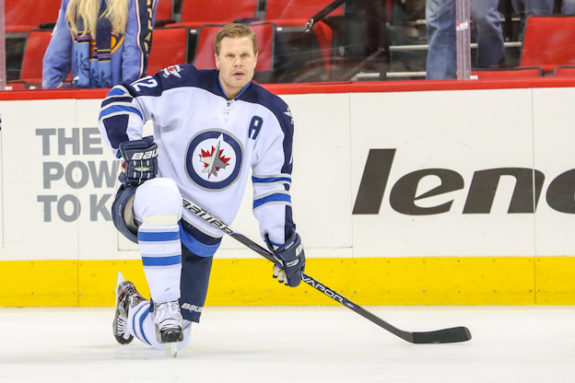 Four Winnipeg Jets players will be competing at next month's Winter Olympics.
6 days after right winger, Blake Wheeler was named to Team USA on New Year's Day, the final Olympic roster announcements for were made. Following the various announcements, it became official that Olli Jokinen, Ondrej Pavelec, and Michael Frolik will join  Wheeler as Olympic Jets and head to Sochi, Russia in a few weeks.
Jokinen, the eldest Jet, will don the Finland white and blue for the 17th time in his career(includes: World Junior Champions, World Cup, World Championships, Olympics) and fourth in the Olympics. In those 19 different tournaments Jokinen was been apart of 9 medal winning Finland squads, including a bronze medal four years ago in Vancouver and a silver medal in Turin, Italy in 2006. Internationally, the Kuopio, Finland native has 81 points in 121 games for Finland. 18 of those contests were in the Olympics where Jokinen tallied 15 points (11 goals and 4 assists).
Along with previous international success for his homeland, Jokinen also continues to provide offensive value, even though he's in the latter half of his hockey career.
The 35-year-old is fifth on Winnipeg in scoring through the team's first 46 games as the second or third line centre on most evenings for the Jets. Of the 19 Finnish NHLers who've played in the league during the 2013-2014 season, Jokinen is fourth in points with 28, trailing Pittsburgh's  Jussi Jokinen (no relation), Minnesota's Mikko Koivu and Tampa Bay's Valteri Fippula, who all named to the team as well.
Finland has an older roster with the likes of Jokinen and Anaheim Ducks winger Teemu Selanne on their Sochi roster, but young guns like Minnesota's Mikael Granlund and Florida's Alexsander Barkov should provide a youth spark to counteract younger teams like the United States and Canada. Jokinen is certainly deserving of his spot and should be a key contributer as the Finns attempt to earn their first gold medal at the Olympics.
Czech it!–Pavelec and Frolik headed to first Olympics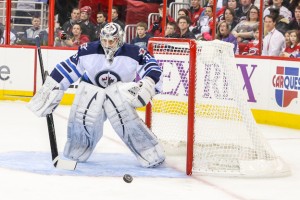 In addition to Jokinen and Wheeler the only two Kladno, Czech Republic natives on the Jets are headed to Russia in February.
Ondrej Pavelec will be the only current NHLer between the pipes for the Czechs and is likely to get the starting job over former NHLer Alexander Salak and Jakub Kovar, who currently plays for the Yekaterinburg Automobilist of the Kontinental Hockey League. Kovar and Pavelec were also teammates at the 2005 World Under 18 Championships and the 2007 World Junior Championships.
Winnipeg's starting netminder has played 35 of the Jets 47 games thus far and holds an 11-19-4 record, which are all bests amongst NHL Czech goalies this season. In his previous five appearances for his native land, Pavelec has played in 21 games posting a 16-10-0-1 (W-L-T-OTL) record. Pavelec was basically a lock as he is the most experience professional netminder the Czechs had as a candidate for the Sochi games.
Frolik has appeared in 46 games for Winnipeg this season, and is seventh in all major statistical categories with nine goals and 15 assists this season playing primarily on the third forward line for the Jets. Among Czech NHLers, Frolik ranks in the top 12 in goals, assists and points and has fired the 10th most shots on goal by any Czech in the NHL this season.  Like Pavelec he's appeared in five previous international  competitions and he's played 38 total games for his homeland. In those 38 games, the winger has 17 goals and 6 assists.
With his previous international and professional track record, Frolik was also a more than likely candidate to head to Sochi with the Czechs. Frolik is a part of the younger echelon of Czechs who will make up their country's hockey team at February's games.  With the likes of Jaromir Jagr headlining the squad, Frolik should be able to provide depth scoring much like he's done since arriving in Winnipeg.
Ladd Left Off Team Canada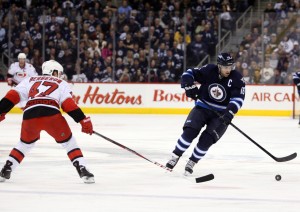 With the Olympic rosters all announced and essentially etched in stone, the main Olympic hockey talk switched to who was left off of their homeland's roster.
Not lost in the discussion is the absence of any Winnipeg Jet on the franchise's home country, Canada as the Jets are one of seven Canadian NHL franchises and have 14 Canadians on the current roster. Despite over 50% of the club's made up of Canadians, only captain Andrew Ladd was invited to Hockey Canada's Sochi orientation camp last August, greatly narrowing the odds that a Canadian Jet would be headed to Sochi.
With last Tuesday's announcement in Toronto, it became official that that would the case as Ladd was left off of the final roster. In all 47 games this season, the Maple Ridge, British Columbia native has tallied 30 points and his 20 assists is good for third on the Jets.
When compared with the 433 other Canadians in the National Hockey League, Ladd's point total has him tied for 36th. The only four Canadian forwards headed to Sochi who have fewer point totals this season are Jeff Carter, Patrice Bergeron, Rick Nash and Steven Stamkos. Of those four, only Carter and Bergeron have played in all of their team's games this season. Ladd wasn't the only forward the Hockey Canada brass "snubbed" last Tuesday. Even top 20 point getters like San Jose's Joe Thornton, and Tampa Bay's Martin St. Louis were surprisingly left off.
Like many of his fellow countryman, Ladd didn't necessarily fall short statistically, but just lost within the plethora of professional hockey talent that Canada had to choose from, and prior to Winnipeg's 4-2 loss against the aforementioned Tampa Lightning, Ladd echoed similar sentiments when he spoke to reporters.
"Tough to be cracked," Ladd said when referring to the final roster. "There's a lot of great talent in this country, and a lot of great players."
Ladd added that even he didn't think he had played up to a worthy enough standard to make the final cut.
"I don't think I've played up to my standards so I guess I didn't really have an expectation to be named (to the final roster), but we hope they bring back gold for sure."
When asked why he didn't think his play this season had lived up to his own standard prior to the announcement, Ladd put it simply.
"I think its been a little inconsistent at times. It's not that I haven't tried to be consistent, but I think it's been frustrating from the standpoints of trying to get my best game every night, and I'll keep trying to do so."
He has played in four previous tournaments for his native land and in the 29 contests compiled 7 goals and 11 assists. One area where Ladd could make his greatest case, is his professional level postseason experience. The left winger has been apart of two Stanley Cup winning teams, with the Carolina Hurricanes in 2006 and the Chicago Blackhawks in 2010. Playoff experience is far from an earth shattering factor, but with the games in North America's biggest rival, it will likely be a hostile, playoff-like atmosphere, especially in the later rounds.
I've been a sports fan since before I can remember and although different from many of my southern peers, hockey has always been first (at least since 1999).
I am a junior at the University of Georgia majoring in digital and broadcast journalism and political science. In addition to The Hockey Writers and Sunbelt Hockey Journal, I have written for UGA's student newspaper, The Red and Black and wrote for my high school paper, Grayson High School's the Green & Gold. I was also a stringer for the Macon Telegraph during the 2012 college football season. I am now a student assistant with Georgia Sports Communications. Outside of school and writing, I play on Georgia's club hockey team, the UGA Ice Dogs in Division III of the American Collegiate Hockey Association.