At least one Winnipeg Jet will compete at the 2014 Sochi Olympics.
That became fact  when Team USA announced their  final  roster for next month's winter olympics in Russia as the Jets' Blake Wheeler was named to the final 26-man roster for the Americans.
For Wheeler, this will be the third time he will don the red, white and blue for Team USA and first in the Olympics during his hockey career. Wheeler previously played for his home country in the 2006 and 2011 World Championships. In 14 total games for the Americans, Wheeler has tallied four goals and three assists.
In National Hockey League play this season, Wheeler leads Winnipeg in multiple offensive areas  with 15 goals overall, five power play goals and his three game winners are tied for first with Evander Kane. His 31 overall points are tied for second on the squad.
Wheeler worthy of spot?
Immediately after the announcement of the final roster, it became clear that there were notable absences including two of the top five Americans in scoring this NHL season in right winger Kyle Okposo of the New York Islanders and center Bobby Ryan of the Ottawa Senators.
Among the 191 Americans who've played in the 2013-2014 NHL season, Okposo ranks second in points, seventh in goals, and third in assists. Ryan is fifth in points, fourth in goals and 13th in assists in NHL American scoring.
Wheeler  is top 10 in multiple offensive categories among American NHLers. The Minnesota native is seventh in points, tied for ninth in goal scoring, and tied for eighth in game winning goals with three this season. Of the players who made the final roster, Wheeler ranks fifth in points, sixth in goals, and tenth in assists.
Comparing Okposo and Ryan with the 22 players headed to Sochi, Okposo's 16 goals, 26 assists and 42 points total ranks fifth , third, and second, respectively.  Ryan comes in at fourth, seventh and fourth in goals (18), assists (18) and points(36), respectively. Both forwards have scored more than Wheeler this season, but USA General Manager David Poile stated multiple times leading up to and after the final roster announcement that stats weren't the sole determinant for making the final squad. Wheeler has more assists and points than Ryan and although Okposo leads Wheeler in all NHL statistical categories this season, Wheeler has more pro level experience with 372 NHL games compared to Okposo's 319.
Ryan was one of three members from the 2010 Silver medal squad not to make the 2014 team and neither Wheeler nor Okposo have previous Olympic experience.
Looking at the numbers, Wheeler is worthy of the spot as he is in the elite among Americans in the NHL this season and top ten in all three major statistical categories when compared with his fellow Sochi teammates.
Jets Snubbed from Olympics?
Wheeler was not the only American from the Winnipeg Jets roster invited to USA Hockey's Olympic camp this past August as defensemen, Dustin Byfuglien, Zach Bogosian, and Jacob Trouba also attended the two week camp in Arlington, Virginia.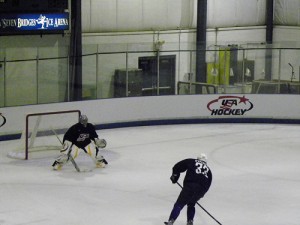 Of the three Jets not to make the final USA roster, Byfuglien has the best case to be dubbed a "snub." Statistically speaking, Byfgulien has 31 points (eight goals, 23 assists) in 43 games for the Jets this season. Comparing Byfuglien to Team USA, Byfuglien has more total points  and goals than any of the final eight defenseman heading to Sochi. The Minneapolis, Minnesota native also has played in all of his team games this season, something only five of Team USA's defenseman have done. Where Byfuglien falls short of the final squad is in the plus/minus category. His -11 rating is 73rd among 78 American born defenseman in the NHL this season. Byfuglien also has never appeared for Team USA in any major international competition, and all of the final eight defenseman have at some point in their careers.
Bogosian and Trouba were longshots to make the squad as they were both in the younger echelon of the defenseman invited to Olympic camp. Bogosian was the sixth youngest defenseman on the camp roster and had played in only one international competition for the USA prior to last August's camp.
Trouba has had a plethora of international experiences with Team USA and has medaled in four of the five tournaments he's played in with Team USA, including last year's World Junior Championship Gold Medal squad where he tallied four goals and five assists. Being the second youngest defenseman, only older than Nashville's Seth Jones, Trouba doesn't have nearly the professional experience that the final roster has. Both Bogosian and Trouba have also had major injury stints, playing in 27 and 26 games, respectively, for Winnipeg this season. Only Paul Martin, Brooks Orpik , and Kevin Shattenkirk haven't played in all of their NHL club's games played this season of the American defenseman headed to Sochi.
I've been a sports fan since before I can remember and although different from many of my southern peers, hockey has always been first (at least since 1999).
I am a junior at the University of Georgia majoring in digital and broadcast journalism and political science. In addition to The Hockey Writers and Sunbelt Hockey Journal, I have written for UGA's student newspaper, The Red and Black and wrote for my high school paper, Grayson High School's the Green & Gold. I was also a stringer for the Macon Telegraph during the 2012 college football season. I am now a student assistant with Georgia Sports Communications. Outside of school and writing, I play on Georgia's club hockey team, the UGA Ice Dogs in Division III of the American Collegiate Hockey Association.