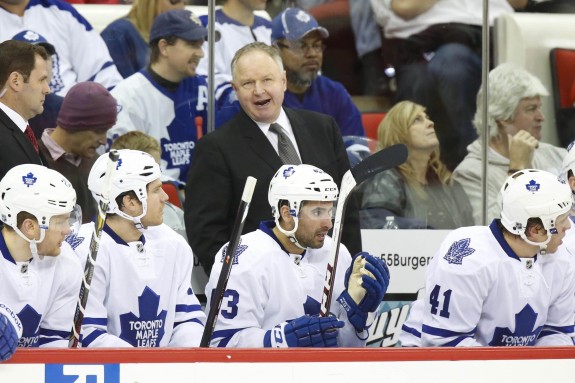 Randy Carlyle has taken the brunt of the fault for any struggles the Toronto Maple Leafs have endured during his tenure as the team's head coach. Now that the Maple Leafs have won in regulation just four times over their last 32 games, Carlyle's name is popping up everywhere. So we must wonder, is Randy Carlyle about to find himself unemployed?
After Friday's 3-2 loss at the hands of the Washington Capitals, the Maple Leafs sit last in the league in shots against per game, 27th in penalty kill and average almost three goals against per game, 2.98 to be exact. The Leafs aren't doing much better offensively. They sit 25th in shots for per game, in the bottom half of the league in terms of goals for per game and have scored just seven goals in the four contests that have followed the Winter Classic — an average of 1.75 goals per game.
Is Randy Carlyle's job in jeopardy?
Some would be quick to say Leafs general manager Dave Nonis should make a trade and bring in the scoring centre the team has long yearned for. However, as TSN hockey insider Darren Dreger noted on a recent edition of SportsCentre, fans shouldn't count on anything soon.
"It could be something small or it might not be anything at all given the tight economics around the National Hockey League and how difficult it is to find a trade partner," Dreger noted. "The reality is, if the level of compete matched the level of frustration around the Toronto Maple Leafs, this team would be doing a lot better than it is right now."
There you have it —  all the Leafs need to do is show their frustration on the ice. But we must remember that even if these guys are being paid millions of dollars to play hockey and are considered professionals, they are still human beings. Not everyone is capable of motivating themselves to the point where they can make a strong playoff push in the NHL. So who needs to implement the system, create an approach and motivate their players to show what they really have?

You guessed it: the coach. In this case, it's Randy Carlyle.
Switching his segment from Leafs trade talk to a bit on Carlyle, Dreger had this to say: "As for those screaming for a coaching change at the moment, that seems very unlikely. In fact, I don't see that happening at all in-season. Things would have to completely come off the rails for the Leafs to consider that."
That's pretty understandable; it's difficult for players to adjust enough to a new coach in-season that they can completely turn things around and create a new identity especially this deep into the season. But just because they won't Carlyle him in-season doesn't mean nothing will happen at all.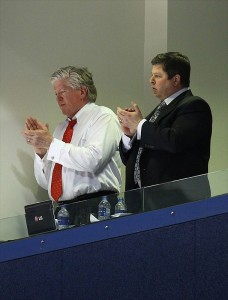 "Off-season, if this team doesn't qualify for the post-season, then I think that's a completely different animal," Dreger continued. "It would be a full organizational review."
So might Randy Carlyle be sent packing by the Maple Leafs this season? It certainly seems possible based on comments made by Darren Dreger, but those same comments suggest that Nonis isn't in any hurry.
Should the Maple Leafs fire Randy Carlyle?
We know that Randy Carlyle's job is probably in question within the Maple Leafs organization. Nonis isn't ready to fire him yet, but there will be some type of evaluation in the off-season.
Continuing with Dreger's comments, there was one line that really stood out. He said, "It's almost as if this organization is looking for its identity to return." As he finished that quote, Dreger noted Dave Bolland as the possible identity the team needs. But is it really plausible that — with all due respect to Dave Bolland — a bottom-six forward, sometimes overrated second-liner, could provide the answer? Not really.
A team's identity starts with its coach — a style of play, a system and an approach to both the style and the system. Carlyle's is clear: stay-at-home defence and puck movement. One problem, the NHL is quickly moving away from the defensive style of play, and creating scoring chances, including shooting for a rebound or intentionally shooting the puck wide off the boards, is becoming much more prevalent.
Unfortunately, Carlyle doesn't seem to recognize that and Dave Nonis continues to make moves that are meant to benefit the coach but don't.
TSN's other well-known hockey insider, Bob McKenzie, recently went on TSN radio to discuss the Maple Leafs' situation. He noted the number of trades and signings completed by Nonis that have brought in players who supposedly compliment Randy Carlyle's way of coaching. That creates more problems than just the obvious one.
https://twitter.com/Hope_Smoke/status/421766782308057088
So how about this: if you plan on keeping Carlyle around for the rest of the season, don't complete any more transactions that are meant to create a roster he can more easily work with. The Maple Leafs' roster already consists of plenty of Carlyle-type players, or at least enough that he can make it to the playoffs with. See what he can do with this roster and make a decision at season's end if nothing else.
Take a look at these tweets, all from the great @Hope_Smoke, and try to find the common ground:
https://twitter.com/Hope_Smoke/status/421784316591341568
https://twitter.com/Hope_Smoke/status/421764555329765377
https://twitter.com/Hope_Smoke/status/421764912407646208
https://twitter.com/Hope_Smoke/status/421769171396227072
Did you find it yet? Everything above all comes down to coaching.
A lack of compete by a professional sports team is generally a decent indicator that the coach has lost the team in the room. McKenzie's comment on the Leafs' "defence-first mentality," something that everyone can see isn't working, goes straight to coaching. McKenzie is also correct when talking about Jake Gardiner. Leaving the young defenceman in the press box won't do him any good, especially when the Maple Leafs could be making great use of his skills. Finally, CBC's Elliotte Friedman gives a perfect example of how Carlyle is failing to maximize the Leafs' roster. Another example of this came Friday night when David Clarkson was on the ice in the final minute while the Leafs attempted to tie the game. The same David Clarkson that averages 0.09 goals per game.
Would firing Carlyle fix everything for the Toronto Maple Leafs? Most certainly not; however it is highly unlikely it would send them in a worse direction than they're currently headed.
It doesn't take much to see that Randy Carlyle's time in Toronto is expiring.
Follow Lukas (@LukasHardonk) on Twitter for more Maple Leafs coverage. Also 'Like' THW Maple Leafs on Facebook and follow along on Twitter (@THW_MapleLeafs).
Lukas, a student at the University of Ottawa, covers the Toronto Maple Leafs on a part-time basis for The Hockey Writers. Contact Lukas at lukas.hardonk@gmail.com or follow him on Twitter, @LukasHardonk.