The French city of Rouen, the historic capital of Normandy, is hosting the finals of the IIHF's Continental Cup.
The first day of the games has been eventful and full of surprises. The favorites, the Ukrainian "Donbass" (title defenders) and the local "Rouen Dragons" (previous title holders) have met merciless opponents represented by "Stavanger Oilers" from Norway and the Italian team of "Asiago Hockey."
The first game of the day, "Donbass" vs "Stavanger Oilers", showed that nobody, even the incumbents, could hope for finding easy pray. The Norwegians scored first at the end of the first period (Juha-Pekka Koikas) and the Ukrainians have managed to make the score even only by the end of the second period (Jan Kolar), although "Donbass" dominated the game. The third period brought an equal exchange of goals by the teams: Ukrainian scored in the middle of the period (Yevgeni Dadonov) and the Norwegians equaled the score short before the end of the period (Tommy Kristiansen).
No team could make advantage of the overtime and the winner has been established in the shootout, when the luck smiled on "Donbass" (Vaclav Nederost). The "Stavenger Oilers" are not to be reckoned the losers, even though the Ukrainians might well be considered the winners. Just heed the words of the Oilers' coach Petter Thoresen: "We did pretty well in the first period but in the second period they had too many chances and we watched them carry the puck too often. We created chances in the third period and managed to come back. I'm really proud of the good game our guys played against this team."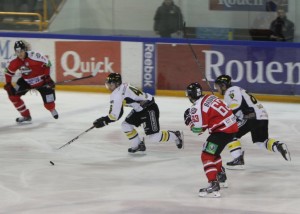 The second game ended disastrously for the home team of "Rouen Dragons". The Italians scored their first goal (Sean Bentivoglio) in the sixth minute of the game playing in minority. In five minutes "Asiago Hockey" converted a centering pass into a goal (Daniel Sullivan) and short before the end of the period the Italians asserted their absolute dominance with a slap shot from the blue line (Lorenzo Casetti).
After the break the French team could not change their bad fate, no matter how hard they tried. Bentivoglio shot his second goal, then came two fast attacks that were ended successfully by André Signoretti and by David Borrelli. The third period merely sealed the result of the first two with no shots on goal ‒ 6:0.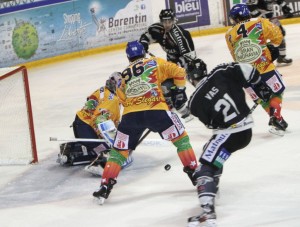 This game's description will not be complete if it does not include the mention that exactly two years ago in Rouen the "Dragons" defeated their Italian opponents with the same 6:0 score.
The Continental Cup finals in Rouen will continue for two more days and they promise to be extremely interesting.