Colorado Avalanche head coach, Patrick Roy, had one simple goal for his team this year, to surprise the hockey world. The Avalanche began the 2013-2014 NHL season as little more than an afterthought for most people around the league. Sure, Patrick Roy provides a sexy story, especially when he's destroying glass partitions, and Nathan MacKinnon will be on the radar during his rookie year as he is expected to be a Calder Trophy front-runner. Outside of these stories, nobody really expected the Avalanche to be more than what they were a season ago, a bottom feeder.
Well, three games into the season for the Avalanche and it might be time to start taking notice. The Colorado Avalanche are now 3-0-0 for the first time since the franchise moved to Denver. There is a lot of credit to be given around the team, but the biggest reason for this team's quick surge out the gates stands in the Avalanche crease, Semyon Varlamov.
Statement Season
It hasn't been a secret to anybody that this season is a make, or break season for Varlamov. The Avalanche gave gave up a decent dowry in acquiring Varlamov a couple of seasons ago in hopes that he would take the opportunity to be the number one and run with it. Unfortunately, even though we have seen flashes of the goalie the Avalanche want him to be, Varlamov has had several peaks and valleys since coming to Denver. In his first full season with the team, Varlamov even lost the starting job to veteran Jean-Sebastien Giguere for a little over a month.
This season is a huge one for Varlamov because is going to have a strong impact on his future with the team. For starters, this is the final year of his current contract, and players always want to put out their best when they know their future paychecks are on the line. More importantly, Varlamov wants to prove his critics wrong and show that the Avalanche were right to give up the draft picks they did in order to acquire him. On that same note, the Avalanche want to be able to say that they were right in this,  as well. The Avalanche haven't had a solid, long-term number one goalie since Patrick Roy retired and I'm sure both the club and the fans are tired of searching. If Varlamov wants to be the guy going forward here, he's got to prove that he can handle it over the course of the season.
The Numbers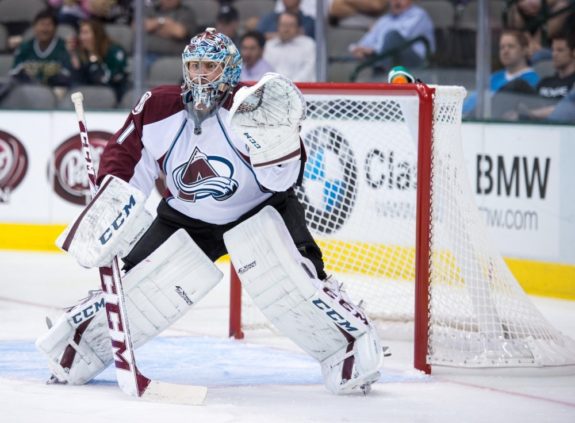 First and foremost, Varlamov and the Avalanche have already done something that last year's team was never able to do, win three games in a row. In and of itself, that is a great omen, but the numbers that Varlamov has posted in these first three wins of the season have been fantastic. In each of the three games played, Varlamov surrendered only one goal. In each of the three games played, he has not given up a goal in the first period. He has also not given up any power play goals thus far.
The numbers are great. Opening night against Anaheim, Varlamov stopped 35 out of 36 shots. Against Nashville he stopped 26 of 27, and in Toronto he stopped 27 of 28. The only goal beating him in Toronto resulted from a melee in front of the net that just as easily could have been blown dead by the official. Varlamov has a 1.00 goals-against average in the young season and a save percentage of .967. Obviously one doesn't expect the numbers to stay on this level throughout the whole season, but the signs are good. If Varlamov can keep the numbers even remotely close to what he has had thus far, the Avalanche will have great success.
The Presence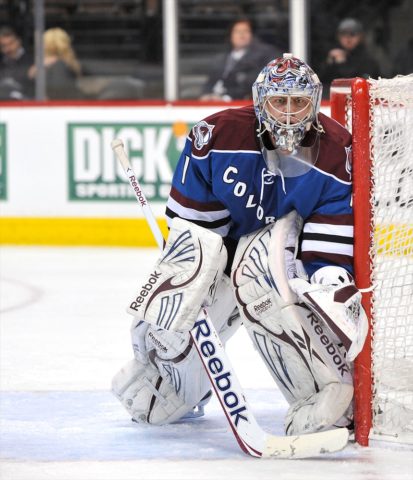 Perhaps the only thing better than the numbers Varlamov is currently producing is how he has gone about doing it. In each of the games played, Varlamov has been tested at key moments where the team needed him to stop some high-quality scoring chances, and each time he has been equal to the challenge. One wouldn't really expect a goalie to be a first star in a 6-1 victory, but Varlamov was on opening night against the Ducks and he earned every bit of it. During the first 10 minutes of that game, Varlamov made multiple saves from point-blank range to keep the Ducks off of the board. It wouldn't have been crazy to think that the Avalanche could have been down two or more goals early in that game, which would have made for a much different story line; but Varlamov kept the team in the game long enough for them to be the ones to find that net. This has been the story in each of the games so far.
In addition to the clutch timing Varlamov has had, there is a much more relaxed feel to his game as a whole. In past seasons, Varlamov had moments of over-anxiousness, where he seemed to react too much and would occasionally pull himself out of position. After working with Francois Allaire, it seems that Varlamov is finally finding that balance of solid positioning to go with his outstanding physical abilities. Coach Roy remarked on Varlamov's game after last night's win in Toronto:
"Right now what I like about [Varlamov's] play is it looks simple," Roy said. "Every time you look at him, it looks easy. He's always square to the shooters, and he's at the right place. He plays a simple game, and I think that's the reason why he's had so much success.

"It was important, I think, for him, for his confidence, to have a win on the road because last year he [wasn't] as successful. In preseason he played a really good game in Anaheim, and tonight he was rock solid at the right time for us."
Right now it's all working for Varlamov. His positioning is great, he's controlling his rebounds well and he couldn't be making bigger saves than he has thus far. The best part about it is it's affecting the rest of the team, as well. Varlamov is confident in his game and the rest of the team is confident in him. This results in better positional play from the defense, which results in fewer defensive breakdowns, which results in fewer high-quality scoring chances against.
Patrick Roy is getting a lot of the credit for the quick start in Colorado, and well he should. He's brought a new mentality and culture to this team that has been missing for years now. But the man who has given the team the opportunity to win games in the fashion they have is the man between the pipes, Semyon Varlamov.
I'm a Denver native who has been a fan of the Avalanche since they came to town and a fan of the game before that. I started writing my own blog a couple years ago before moving to Bleacher Report and becoming a Featured Columnist there. You can also find me the Burgundy Brigade Podcast