Go back in time two years. The Avalanche had just drafted Gabriel Landeskog and impending free agency had many people believing that the Colorado Avalanche were going to lure, then Florida Panthers goalie, Tomas Vokoun to the Mile High City after Craig Anderson was shipped out of town.
Instead, the Avalanche made a pretty big trade to land, then Washington Capitals goalie, Semyon Varlamov for a first and second round draft pick. There has never been a dispute about Varlamov's potential to become a stellar goalie, but whether or not he ever actually will live up to that potential is wide open for debate.
What Has He Done?
In two season, Varlamov has had some high highs and some very low lows. While Varlamov has made some pretty spectacular saves with the Avalanche, there have been some stretches where he has been, well, bad.
During Varlamov's first season with the Avalanche, he Varlamov lost the starting position to Jean-Sebastien Giguere. He did eventually win the job back and was a huge reason that the Avalanche were in the hunt for the playoffs as long as they were. So despite the fact that he lost the starting position for a while, it seemed like it would be just the thing that Varlamov needed in order to become the guy in Colorado.
In his second season, Varlamov started off the season very well. While wins weren't necessarily coming, Varlamov was one of the biggest reasons the Avalanche managed to stay in games. As the season progressed, however, Varlamov's play slowly but surely began to sink. Yes, the play in front of him was often horrific, but Varlamov definitely needed to be better.
What He Needs
Varlamov needs two key things in order to finally fulfill his potential to be one of the best in the game. First of all, he needs to find consistency.
Now every goalie is going to have bad games, that is something that just can't be avoided. The key to Varlamov is that he can't allow his bad times to fester and drag him down. When things get down for Varlamov they really get down.
Which leads into the second thing he needs, to battle better. Varlamov can occasionally be mentally soft, so when a few bad ones go in there is a real possibility that things will get out of hand for Varlamov. Contrast that with J.S. Giguere, who might give up a few goals, but knows how to fight through the bad times. He may give up three or four goals in a game, but he can fight through things and make it count for his team in one of those kinds of games. Varlamov, not so much.
Why This Is The Year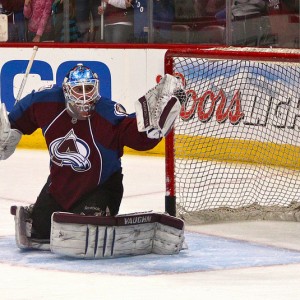 Varlamov has one year left on his contract and must use this season to show that he was worth the trade that was made to acquire him, and there is a lot of pressure on him to do so.
The Avalanche have two very promising young goaltenders down in Lake Erie. Both Calvin Pickard (pictured) and Sami Aittokallio have huge potential. The end of next season also sees the last season on J.S. Giguere's current contract, which means the Avalanche may be making a few choices about goaltending. With another sub-par year from Varlamov, it is very possible that Pickard or Aittokallio or both could seriously challenge for the starting job.
If Varlamov wants to make certain that doesn't happen, then he needs to come out next season and bring his best from the start of the season until the end of the year. If that doesn't happen, it's very possible that Varlamov won't be around afterwards.
I'm a Denver native who has been a fan of the Avalanche since they came to town and a fan of the game before that. I started writing my own blog a couple years ago before moving to Bleacher Report and becoming a Featured Columnist there. You can also find me the Burgundy Brigade Podcast