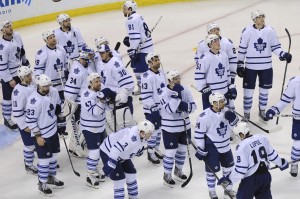 Futility Part Two: The Choke Artists – Teams That Blow (Opportunities)
Example: Toronto Maple Leafs, Washington Capitals
I came across an interesting article from Sean McIndoe of Grantland.com. In his article about the 20 types of Types of Depressed Sports Fans, he inserted an interesting video of Toronto Maple Leaf fans watching Game Seven against the Boston Bruins, and their reactions to one of the most colossal chokes in Maple Leaf history. Looking at their reactions is kind of like looking at a focus group or witnessing a lab experiment gone awry. Here is the infamous video:
Oh, Toronto…
For nine years until this postseason, the Toronto Maple Leafs suffered their longest consecutive playoff drought in their entire history and were once the laughing stock of unreachable playoff futility. They did it without Brian Burke who was unceremoniously tossed before the start of the season, leaving assistant GM Dave Nonis looking like a deer in front of the headlights, not that this is the first time he's replaced the fiery Burke as GM. Tried as he might, Nonis was looking for either Miikka Kiprusoff or Roberto Luongo to try and get some goaltending insurance prior to the playoffs.
Despite the trade deadline shortcomings, the team was able to secure a playoff spot back by solid coaching (Randy Carlyle) who was brought in from the Burke Regime when Brian's buddy Ron Wilson couldn't hack the pressure that comes with coaching in Toronto anymore. Reaching fifth place in the Eastern Conference was a great accomplishment for the Buds after many long summers. The Leafs are no longer labelled as underachieving, overpaid, spoiled brats that that fell way too short. Unfortunately, they've got a new label now: Chokers.
They exited the playoffs against the Boston Bruins in a fashion that will forever live in Maple Leaf infamy. To some extent, this event reminds fans of another infamous choke: The Miracle on Manchester. There was absolutely no excuse for the high-powered Edmonton Oilers led by the young Wayne Gretzky to blow a 5-0 lead against the lowly Los Angeles Kings. But blowing a 3-goal lead in the third period of the most important seventh game of your life? Well, granted the Bruins were a tough team that just needed to cattle-prod their top scorers Patrice Bergeron, David Krejci and Tyler Seguin and get themselves going. Everyone forgets that they were Stanley Cup champions just two seasons ago. Had it not been for the Leafs collapse, the Bruins wouldn't have had an easy time manhandling the New York Rangers who played a grueling series against another choke team, the Washington Capitals. More on that later.
So where do the Leafs go from here? They're still being ridiculed by fans outside of Toronto because of the latest choke label. They did away with unproven results in the form of Brian Burke, had tried to get help in goaltending, although it appears that James Reimer may have earned himself the number one spot. Tyler Bozak is earning his dinner if he happens to re-sign with the Leafs. Joffrey Lupul was getting comfortable playing in Toronto, as has Phil Kessel who at one time was regarded as Burke's biggest mistake in trading for him from Boston. While some pieces of Toronto's core appear to be well-situated going forward, others may not be.
Whether you think it's fair or unfair, Dion Phaneuf has been the dead-ringer ever since he came to Toronto via trade from Calgary, and worse when became the Captain of the Leafs. His defensive gaffe during overtime in Game Four against the Bruins was one of many errors he's cost his team. While Phaneuf made up for his error in Game 6, his lack of leadership and inability to stop the 3rd period collapse in Game Seven has many people pointing fingers back towards poor Dion. Some fans even want this unemotional "pylon" stripped of the captaincy.
For GM Nonis, the Leafs can and must only go up from where they were despite the choke label. Toronto must quickly forget about their short run and focus on getting better next season. What many forget was that the Leafs were this close to upsetting the Bruins had it not been for their third period collapse.
Woe, Washington…
It's hard to believe that 38 years ago, the Washington Capitals entered the NHL as an immediate laughing stock, having won only eight games in their inaugural 80-game season. It wasn't until 1982-83 that the Caps made the postseason and were in there for the next 14 seasons straight. Despite making it to the Stanley Cup Final, only to lose to the heavily favored Detroit Red Wings in 1998, the Capitals were never labelled as a serious Cup contender in the east. That is until Alexander Ovechkin got drafted first overall in 2004. After his fine rookie season, there was so much promise for the Russian to lead the Capitals to the Promised Land.
Since then, nothing much has changed for Washington as a whole. Glen Hanlon couldn't bring the Caps out of the Southeast Division basement for three straight seasons until Bruce Boudreau took over. Even with first place finishes for four straight seasons later, the Caps couldn't get past the first two rounds. The rivalry between Ovechkin and Sidney Crosby has not lived up to it's billing since 2010, only because either teams have learned out to beat Ovechkin & his predictable playing style, or Ovechkin seems disinterested in playing anymore. Combine Ovechkin's problems, along with multiple coaching changes (Hanlon, Boudreau, Dale Hunter and now Adam Oates), player in-fighting (see Troy Brouwer ripping former Cap Alexander Semin), and a fanbase that is growing in annual frustration, and you get the same old chokes year after year. Montreal's upset in 2010 against the President Trophy winner Capitals was the start of many chokes.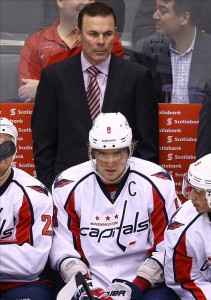 The latest choke was fulfilled thanks to the Rangers schooling the Capitals & poor goalie Braden Holtby, a hero in 2012's short playoff run, into submission with a 5-0 drubbing in Game 7 at the Verizon Center, the worst playoff loss since 2000. Questions about goaltending will continue to go unanswered as Holtby and Michael Neuvirth's futures remain in doubt. Ovechkin had a stellar season reclaiming the Maurice Richard Trophy for scoring the most goals in a season at 32 goals, but in the seven game playoff loss he only had one goal and one assist. More offense would be needed for Washington to get out of their ongoing choking funk. Grinders like Dale Hunter's 2012 squad can effectively check, but they can't contribute in the goal category. Brouwer could help, but so should Nicklas Backstrom and Marcus Johansson. The defence may need to be improved, because as the series with the Rangers wore on, the Caps defense was starting to wear down. Washington will need someone with battle-tested Stanley Cup experience to help Washington get deeper next year.
Overall, Washington is a mystery to solve their ongoing shortcoming problems. While they are good on paper, they aren't good enough to get out of the first two rounds no matter who is coaching or on the roster. Same old story, different choke artists every time.
Part One of Futility: Hockey's Dirty Word

Next Story: Futility Part Three – Dud Dynasties
A former novice/atom player, timekeeper and fan of the game, Peter has lived and breathed hockey throughout his life, covering hockey happenings in Edmonton, Vancouver, and currently in Saskatchewan. He is now a contributing writer for the Hockey Writers.