The Colorado Avalanche have had a successful start to the 2013-2014 season, but one thing every team is always looking to do is improve. With some of the recent injury troubles that have come their way, the Avalanche might look to the trade market to help them through this difficult portion of the season.
The biggest issues that have befallen the Avalanche are the occasional defensive inconsistency. To this point of the season, the Avalanche have done very well at improving their defense, but have had a few stretches where the defense looks just lost. Their losses against Nashville and St. Louis showed this defensive weakness. Defense was a concern from the beginning of this season, so making some improvements along their blue line is definitely something that would benefit the Avalanche as a team. The other issue came with the injury to Alex Tanguay. The shuffling of lines that has come as a result of this has eliminated the offensive depth that the team had at the beginning of the year, where three of their lines could create offense. Right now, the Avalanche are a two-line team. The third line's offensive power has gone away and, unless this line gets something going, adding some kind of additional offensive depth would be hugely helpful to the Avalanche.
Who Should They Trade With?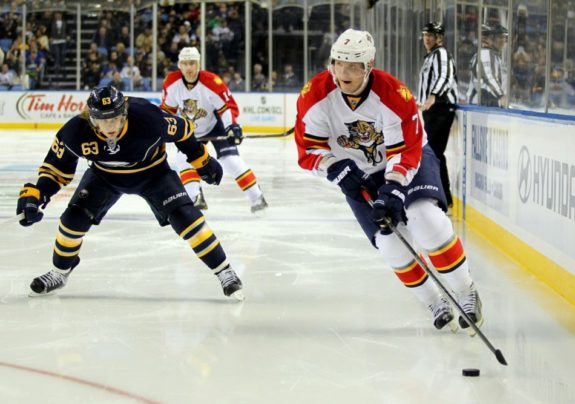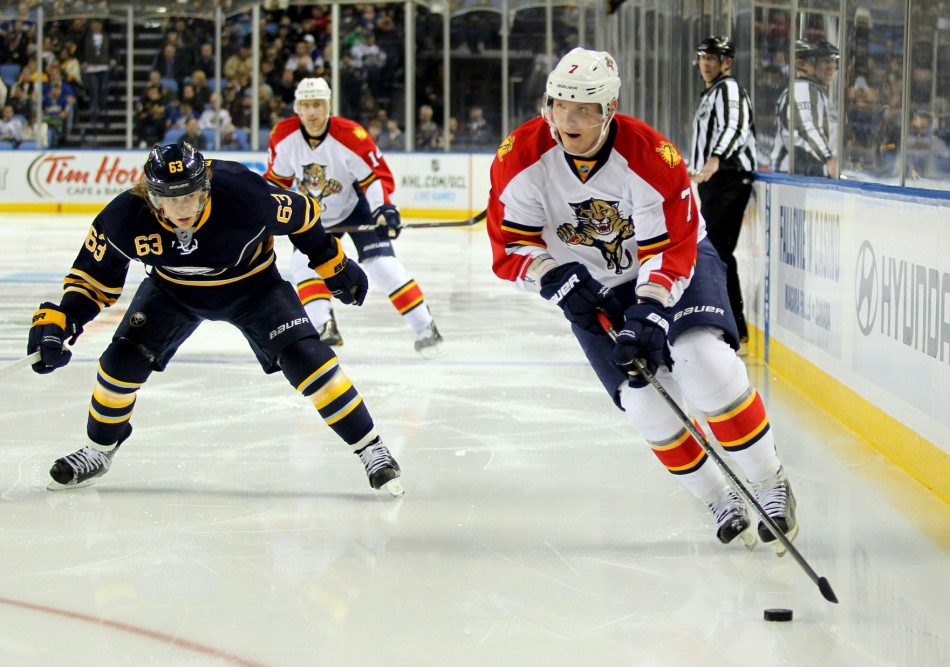 Trading is a delicate game, especially this early in the year. At this point of the year, so many teams are still in the mix that it's hard to find who are the sellers and who are the buyers. This year, however, we have already seen a few teams start trading away some players. The Avalanche have already made a trade with the Philadelphia Flyers, the Florida Panthers recently sent Kris Versteeg away and the Buffalo Sabres traded Tomas Vanek to the Islanders. Each of these teams are having trouble in the standings and could potentially be talked into getting a fire sale going. Other teams that could be targeted because of their spot in the standings could be Edmonton, Calgary and Columbus.
Florida is the first team that I would look at as the Avalanche, and the player that I would target is Dmitry Kulikov. Kulikov is a smooth skating, two-way defenseman that has some good size to him, as well. Kulikov would be a welcome addition to the second defensive pairing and a clear upgrade from the oft injured Ryan Wilson. Kulikov's best asset is his shot. He has a wicked wrist shot and a very solid slapper that would also improve the Avalanche power play. The other attractive part about Kulikov is his contract. It's very reasonable and he is only 23 years old, so he will only be a restricted free agent at the end of this season. Kulikov would be a great addition to the Avalanche.
Buffalo is a complete mess right now, and they have to be thinking long term. The Sabres already traded Tomas Vanek, so nobody in that locker room should feel safe. There isn't a ton that I would want from Buffalo on defense, short of Tyler Myers, but his contract number is pretty big and might deter the Avalanche from wanting to trade for him. Offensively, the Avalanche should take a good look at Steve Ott. Ott brings back pretty much everything that they lost from the Steve Downie trade, but adds in a much more complete defensive game. Steve Ott would be a great solution on the third line.
If I could get exactly what I wanted from the Philadelphia Flyers in another deal, I'd want Luke Schenn to add to my defense. He's a great skater, is young and is one big man. I don't think that the Flyers are particularly inclined to trade Schenn, so I would like to see a guy like Andrej Mezaros come to the Avalanche. Veteran player, good skater, can chip in offensively from time to time but is just a solid guy. He only has one year left on his contract and it isn't too bad of a contract to swallow, especially for a team with $12 million of cap space. The Avalanche could improve their defense without too much of a cost to them.
Who Do The Avalanche Send Away?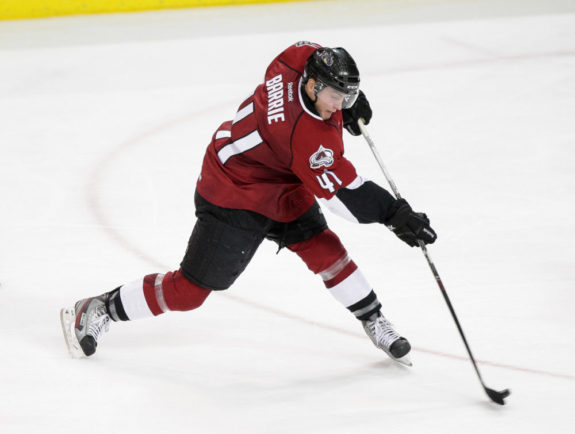 You have to give something in order to get something, and that will be the ultimate thing the Avalanche have to decide. What is worth giving up in order to improve? Since the Avalanche are dealing with injury and have to rely on some depth right now, the best things that they can think of trading are some prospects and possibly draft picks. Luckily, the Avalanche do have a lot of young prospects coming up through the system that would be attractive to other teams around the league. The top of that list would include either Tyson Barrie of Stefan Elliott. Both are offensive defensemen that have a high ceiling. The Avalanche really need to hitch their wagon to one of these guys and look at moving the other. Barrie's regression this past season makes me want to hold onto Elliott more, especially with his defensive partner from junior playing with him right now. Let those two grow together and you could see some great things.
Ryan Wilson is another player that has played himself into anonymity. Wilson won't really command a lot on the trade market as his play has diminished greatly this year, but also because he is incredibly injury prone. Wilson would have to be a part of a package in order to be moved. John Mitchell is another player that is expendable, especially with the acquisition of Max Talbot. Mitchell might be attractive to team throughout the league as he is good on faceoffs, usually solid in his own zone and has an offensive upside. Mitchell alone wouldn't get a huge improvement back, but he might be the type of player that tips a deal over the edge.
One player who may have played himself onto the trading block of late is P.A. Parenteau. Parenteau was so solid for the Avalanche all last season but has been bad defensively of late. His offensive game has come on a bit of late, but his defense is leaving a lot to be desired, especially on a team that really needs its forwards to back check in order to succeed.
The Ideal Trade
The ideal trade for the Avalanche would be to go get Dmitry Kulikov from the Florida Panthers. The best possible scenario would be getting Kulikov and maybe a guy like Tomas Kopecky, but Ryan Wilson and John Mitchell wouldn't be enough for that. It'd be more likely that Jamie McGinn would have to be included. The Avalanche should move Tyson Barrie and a second-round draft pick to the Panthers for Dmitry Kulikov.
I'm a Denver native who has been a fan of the Avalanche since they came to town and a fan of the game before that. I started writing my own blog a couple years ago before moving to Bleacher Report and becoming a Featured Columnist there. You can also find me the Burgundy Brigade Podcast