Two first-period goals, including a shorthanded tally from Brian Gibbons, made up almost all of the offense the Wilkes-Barre/Scranton Penguins needed to defeat the Hershey Bears 3-1 on Saturday night. The Pens maintained perfection against the Bears this year with a 4-0 record.
However, early on, it didn't look like things would go the Pens' way. Derek Whitmore opened the scoring just 1:55 into the game, getting a quick shot off WBS goalie Jeff Deslauriers for an initial 1-0 lead.
Just under five minutes later, Bobby Farnham was called for cross-checking. But Gibbons put the Bears behind on the power play by getting a breakaway and scoring his seventh goal of the season, which was credited as unassisted.
Nick Drazenovic then gave WBS the lead late in the period, scoring at 18:59 off an assist from Chris Conner, and the Pens went into the locker room up 2-1.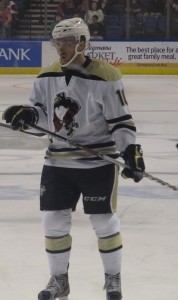 When talking about Drazenovic's return to the lineup following an injury, head coach John Hynes spoke highly of the new Pens forward's contributions.
"He's a real good player for us. He's a player we rely on in certain situations, and we're excited to have him back." Hynes said earlier this week.  
The rest of the first period was marked by a goaltending duel between Deslauriers and David Leggio, who, despite his poor record (2-4-1 with a .894 save percentage and 3.27 GAA), has been able to make highlight-reel saves and keep the door closed on the Pens to keep the game in check.
Penguins broadcaster and media relations director Mike O'Brien summed up the first period best on Twitter:
Both teams with numerous grade-A chances in this game, but goaltenders are the story right now. It's 1-1 with 3:46 left in the 1st.

— Mike O'Brien (@OBrienOnTheMic) November 17, 2013
A scoreless second period was highlighted by a fight between WBS defenseman Brian Dumoulin and Hershey's Josh Brittain. The two tugged on each other's jerseys and landed some punches, but Brittain got the takedown at 11:44. The Bears forward also got an extra two minutes for goaltender interference.
Two more power plays were handed out before the period ended, as Hershey defenseman Patrick Wey sat for holding at 13:44, while Simon Despres was called for high-sticking at 19:35. It showed the strength of both teams' penalty killing units, as the Pens and Bears are tied for ninth overall with an 84.4 success rate when they are down a man.
In the third, both teams had good scoring chances, but Jayson Megna scored his second goal in as many games since returning from Pittsburgh at 18:43 to give the Pens the win. The shot deflated Leggio, who laid face down in the crease in defeat.
WBS won its second game in as many nights after taking a 5-3 victory from the Syracuse Crunch on Friday night. Hershey, meanwhile, saw its five-game point streak come to an end and has failed to win more than two games in a row this year.
The win was key for the Penguins, as they picked up all four possible points from two division games this weekend.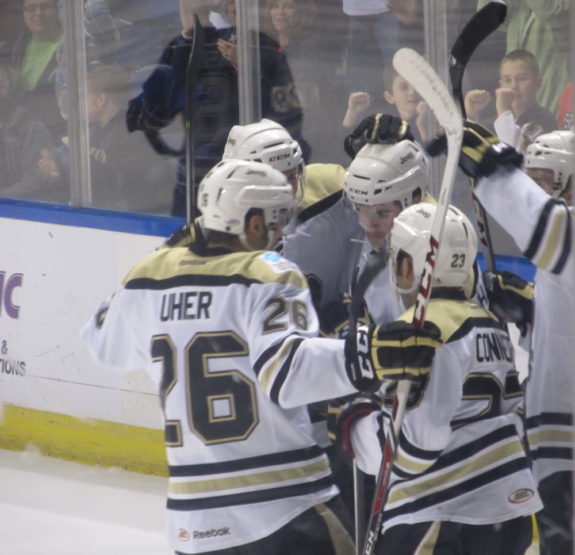 "Division points are important no matter what part of the season it is," rookie defenseman Scott Harrington told Tom Venesky of The Times Leader. "We know that in those games, if we're not as fresh as we should be, that could come back and haunt us at the end of the season."
Three Stars of the Game
3. Jeff Deslauriers, Wilkes-Barre/Scranton (21 saves on 22 shots)
2. Brian Gibbons, Wilkes-Barre/Scranton (two points)
1. Nick Drazenovic, Wilkes-Barre/Scranton (game-winning goal)
Looking Ahead
The Penguins are back in action on Wednesday night when they travel to Rochester to take on the Americans for the first of two games this season. The Bears are off until next Saturday when they take on the Binghamton Senators in a two-game set in Hershey.
Alison is currently covering the Wilkes-Barre/Scranton Penguins of the AHL for The Hockey Writers after writing about the NHL's New Jersey Devils from 2011-2012. She is currently employed for the fast growing sports website Bleacher Report as a quality editor and hopes to one day have a media relations career with a professional hockey team. Follow her on Twitter @AlisonM_110.