The Pittsburgh Penguins have done well getting by without the safety net of a backup goaltender through the first quarter of their season. They're in first place of the Metropolitan Division, they have a stranglehold on a playoff spot, and starting goalie Marc-Andre Fleury has been off to a great start. However, with Fleury's history of struggling in the playoffs, the front office must start to look at replacing current backup Jeff Zatkoff for a rental player.
The Penguins were fortunate enough last year to have Tomas Vokoun to be there when Fluery melted down in the first round against the New York Islanders. Vokoun provided a solid presence in net which helped them advance to the Eastern Conference Finals.
However, with a hopeful return timetable of three-to-six months from blood clots in his leg there's no telling if Vokoun will be able to regain playing shape to bail the Penguins out if needed. And, this is even if he will return. There's a chance that Vokoun could miss the entire season after the clots threatened not only his playing career, but his life.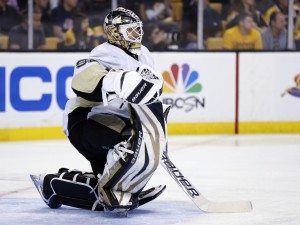 As Vokoun said in an interview with NHL.com in October, he's more worried about his health than playing saying, "Right now I'm not thinking about my career or playing hockey, I'm more worried about long-term health."
How bad has Zatkoff been this year? Through three starts he's posted a statistical line of: one win, two losses, a goals against average of 3.36 and a save percentage of .865. Those stats have forced Fleury to play in 16 of the Penguins 19 games. If the Penguins would continue this pace it will send Fleury well over his career high of 66 starts.
Pittsburgh's front office is known for making bold moves at the trade deadline. Since general manager Ray Shero took office the club has been a very active team at the trade deadline. With the Penguins up against the salary cap, he will be limited in which moves he can make.
However, with Shero's past movements, in making difficult pieces fit, it wouldn't surprise many if he'd be able to make something happen with little to work with. There are the expiring contracts of Dustin Jeffrey, Joe Vitale, Chris Conner and Tanner Glass that could free up enough cap space to allow a move to happen.
A trade that would make sense, if Vokoun isn't able to make a return, is working with the Florida Panthers for former Stanley Cup champion and Conn Smythe winner, Tim Thomas. Thomas has a small one year cap hit of $2.5 million. With the Panthers in the middle of a rebuilding they could send Thomas for a pair of those expiring forward contracts.
There's a chance for the Penguins to make another run at a Stanley Cup. However, if Vokoun cannot come back forcing them to stick with Zatkoff, there's a potential of another Fluery meltdown and another disappointing first round exit.
Follow T.J. McAloon on Twitter: @tjmcaloon
Check out our partners at TiqIQ for the best deals on Pittsburgh Penguins tickets for all 2013-14 games.
I've devoted most of my life to being a Pittsburgh sports fan. Currently, I live in Austin with my wife Sarah and our dogs Clooney and Maggie.. But, I had the pleasure of taking in all that is Austin, TX – mostly the Texas Stars American Hockey League franchise – for the past 4 years.