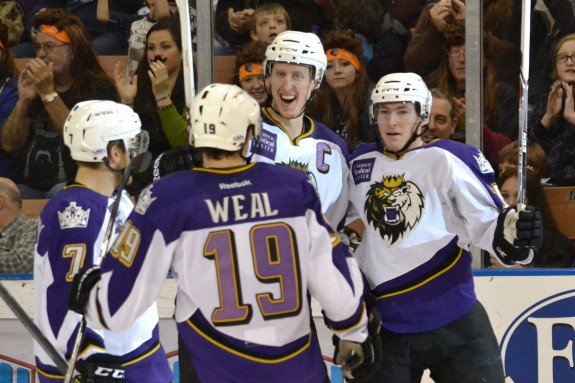 MANCHESTER, N.H. – To say that the Monarchs are a team picked thin would be an understatement.
With star forwards Tyler Toffoli, Linden Vey, Tanner Pearson, and starting goaltender Martin Jones all called up for stints with the depleted Los Angeles Kings, Manchester has been left with major holes on their bench. On top of the call-ups, Brian O'Neill, Ian O'Connor, Zach O'Brien and Nick Shore have all gone down with injuries forcing the Monarchs to scrounge for offensive production from a limited roster.
The Monarchs only dressed nine forwards last night in their game against the Norfolk Admirals.
"Mike Muir (Monarchs athletic trainer) called me while I was brushing my teeth and told me the guy who we just got, Zach O'Brien, was hurt with back spasms and wasn't going to play," said Manchester head coach Mark Morris. "I just started laughing. It seems like the hits just keep on coming."
"When your four best players are out the door, and other players step up and you lose them too. I can't imagine what it's going to be like when we play three games in three nights."
But if that was supposed to put Manchester in a disadvantage, it seems like the Monarchs never got the memo.
RW Brandon Kozun started off the scoring, finding an easy rebound in front of Norfolk goaltender John Gibson 1:15 into
the game. Nick Deslauriers put the Monarchs up 2-0 with a beautiful power play goal from the right circle, a slap shot just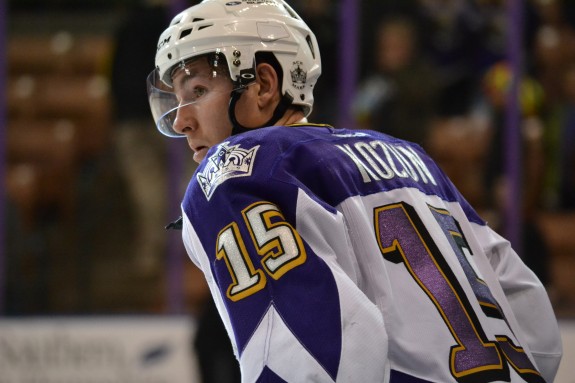 inside the post to give Manchester the 2-0 lead headed into the first intermission.
But the Admirals found their footing in the second, and got on the scoreboard with a power play goal by Chris Wagner, his second of the year. Alex Grant walked in and took a slap shot that was deflected by Wagner and found its' way underneath Monarchs goalkeeper Jean-Francois Berube, who earned his third start in three games for Manchester with Martin Jones.
Kozun scored his second of the game early in the third period, a short-handed goal off the fast break and a saucer pass from Jordan Weal. Weal and Kozun seem to have found some chemistry, and that will be key with the Monarchs missing several spots on the bench.
"Credit my linemates. Weal made a great move on that second goal," Kozun said. "I think we kept things simple and played well together. With nine forwards, that's what you have to do."
Kozun, a Los Angeles native, could have easily had a third but was robbed by the quick clove of Gibson.
"The goalie just made a great save," he said. "I told him 'good save.'"
Norfolk brought the game to within one midway through the third period, but the Monarchs held on to take the 3-2 win. They continue to lead the Eastern Conference with 25 points through the first 17 games of the season.
For Morris, Saturday's game was quite the improvement from a poor performance against Portland on Friday.
"They guys were giving it everything they had today, they had to. We only had nine forwards," Morris said. "With the losses that we've had this week and last week, you can't say enough good things about the guys in the locker room. They laid it all on the line."
"To bounce back and rebound is what we try to do when we fall short, and I think our guys delivered."
Something, for the players at least, must not have been easy. Especially playing back-to-back nights, and especially playing with only three lines.
"That's part of it," Kozun said. "Being a guy who's been here, you see that a lot. When things happen, they seem to snowball a little bit. It's just good to get a win…I know if we play within our structure we are still a really good team."
"It's good to see everyone regrouping," said goaltender Jean-Francois Berube. "We lost a couple of guys, so everyone is sticking up for each other and it's been good for us."
For now, the Monarchs will look to what they have: a solidified defensive corps led by veterans Andrew Campbell, Andrew Bodnarchuk, and Jeff Schultz, and a goaltender who seems to be stepping up in what is easily the biggest moment in his career.
If only the Monarchs, and the Los Angeles Kings for that matter, could get healthy.
**************************************************
22-year-old goaltender Jean-Francois Berube has seen more ice-time in the past three games than in any one season with the Manchester Monarchs.
And it seems that the third-year pro is ready to take advantage of the opportunity.
With starting goaltender Martin Jones backing up Ben Scrivins in Los Angeles, the Repentigny, Quebec native has been called upon to man the pipes for Manchester for the imminent future. The Monarchs are 2-1 in his first three games since stepping in, and he seems to making an impression around the locker room.
"He's been huge for us," Kozun said. "Tonight, if he's not in the net I'm not sure that we win this game. He's done a great job since Jones has been up, and he's been playing great for us. We're pretty confident in our goaltender."
Berube made 28 saves in the Monarchs 3-2 win over Norfolk Saturday night, including two incredible saves in the third period that Berube was able to find and cover before the Admirals could take advantage.
"They came out quick on us," Berube said. "They were fast and we took a couple of penalties. I think it's my job to step up in those moments and the guys helped me to see the puck well. It makes my night easier."
For Berube, there hasn't been much of an adjustment period during the transition from back-up to primary starter.
"Not really, I've been working hard in practices," he said. "I knew my chance would come. You never want someone to get injured, but sometimes it's those situations where you get to play. For me, it's a great opportunity to prove what I'm capable of."
"I just want to give my team a chance to win. It's a good opportunity for me to show what I'm capable of, and the guys are doing a good job in front of me."
Head coach Mark Morris seems to impressed with his progress, especially with how well he's been able to play since Jones was called up last week.
"It's huge, especially on a big night like this," Morris said. "The building was packed, and I think that instills confidence in that he's the go-to guy now. He's been huge."
For now, Berube will look ahead towards next weekend – two back-to-back games against division rivals. But if his past few games are any indication, the Monarchs seem to have found a solid choice in net for the immediate future.
**************************************************
Manchester will continue their homestand next Friday and Saturday when they take on Worcester and Providence. Game time for both is 7 p.m.
GAME NOTES
– The Monarchs lead the Atlantic Division and the Eastern Conference with 25 points and a 11-3-3 record through the first 16 games of the season. Norfolk is ranked sixth in the Eastern Conference with a 8-5-3 record and 19 points.
– RW Brandon Kozun 16 points (4 goals, 12 assists each). Toffoli, Vey, and Pearson round out the top-five.
– Manchester is 4-2 in their past five games, with losses to Portland on Friday night and St. John's on November 8th.
– The Monarchs are 5-1-1 at home, and 6-2-2 on the road this season.