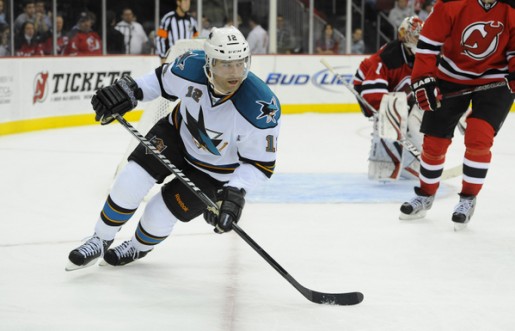 When Mike Babcock and Hockey Canada released their preliminary roster for the 2014 Olympics there was no doubting that Patrick Marleau felt a bit of anger that he was nowhere to found on the list.  After all both player and coach had developed a strong bond during the 2010 Olympics–where Canada won the Gold Medal–and at the very least one would have expected he would earned a spot as a source of motivation.
But while this did not happen, it appears that Marleau took this snub as a source of motivation in itself, as he has been building an extremely compelling case to make the trip to Sochi in February.  Chief amongst the things on the forward's side are that he has been an absolute stud this season, has vast experience playing in international events and is surely one of the best options available to make the team's roster.
Great 2013 Season
The beginning of the 2013-2014 season has been a revival of sorts for Marleau, as he has recorded a very impressive ten goals and ten assists through twenty games.This is a vast cry from the 95 points recorded over the last two seasons, and is indicative of the fact that he has been arguably the best player for the San Jose Sharks as they jumped out to a 13-2-5 record.
Furthermore when one digs deeper they will see that Marleau's contribution goes much deeper than just goals and assists.  On special teams he has been great, contributing an eye popping five power play goals, and seven assists, totals that each rank amongst the besti n the NHL.  This contribution has led to more time on the ice for the forward, which has equated to him playing 20:35 per game, a total that ranks tops amongst forwards for the Sharks.
While normally Marleau has been known as a streaky scorer, he has been uncharacteristically consistent so far with at least one point in twenty different games.This consistency has been rewarded by opportunities to play heavy minutes both on the power play and led to a role on the Sharks left wing, where he has been playing alongside fellow Team Canada hopeful Logan Couture.  The two have combined to form arguably the most potent line in the NHL thus far, which surely will have Babcock wondering if they could translate this success to Russia.
Veteran Leadership Factor
Heading into the 2014 Olympic Games in Sochi, Russia, there is little doubting that Team Canada will be dealt with numerous obstacles that have nothing to do with the on-ice product.  From dealing with a group of fans that simply will hate them to getting acclimated to significant time and culture differences, the group will need some veteran leadership.
This role of leadership suits Marleau's personality and experiences perfectly, and will surely help his candidacy for Team Canada.  Throughout his 16 year career the forward has been the captain of the San Jose Sharks from 2004-2009, before moving into a role of assistant captain from the 2009-2010 season to today.  While he has not always been known as the most vocal of leaders, there is no doubting that his addition would bring a stabilizing force into a situation that will test the mental toughness of an entire locker room.
Furthermore than the inside the locker room factor is that Marleau is a veteran of international hockey, as he has played in five IIHF World Championships, with all coming overseas.  While some people will surely write this off as a non-factor, this is simply ignorant to the fact that Babcock will have to take a roster that translates well onto a larger ice surface.   As a veteran of multiple events on larger ice surfaces and possessing a mixture of burning speed and a deadly shot, there is no doubting that the forward has the perfect skill set to compete against more finesse oriented squads in Sochi.
When it comes to veteran presence and fit for the international ice surface, there is no doubting that Marleau checks off both boxes in extraordinary fashion. And while neither factor will earn him a spot on Team Canada's roster this February, there is no ignoring both of these factors when constructing the team's roster would be a deadly mistake for Babcock.
Little Competition Exists on Wings
When it comes down to the competition that Marleau will be facing in order to make the Canadian Olympic roster, there is truly little that he should be worried about.  On the team's preliminary roster only eleven wingers were named, and out of these players only Martin St. Louis and Corey Perry have contributed as many or more points than the Sharks forward.
With this lack of center in mind there has always been a belief that a number of centers would have to switch over to the wing, which fits Marleau perfectly.  Although he has made a career out of playing as a center, he is currently playing to incredible success on the left wing for the Sharks and did the same for Canada as they won a Gold Medal in 2010. The reasons he has been so successful in this role is because of a skill set that translates well to a role on the outside and on the bigger surface that will be used in Russia, as his burning speed is a necessity on the larger ice.
Conclusion
While as recently as June it appeared that Marleau's time as a force for Team Canada in international events was over, it now looks like this was premature thinking.  This is because the forward has had an incredible start to the 2013-2014 season, is a proven commodity in the locker room and on international ice, and is truly one of the best options on the wing for Canada.  With this knowledge in mind it now appears that the forward should be a lock to be taking a trip to Sochi this February, where he will reunite with good friend Mike Babcock.
Tyler grew up playing hockey in the Raleigh, North Carolina, area, and attended the University of North Carolina. Now, Tyler lives in Brooklyn, types in the third person, and can be found watching sports at all times of the day.