There may be no more divisive of a player among fans of the Carolina Hurricanes than Tuomo Ruutu. It's no secret that he's gotten off to another slow start in 2013-14, and despite a no trade clause for the next two years, his name has popped up in recent trade talk.
"It's been difficult," Ruutu said. "Sometimes there have been good games but it's been little bit of a "variation". It hasn't been a perfect start. I think it will start going better and I have been starting to feel better."
But, should the 'Canes move him? The answer to that question isn't a simple yes or no.
Pro: He Hits Everything in Sight
For years, the Hurricanes have been among the softest teams in the league, especially up front. Both Staals are big bodies who can grind it out along the boards, but neither typically goes out of their way to hit people. The roster is comprised of mostly finesse players like Jeff Skinner and "undersized" forwards like Nathan Gerbe, who, while not afraid to throw his body around, isn't exactly going to intimidate anyone. Aside from Mark Streit, that is.
Ruutu consistently leads his team in hits among forwards. He's done it every year since he's come to Carolina with the exception of 2012-13 when he missed the majority of the season, and 2009-10 where he came in second to Tom Kostopoulos despite missing 28 games. In 2010-11's full season, he put up a ridiculous 309 — nearly four per game — good for second among all NHL players.
Through injuries and an advancing age, Ruutu is still laying people out. In 4 of his 15 games so far this season, he's put up four-plus hits, including 8 against the Philadelphia Flyers on November 5. Once again, despite missing four games due to injury, he leads all Hurricanes forwards.
Con: Always Injured
While it's a bit of a stretch to say "always", it does feel that way sometimes. In the five full seasons since his arrival, he's missed 3, 28, 0, 10, and 31 games, and already 4 this year. His physical style of play does him no favors, but his chronic hip problems are also concerning.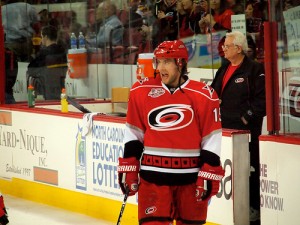 "Physically I'm ok. There is no injury problems or anything like that."
Still, the question remains: how long will that last? Even if he doesn't miss games, a Ruutu fighting through injury isn't the same Ruutu, and arguably may not even be worth dressing. He is a night-and-day different player when healthy versus when battling through something. Though that's true of many players, it is especially true of Ruutu. His tenacity is lost, he becomes a bit tentative, and almost ineffective.
"Playoffs are the goal and that's a clear message from the management."
Come playoff time, no one is healthy. If the 'Canes do finally break through, the health of Ruutu could become a major player in their postseason success.
Pro: Depth and Linemates
Ruutu isn't the type of player to create for himself, and there's nothing wrong with that. Jiri Tlusty probably wouldn't have scored 23 goals last year had he anchored his own line, but that doesn't mean he isn't valuable.
Lately, Ruutu has found a home on the third line with Riley Nash and Chris Terry. But the Hurricanes' bottom-six has been in a state of flux for almost the entire season. Chemistry takes time to build — as evidenced by Tlusty's "slow" start in 2012-13 — and almost impossible when there's constant rotation among linemates.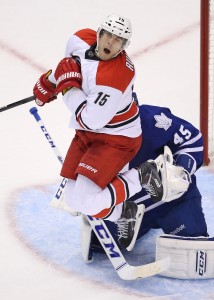 Jeff Skinner's injury has had a significant impact on Ruutu's lack of production. The two have dressed together for just five games this year, and for several of those Ruutu was being eased-in on the fourth line. A healthy Skinner creates matchup problems, and a healthy Ruutu creates room for Skinner. The two work well together, as evidenced by Skinner's 31-goal Calder-winning rookie campaign in which the "Skinns and Finns" line played together extensively. When Skinner gets healthy — which should be soon, according to Kirk Muller — Ruutu's production should improve. For now, he can contribute in other ways.
"Ruutu tonight, going to the net, doing a great screen for that other goal," said Muller after his team's recent 3-2 shootout win over the Anaheim Ducks. "Guys with those little plays like that, it makes a difference. It's what makes a good hockey team, everyone helping out."
Con: Let's Talk Value
For the role he's playing and how he's producing lately, a $4.75 million cap hit for the next three seasons is on the high side, to put it generously. Even if he ends up being worth it this year, will he be at the end of the deal? What about as soon as next year? His trade value will likely only depreciate as seasons progress, so if a "trade high" scenario emerges, it may have to be considered.
On the other hand, if general manager Jim Rutherford is truly shopping him, what should reasonably be expected in return? And would it be worth it? With injury concerns, and a hefty cap hit, fair value for what he brings will be hard to come by. It may even result in the 'Canes retaining some salary, as they did when trading Jussi Jokinen last year. Any trade of Ruutu means a loss of an NHL forward, creating a hole and a spot to fill. No one in Charlotte is knocking down the door at the moment and it's unlikely that anyone received in a hypothetical move would be of much use.
And then there's the no trade clause. While Ruutu could waive it, he may not want to. He has that right, and it wouldn't even be the first time a Hurricanes player wanted to remain in the area.
They're Not 'Booing'; They're 'Ruu-ing'
Prior to the Ducks' game, Muller and Ruutu had a long one-on-one meeting about the Finn's recent play. Ruutu responded with a spirited, albeit mixed, performance. He took a bad penalty just thirty seconds into his team's first powerplay opportunity but bounced back with a screen in front of Viktor Fasth on their second that resulted in Eric Staal's tying goal.
For now, fans haven't turned against Ruutu. But he isn't getting paid $4.75 million to just hit people and screen goaltenders. He'll have to start scoring or it will be hard to justify his salary. The return of Skinner should provide a boost, but, ultimately, it will be up to Ruutu himself to display his worth.
"I'm emotion, energy player," he said "I play better when I'm inside the game. When you sit longer times on the bench, you have to motivate yourself. With my own game I have to lift the ice time because I want to play more."
Andrew Luistro graduated from Appalachian State University. An avid sports fan, he began beat writing for the Sunbelt Hockey Journal, part of The Hockey Writers Network, with a focus on the Carolina Hurricanes. Andrew also actively follows the Boston Red Sox and Carolina Panthers, among other teams. Follow him on Twitter @ndrewL7