Normally, "fashion" wouldn't be a term used in relation to hockey. Not with a straight face anyway. The 2014 Stadium Series, however, has somehow managed to create the need to actually discuss the fashion elements as much as the games themselves. While most fans would never admit to caring much about what the players wear, there is no doubt that they notice. Henrik Lundqvist and Sean Avery were once considered two of the best-dressed men in sports. If it was important enough for Forbes magazine, shouldn't it be important to the NHL? Does anyone remember the "Winnie the Pooh" Boston Bruins jerseys? It goes down as one of the worst team jerseys in history. There was a reason for that–people thought it was ugly! So like it or not, there's a standard to be met and this year's Stadium Series is just lacking.
Let's start with the Ducks. Seriously, guys? You look like traffic cones! We know you're from Orange County, but was monochromatic really what you were going for?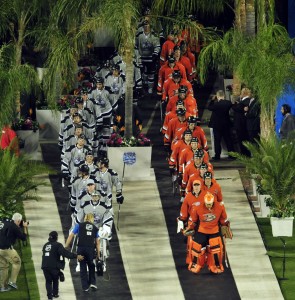 A tiny bit of color somewhere? Anywhere? The whole uniform was so bright you couldn't even see the logo on the front. There's a rumor going around that one fan's corneas were singed by the brightness.
Their Kings counterparts were better, but not by much. Was the big crown necessary? What is this, Walt Kingsley World? They continued with the monochromatic pattern, but at least they're always somewhat monochromatic. It just seems like they could have put together something a little more creative for the first-ever outdoor hockey game in California. Then again, maybe not.
The Rangers and Devils don't get a pass either. New Jersey, wasn't there a reason you got rid of the red, green and white color scheme and exchanged the green for black? You do realize you looked like Christmas Elves on ice skates, right? Kids were wondering if this was the January rendition of "Hockey Claus is Coming to Town." Please don't do that anymore.
The Rangers put so little effort into their jerseys, why did they even bother? They weren't ugly, by any means, but so incredibly unmemorable, most people can't even remember what they looked like three days ago, much less next week. Just switch the word "Rangers" with the words "New York" on the front, and then use their basic road jersey style, take away some stripes, and there you have it: Stadium Series Jersey. Yay.
The Islanders might get a B- for effort, but still nothing write home about. They're also veterans of the "Ugliest Jerseys of All Time Club." You can't forget that fisherman holding a hockey stick.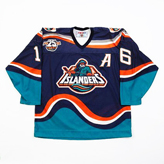 Well, most people are trying to forget it, but the image seems to be burned into their retinas. So you'd think they would have gone for something exotic, memorable, maybe even cool? Nah. Let's just use the same old logo, without the circle, so it can be as visually unattractive as possible, and leave it at that. Do teams just go out of their way to create really boring jerseys for really big events? Apparently so.
Pittsburgh, there are just two words for your happy little penguin: Epic fail. Did you even bother to change anything? How about you, Chicago? If you hold the your regular jersey next to the Stadium Series jersey, there's so little difference it's not even worth the trouble. You might even need your reading glasses to see it.
There was, however, one tiny moment of brilliance. The ever-stylish Henrik Lundqvist. Although pinstripes are not the most exciting thing ever, it was creative, interesting, and thoughtful. Yankee stadium. Yankee pinstripes. Wow, what a concept. Then he outdid himself with the mask; pictures of Yankee greats, specifically for a game in the Yankees' stadium.
Really? Someone actually put some effort into the Stadium Series? Be still my  heart! But we're talking about Lundqvist, so no real surprise there. Thanks, King Henry, for being the bright spot in an otherwise dreary series.
Let's not misunderstand. This is still about hockey, not about the jerseys or art or creativity, but the fact is, if you're going to go out of your way to make a special jersey–along with big unveilings–shouldn't it be, well, special? Otherwise, wasn't it just a waste of time and energy (and money)? The Stadium Series is touted as a series of outdoor games in stadiums that have nothing to do with hockey, adding to the excitement, spreading the word, and making hockey cool. If they weren't meant to truly stand out, attract new fans and draw in young and old alike, then what is their purpose? If the Super Bowl didn't have all the extra bells and whistles, people would eventually stop watching. If the Stadium Series wants to be considered elite, pay attention to detail. Don't give non-fans something to make fun of, and don't turn off the people who support you. Playing in a baseball stadium is not enough; play with style, and look like you mean it. If it was only about the skill of the teams, they could just keep doing the same thing they always do.