After the extremely intensive and interesting preliminary round games the 2014 IIHF Ice Hockey World Championship in Minsk (Belarus) goes into its elimination stage. The teams are to play four quarterfinal games on 22 May with the semifinals coming on the 24 May and the Bronze and Gold medal games following on 25 May 2014.
The quarterfinal pairs are USA – the Check Republic, Russia – France, Canada – Finland, Sweden – Belarus. Although some of the results seem to be predestined, this tournament has already seen Canada beaten by France. The logical question would be then, why can't les Bleues then conquer Russians? If such a question comes to mind, then the results of the games between Canada and Finland, the USA and the Czechs and between Sweden and Belarus are even less predictable. This is extremely good for keeping the audience intrigued.
While writing the peace the Czechs have overpowered the American squad 4:3 in a very intensive hockey action upheld by the two teams. The French have been fighting bravely against the Russians in every period of the quarterfinal game, which has just ended with Team Russia winning 3:0. Although the result of this game has been predestined, the development and the outcomes of the remaining two quarterfinal games are not easy to predict.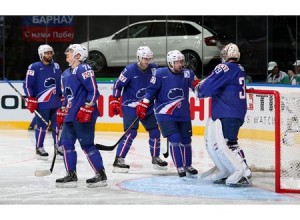 It is just fair to say that in the Belarus vs. Sweden pair the Tre Kronor are the defending champions and their play in this year championships has been steady. The Belarusians are enjoying the support of their home crowd and are prepared to battle and do it hard.
As for Canada vs. Finland the following can be mentioned: the Finns have a chance of winning the game if their star goalie Pekka Rinne continues to excel in the net and the whole team plays "as a tight defensive unit to succed," so Lucas Aykroyd in his analytic article for the IIHF's webpage.
So, the show must go on and surprises are expected.