With the disappointing end to the Bruins season, the yearly team restructuring is about to begin. While the Bruins have a strong core group of players that they are not likely to part ways with over the summer, there are some changes that they will be looking to make in order to ensure that they are able to get to the Stanley Cup next season. One of the more notable names that will likely be leaving the Bruins this summer is pending unrestricted free agent Shawn Thornton.
Shawn Thornton: Enforcer
Shawn Thornton has played in Boston since the 2007-2008 season and has fulfilled the role of enforcer. Fighting isn't necessarily his only talent, but it is often what he is called upon for and he is happy to oblige any request to do so. The problem is that the league is slowly changing and these fighting talents that Thornton has are not necessary for the Bruins anymore.
Peter Chiarelli, Bruins GM, spoke to the same on team break up day. His ominous words essentially speak to the end of Thornton's time in Boston. He stated:
"(Thornton) I thought had a kind of up and down year," Chiarelli said. "He got, obviously, the incident with Pittsburgh and you know, there's trends in hockey and the fisticuffs trend, again – this doesn't characterize Thorty as just a fighter because he contributed on that line. That line has had a lot of success in the past. But we're trending away from that style. I had a discussion with Thorty this morning and I said, 'Look, give me a couple weeks to digest what's happened and then we'll go from there.'"
The aforementioned incident in Pittsburgh (in which Thornton knocked Penguin Brooks Orpik to the ice and proceeded to deliver blows to his head) resulted in a match penalty and 15 game suspension for Thornton, leaving an ugly mark on an otherwise flawless record.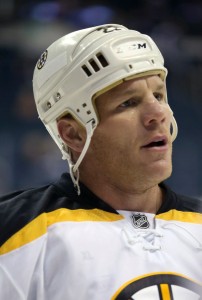 This is not likely to be the sole cause of Thornton's departure from the Bruins, but it doesn't help considering the nature of the incident and that Chiarelli mentioned it shows that it is definitely on his mind when considering Thornton's future with the team.
When it comes right down to it, if the trend in the NHL is away from having a player solely functioning as an enforcer on the team to protect his team mates, there is really no place for Shawn Thornton on the Bruins anymore.
Time is Not on His Side
In addition to Thornton being in a role that the Bruins may be actively looking to remove from the team, his age plays a factor when it comes to debating whether or not to re-sign him. Thornton is 36 years old (turning 37 in July) and has stated himself that he only wants to play for a few more years then retire. With many younger, quicker players already in the Bruins system, Thornton's age and how close he is to retirement goes against his finishing his career in Boston. Younger players like Reilly Smith, Justin Florek and Torey Krug are also free agents this summer and re-signing them is priority as Smith and Krug have become essential members of the team and Justin Florek could easily work hard this summer and vie for a position with the big club.
In addition to the pending free agents in the Bruins system, there are many young faces in their AHL affliate in Providence that deserve a look when it comes to building the team for next season. Players like Ryan Spooner and Matt Fraser have proven themselves to be talented players and need to be taken seriously as training camps begin and rosters are developed. Fraser joined the Boston Bruins for the last few games of the playoffs and managed to get the one and only goal in game 4 of the Bruins/Canadiens series in overtime.
While it's only one goal, it came at a crucial time for the Bruins and it can be assumed that those in charge of developing rosters for the upcoming season will be looking to see what else Fraser has to offer.
With so many young players that are able to legitimately vie for a spot on the Bruins, Thornton may find himself out of Boston due to his age combined with his lack of speed on the ice.
Heart and Love for Boston
Off the ice, Shawn Thornton brings a lot to not only the team, but to the city of Boston. His love for the city and its people is one of his greatest attributes. Involved heavily in charity and giving back to the community, Thornton spends a lot of time visiting hospitals and running his own foundation. The yearly "Cuts for a Cause" event is highly attended and this year the foundation with the help of Thornton's teammates raised more than $118,000 for children fighting cancer.
Thornton also visits hospitals to chat and spend time with the patients. In the book "Stronger" by Boston Marathon survivor Jeff Bauman, Thornton is mentioned specifically as visiting the hospital many times throughout the course of recovery for those affected by this event. Regardless of who he is on the ice, off the ice Thornton gives a lot back to the community and genuinely cares about the city of Boston.
For Thornton who has made a home in the city he plays in, this potential move will likely be difficult. Mike Zeisberger (Toronto Sun) reports:
"I'm still going to be here," Thornton told Boston scribes. "I'm still going to be in the community. This is where we live now, this is home. That stuff won't change. I'll be here, trying to get back when I can.

"I love it. Let's not talk about it like the past, I might be back. It's been great. I love it here. I really do. There's a reason we stick around in the offseason. It's one of the best cities in the world.

"I can't think of anywhere else I would have rather been."
Heart and passion for a city are not measured on the ice, nor should they be. Thornton's love for the city and all the things he does for its citizens will not likely play a large role in the discussions regarding the re-signing of this player during this offseason, as it didn't when the Bruins chose to not re-sign Andrew Ference. While Thornton's heart may be in Boston, his skates may be on different ice next season.