Robby Fabbri
THW's NHL Draft War Room Rankings (E-Mac): #24 (Feb 2014)
THW's NHL Draft Rankings – The Next Ones Edition (aka Chris's List): #15 (March 2014)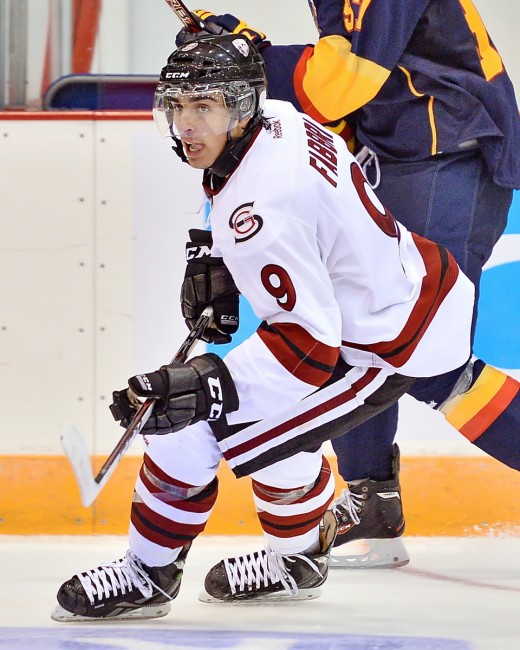 Hashtag: #MrForecheck
Nickname: Fabbs
Team: #9, Guelph, OHL
Position: Centre
Shoots: Left
Height: 5'10
Weight: 166 lb.
Born: Mississauga, ON, 22-Jan-96
Twitter: @RFabbri9
Stats
Other Rankings
Robby Fabbri moves into the top 10 on @daredlinereport's latest rankings. http://t.co/JrdAnCYHKh

— OHL Prospects (@BrockOtten) March 3, 2014
27 – Future Considerations, Feb-14
27 – ISS, Feb-14
30 – NHL Combined – Mid-term, Jan-14
31 – Bob MacKenzie, Jan-14
37 – Craig Button, Jan-14
Worth Retweeting
Robby Fabbri with the best game of a draft eligible player that I've seen this year. Hat trick. Forced about 5 turnovers on the forecheck.

— OHL Prospects (@BrockOtten) December 20, 2013
Robby Fabbri has only gone two consecutive games without getting on the scoresheet once this year-back in October. #2014NHLDraft

— (((Ryan Wagman))) (@RAWagman) March 13, 2014
http://t.co/dTmaEKMf2A
#27 Robby Fabbri @RFabbri9
PTS in all but 10GP this season. Exciting complete package… competes w/ highend off. game

— ISS Hockey (@ISShockey) March 12, 2014
https://twitter.com/iancmclaren/status/443444248646803456
Profiles
Potential #2014NHLDraft 1st round pick, Robby Fabbri, named @OHLHockey Player of the Month http://t.co/IdBaqZMxYr #FantasyHockey

— DobberProspects (@DobberProspects) March 7, 2014
Interview
Archive of tonight's show: http://t.co/WIQg9tegDC @AJonSports, Robby Fabbri (@Storm_City), Sam Cosentino, @VickersFC, INSIDE @TheAJHL

— Guy Flaming (@TPS_Guy) September 18, 2013
Quotable
Kyle Woodlief from USA Today.com, "We just love his up-tempo game, lightning quickness, smarts, and aggressive play down low among the big redwoods. Nothing deters him."
GM Mike Kelly: "Robby is the most dynamic 17-year-old forward to come through the Storm organization since Jeff O'Neill. Absolutely driven to be an elite NHL player."
From the THW War Room
Eldon MacDonald, THW: A few words on Robby Fabbri:

Mr. Forecheck –

You just have to watch this guy for his forecheck skills alone; he is that little dog that always gets the bone.

Motor –

His motor is like one those under-sized motor bikes that is grinding away at full throttle all the time, no matter what the gear or the situation.

Skills –

Acceleration – excellent; top gear – outstanding; agility – elite as he is so elusive; hands – soft around the net and an excellent passer; shot – quick with an excellent release. Top the physical skills with outstanding vision, desire and you have yourselves an outstanding hockey player.

Draft placement –

Late twenties or early thirties on most lists; size is the only thing holding him back from going much higher.
Video
About NHL Draft War Room Series
This series is compiled by Eldon MacDonald and edited by @ChrisRalphTHW)
Chris is THW's senior draft/prospect analyst and a Managing Editor. Watch for "The Next Ones" Prospect Profile series, exclusive rankings, mock drafts, as well as the annual THW NHL Entry Draft Guide. Follow @ChrisRalphYQ on Twitter as he infiltrates, dissects and analyzes all happenings of hockey prospects and the NHL entry draft. Email: cralph[at]thehockeywriters[dot]com