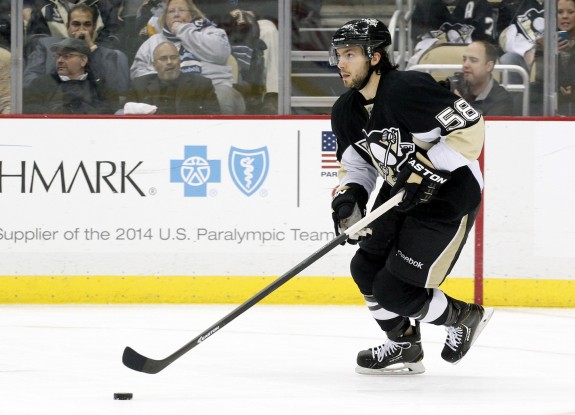 Should the Pittsburgh Penguins be given a playoff excuse? Should an early exit be expected from the team? The Penguins failed to accomplish their goal in each of the last four seasons — winning a Stanley Cup. Many excuses were tossed around as to why the Penguins fell short in previous playoff runs.
 Stanley Cup hangover (2009-2010)
Sidney Crosby, Evgeni Malkin and Jordan Staal missing a playoff year (2010-2011)
Crosby returning from concussion issues/Marc-Andre Fleury poor play (2011-2012)
Dan Bylsma and the team not adjusting their style of play soon enough (2012-2013)
The excuses above can be debated. There wasn't a good reason for the Penguins losing in the Eastern Conference Finals last year. They were beaten by a superior team in the Boston Bruins. But given the number of injuries dealt to the Penguins this season, is a new excuse developing?
The Penguins lead the league in Man Games Lost with 397. This is 94 more games than the Detroit Red Wings, a team everyone thinks is reeling from injury since they're a question mark to make the playoffs. The Penguins also lead the league with man games lost due to injury with 328. The San Jose Sharks are second in this category with 253. There wasn't much talk about the Penguins' injury-riddled season because of their strangle hold on the Eastern Conference. Now that the Bruins own a five-point edge over the Penguins in the Eastern Conference, concerns are getting louder.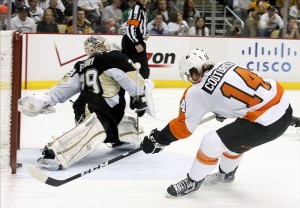 The Penguins were embarrassed by the Philadelphia Flyers in a home-and-home series over the weekend. The Flyers proved that the Penguins lack discipline. That's nothing new. But the Penguins lost due to their lack of talent at both ends of the rink. It's all injury related.
| | |
| --- | --- |
| Player: | Games Missed Due to Injury |
| Paul Martin  | 33 |
| Kris Letang | 31 |
| Rob Scuderi | 29 |
| Pascal Dupuis | 28 |
| James Neal | 18 |
| Beau Bennett | 55 |
| Chris Kunitz | 2 |
There wasn't enough talent on the ice for the Penguins to compete with the Flyers. Compare both rosters. The Penguins' game roster looked like the Wilkes-Barre Scranton Penguins with a few veterans sprinkled in. The Flyers were fully loaded.
Chances are slim that the Penguins do much playoff damage with their current roster. Returns from Neal and Kunitz will inevitably help. But Martin, Letang and Bennett remain in question. Even if the majority of these names return to the Penguins' line-up, this doesn't promise playoff success.
Martin returned from a lengthy absence earlier this season. He struggled in his first few games back. It took Martin a number of games before he was in top form.
Bennett, who is cleared to practice, has played in 12 games this season. He is learning to play hockey again before finding a playoff mentality. How long will Bennett last once he returns to game action? He hasn't provided evidence that he'll persevere through a physically demanding playoff run.
Letang is the biggest question mark. Doctors cleared Letang to practice, but he has no idea when he'll play in another game this season. Letang was anything but Norris Trophy-like in last year's playoffs. He found himself on the ice for half of the goals scored by Penguins' playoff opponents.
A few poor games by players returning from injury may cost the Penguins a playoff series. No matter who comes back, the Penguins' best players don't have much time to gel. The injuries endured by the Penguins justify an excuse for losing in the playoffs. So, is it fair to expect the Penguins to win a Stanley Cup this season, or should we wait yet another year?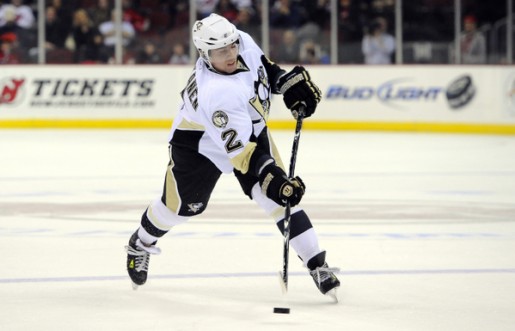 Hopefully, the team follows Matt Niskanen's lead:
"The last two seasons, March has been too easy for us. I mean we go through it, just a breeze. I think we go into the playoffs overconfident. Right now, we're in a little bit of a bump in the road. We're having to fight for it. We're in tough games. We're getting outplayed sometimes. If we handle it the right way, that's not a bad thing. It's going to teach us how hard it's going to be, and we have to recognize that. We got a ways to go. We have to get better before mid-April comes. We'll keep working. We'll keep trying to do the right things. Focus on the details and our work ethic. Keep plugging away here and keep trying to get better."
——————————————————————————————————————————-
*** 'Man Games Lost' are the number of games missed by players on the roster and injured reserve players due to injury. This also includes LTIR players who haven't played this year or won't play this year. The 'Man Games Lost Due to Injury' is from the official team account showing which players missed a game this season due to injury. Tomas Vokoun isn't on the 'Man Games Lost Due to Injury' list because he hasn't played this season. He is on the 'Man Games Lost' list. ***
Justin Glock has covered the Pittsburgh Penguins for The Hockey Writers since 2011. As a lead writer, his Penguins knowledge traces back over two decades. For any requests, please feel free to contact Justin via email: JGlock10@gmail.com.