Eric Cornel

THW's NHL Draft War Room Rankings (E-Mac): #25 (Feb 2014)
THW's NHL Draft Rankings – The Next Ones Edition (aka Chris's List): #25 (March 2014)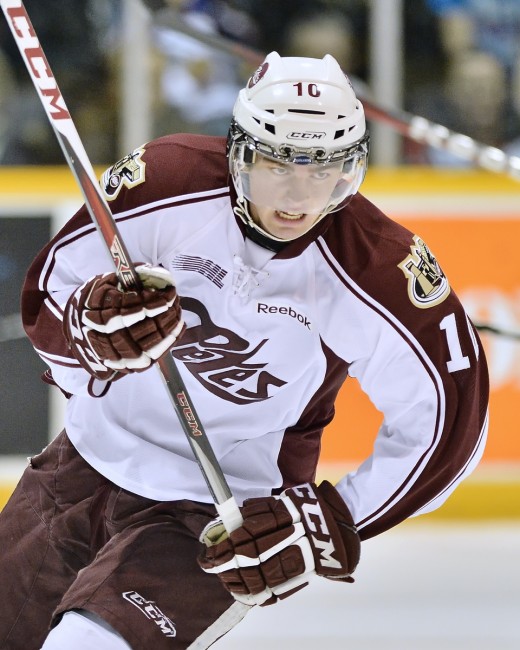 Hashtag: #MrEvolution
Nickname: Corny and Corndog
Team: 10, Peterborough, OHL
Position: Centre/Right Wing
Shoots: Right
Height: 6'2
Weight: 186 lb.
Born: Peterborough, ON, 11-Apr-96
Twitter: @ecornel10
Stats
Other Rankings
29 – NHL Combined – Mid-term, Jan-14
38 – Bob MacKenzie, Jan-14
39 – Craig Button, Jan-14
Worth Retweeting
Eric Cornel has stepped up his game. Moving to the wing has done wonders. Don't see many players with his size/mobilty. Strong 2nd rounder

— Sean Lafortune (@SeanLafortune) February 26, 2014
@neatebuzzthenet : Eric Cornel @ecornell10 believes he bore the weight of the world during his rookie season in… http://t.co/pQuBT5D7pa

— @BoWithNoFlow (@bobbywmurray) October 22, 2013
Profiles
Quotable
Quote 1: Sean Lafortune from TheScout.ca, "Fast forward to today, and Cornell is showing why so many had him rated (yours truly included) as a top 5 prospect for the 2012 OHL Draft.  He has come into the year stronger, more confident, pushing the pace and using his puck skills to develop offensive chances. He is using his size and above average mobility more effectively, while also capitalizing on the ice time that he is earning. The best part of this year's progression, is that I still believe that he has a long way to go before he reaches his long term potential."
Quote 2: Coach Jody Hull: "Eric is our most improved player from last year and has continued to impress in his sophomore season. He is a swift, skilled player who works hard both on and off the ice."
From the THW War Room
Eldon MacDonald, THW: A few words on Eric Cornel:

Progression & Evolution – Let's cut to the chase: Eric was the third overall pick in the 2012 OHL Draft but struggled severely in the 2012-13 OHL season because he didn't possess the overall strength necessary to succeed in the OHL. His defense was also sub-standard due in part to the strength issue. Fast forward to the 2013-14 season and these issues have not been totally eliminated but they have been addressed to the point where Peterborough is getting that top line talent they expected from the draft. He continues to evolve his game.
Skills – Physical – Great hands on a 6'2 frame, a cannon of a shot, passes that can be oh so sweet. Intangible – Add to the physical skills, the drive, desire and vision of a young man determined to succeed and you have a high end player who can make those who play with him look so much better.
Draft placement – Late second to early third on most lists. Eric has travelled a long way on the progression road this year but I feel there is much more to come as he adds more weight and strength and instills more confidence in himself. Expect him to go higher rather than lower because of his size and the fact that he has progressed so much already.
Video
About NHL Draft War Room Series
This series is compiled by Eldon MacDonald and edited by @ChrisRalphTHW)