For the second straight season, the Calgary Flames' top affiliate in the American Hockey League got off to an amazing start. While their roster has been once again decimated by injuries and call-ups, the Abbotsford Heat appear to be in a good position headed towards the end of the season and the kick-off of the Calder Cup playoffs.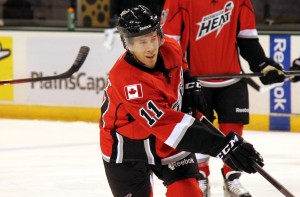 In 2012-13, the Heat leapt out of the gate, getting to 10 games over .500…before the NHL lockout ended and the team lost additional players to AHL injuries and NHL call-ups. Abbotsford ended up missing the post-season. This season, the team's in much better shape, having built up a larger cushion and with the air-lift of bodies to Calgary beginning much later – in early March rather than late January.
While the Abbotsford Heat kicked off the month of March by posting a franchise record losing streak, they may be the team best prepared for a long playoff run. The reason? All of their best players are getting a crash course in intense hockey by way of a stint in the National Hockey League.
Starting netminder Joni Ortio was brought up to replace an injured Karri Ramo. While he's likely sticking in Calgary for the balance of the season with Reto Berra's departure, he'll head down to the AHL to chase a Calder Cup. Other prominent Heat players that have been with the Calgary Flames since the Olympic break include Max Reinhart, Corban Knight, Ben Hanowski, Tyler Wotherspoon and Markus Granlund.
Flames captain Mark Giordano – himself a veteran of the AHL playoffs from his younger days – notes that getting a taste of stretch-drive NHL hockey can do wonders preparing the team's prospects for their upcoming post-season.
"I think the number-one thing is confidence," shared Giordano, noting he felt more confident in the AHL after his NHL call-ups. "It's a little bit nerve-wracking your first few games in the NHL. But after that, you have to get over that and try and make plays and want the puck in key situations, because at the end of the day that's what keeps guys in the league, it's guys that want the puck and want to make plays and can handle the pressure."
The Flames haven't iced a full "on-paper" roster all season, seemingly always missing at least one regular player. Their post-trade deadline roster has arguably been even thinner, pressing the club into utilizing young players in key situations – Joni Ortio became the de facto #1 goalie, Markus Granlund was (prior to suffering an injury) a special teams fixture, while Corban Knight was used recently in a shootout (winning the game for the Flames).
"When guys are going and they're playing well, they get rewarded around here," said Giordano, alluding to the team's line-up meritocracy this season. "It's nice to see, and hopefully our young guys keep developing because they're doing a good job. They all work hard on and off the ice, so it's easy to be around guys like that and, for a team and for coaches especially, it's easy to coach those types of players."
For their part, the call-ups are relishing the chance to play in key times in the NHL. While they do know very well that Calgary's playoff hopes are virtually non-existent, they try to focus on getting the most out of their few weeks in the bigs before inevitably heading back for the end of the AHL campaign.
"I think it's easy to focus here. You have to focus here or else you're going to really struggle," said winger Ben Hanowski. "But I obviously check and see how they [Abbotsford] do. A lot of good friends down there, good teammates. I know when they play, I check the scores, but it's not like I'm distracted here by it, just keeping tabs on the team that I'll end up going back to."
"Whenever you're in the playoffs, whatever league you're in, it's pretty exciting," added center Corban Knight. "For us, obviously I want to concentrate on my time here and try to do as well as I can, but when the time comes for me to head back to Abbotsford, playoffs –  it's definitely going to be exciting to be part of playoff hockey again."
Flames forward Brian McGrattan, himself no stranger to the American League, feels that this brief NHL audition for the Heat's mainstays will do nothing but good things for that team this year, but also provide a nice push in the development of each player.
"It'd be great for our young guys to get as much experience as they can up here and bring it back there, and hopefully take that team all the way down there," said McGrattan. "But also for their development coming into next year, they're getting a chance to play against, we play most of the top teams down the stretch here. It's going to be good for them, good for their confidence, good for their game."
The Calgary Flames complete their regular season on April 13, but as the team has gotten healthier over recent weeks, some players (such as Max Reinhart and Corban Knight) have already returned to the AHL. The Abbotsford Heat will likely begin the Calder Cup playoffs at the end of April, which will give the young men up with the Flames right now plenty of time to readjust to the AHL game before the post-season.