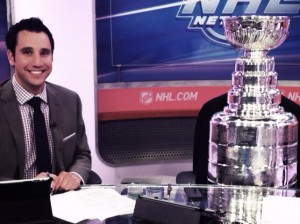 During childhood we are often asked–What do you want to be when you grow up? NHL Network's Mark Roe knew exactly what he wanted to do—have a career in broadcasting.
Roe's road to the NHL Network started at the tender age of 14 volunteering at TSN on a program called "Off the Record". After finishing his degree at Ryerson University, a school known for its radio and TV program, the Hamilton, Ontario native scored his first full-time job with TSN as a sports writer for Sports Centre, one of TSN's flagship shows.
Mark's road to the NHL also went through Barrie, Ontario where he spent four years working at the local CTV station assuming the role of Sports Director. In 2012 he started to juggle CTV and the NHL Network assisting the NHL when they needed a fill-in.
In the summer of 2012, his NHL job became permanent as he was offered a full-time job hosting NHL Tonight and NHL on the Fly. Any first day on the job is tough, but imagine having an audience of passionate hockey fans throughout North America. Roe looked back on his first show, "The first show that I did I had Jamie McLennan as my analyst. It was always flip to me and I'll help you out and he was always there for me in those first shows. I'll always remember how good he was to me."
Now that Roe has an abundance of NHL Network time served, he can walk us through a typical day at the office. Mark shared what a typical day looks like at the NHL Network, "Usually I'm doing NHL Tonight.  I wake in the morning and watch the other networks because I spent the whole night doing ours and sometimes I'll watch our show to see if something worked out. I'll take an hour to make notes for that night. I go in around 5:30 and do a little bit of notes and get make-up and everything done before the 7 o'clock game."
The avid skier went on to say, "As a production group we sit in a board room with eight TV's and watch all the games at once. We develop story ideas as they're happening. We always have a basis on what the show will be heading into the night. Things change at the last minute every time."
Working NHL Tonight and NHL on the Fly will keep you buzzing like a bumble bee during playoffs as Mark explains, "The playoffs are the busiest time because if you have a triple overtime game on the West Coast you're there until 3 o'clock in the morning. We're on the road for the Stanley Cup Final. We're getting down to what you can say is the busiest time of the year for us."
If you watch Roe and the NHL Network you're familiar with the Arena Cam, a camera that is stationed underneath the scoreboard. The 29-year-old shared some of the hurdles that he and his analysts face on occasion, "There's times where we're doing an interview and the player can't hear us or we can't hear them."
Besides the typical miscommunications with the Arena Cam there are also times when Roe and his analysts do not know whom they are interviewing until the last moment. Mark touched on this saying, "We don't know whom we're getting thirty-seconds before they come on camera. We know we're going to get someone from the winning team, but there are nights where I'm on camera and the producer comes in my ear and says Ryan Callahan is waiting and I turn and say Ryan Callahan is now on the Arena Cam and you have to think of a question on the spot. You're prepared for the main storyline because of the game, but by no means are you scripting it. They're literally on the fly."
Hosting on the NHL Network also requires you to think on the fly because it's live TV and the Network may encounter minor hiccups. Mark painted a picture of a hiccup; "We've had times this season where it has happened. We started this season where we had highlights and we didn't have a script to the highlights. I was trying to not say anything because I could hear my producer saying Rangers-Devils and I was giving him a sign that we don't have the script, but they rolled the highlights. It was Kevin Weekes and I adding in the whole highlights. That proved to be pretty funny in the end."
In the close-knit world of hockey, teams are a brotherhood. Mark and his analysts have that same brotherhood. "D-Roe" as he is known to his co-workers commented on the team-like atmosphere, "I've had a great relationship with all of our analysts. I can't think of anyone that has been uncomfortable. These all are ex-NHL players. They've all welcomed me and they've all become friends. The first day I worked with Kevin Weekes, we're joking around. Because we work so much we don't get a whole lot of time out of work. When we do there's that team bonding and it comes naturally to them because they've been on teams their whole life.  It's a great atmosphere at work."
Host of NHL Live Steve Mears gave his take on Roe, "Mark is a great guy. We've talked on the show, but I've never met Mark before. I only see him in a small box on a monitor in our studio. He's in Toronto and I'm in New York and our paths have never crossed. I enjoy watching his work on NHL Tonight and the various shows we have. He does an incredible job. It feels like I know him, but I've never met him."
As a fan of the NHL you may think of players, coaches and referees, but have you ever taken the time to think about what we would do without broadcasters? If there were no broadcasters, the game might as well be played in black and white.
NHL Network personality Mark Roe brings the color and life to the game that fans thrive on.
Follow Ted on Twitter @Bauerhockeydude