No need to remind you all of a pretty lousy weekend (if you happen to be a fan of the Pittsburgh Penguins).
I'll be in Ft. Myers for the next week, and quite frankly I've got to get these thoughts out of my head and off my chest.
So let's cut right to the chase here: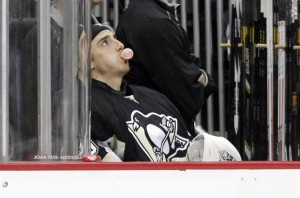 If you're one of the many Pens fans who continuously bash Marc-Andre Fleury; and you bashed him again after this weekend (seven goals allowed in roughly 75 minutes of hockey), then please go camp out up at St. Vincent College and wait for Steelers training camp to roll around. His teammates played horrendously in front of him, and gave him no chance on most of the seven he allowed. Had it NOT been for MAF, the Penguins could've easily given up nearly two touchdowns worth of goals (that's all for the football references).
Brooks Orpik, one of my all-time favorite Penguins' players, has nothing left. Either that he just doesn't care any more. In Saturday's game during a 3-on-1 for the Flyers in which Matt Read scored; Orpik's defense partner Olli Maatta was left high and dry. Orpik's attempt to backcheck and disrupt the play was futile, and he seemed disinterested. I know it was a long shot for him to return next season, but this weekend may have sealed his fate.
Speaking of slow defensemen, can we please end the debate between Deryk Engelland and Robert Bortuzzo? Engelland is the better hockey player period. He's not the most gifted D-man; but he rarely out of position and more often than not makes the right decisions with the puck on his stick. Plus he's versatile (he's played a number of games as the 4th line right wing this season) and has contributed offensively to the tune of six goals.  Bortuzzo just makes bone-headed plays, tries too hard in the offensive zone, and can't seem to get out of his own in his own end. If it's ever a question of who the sixth defenseman will be, and it's between these two, my money is on Engelland every single time.
And don't bring up the giveaway on the power play from Sunday's game by Engo. He blew a tire along the boards and that's just a bad bounce that the puck ended up on a Flyer's stick.

Penguins' captain Sidney Crosby (Charles LeClaire-USA TODAY Sports)

This team is VERY weak mentally. It starts with their head coach and it trickles down throughout the locker room. In 2009 when Michel Therrien was fired, most said it was because he had lost the room. The players had tuned him out. While that may be true, what is happening now is far worse. This team has little to no discipline (see Evgeni Malkin & Robert Bortuzzo from Sunday's game), and virtually no leadership. If there were ever a time for a "closed-door players-only" type of meeting it was Sunday afternoon. To the best of my knowledge it didn't happen. Someone – ideally Crosby since he is the captain – should've taken this team to task for their collective efforts through the first 80 minutes of the Commonwealth Cold War.
To piggy-back off the Crosby thing; I may lose a lot of readers over this, but I don't think he is a good captain. Being the best player in the world should not automatically give you a free pass to the captaincy. Bottom line: Sid needs to step up his game in the leadership department.
Dan Bylsma is notorious for his arrogance and stubbornness when it comes to making in-game adjustments. During this strenuous time dealing with injuries to key players, why not change up the scheme a little bit? I know most of you will hate this idea, but maybe try a trapping-style of defense. Yeah it's boring and there usually isn't a whole lot of scoring, but I think it would help the depleted Pens in terms of generating offense, and it simplifies the game, which is what this team needs right now.
There is a reason that the saying goes "defense wins championships." Just ask the Seattle Seahawks (ok I lied, but that's the last one). The trap would help the Penguins (hopefully) turn defense into offense from the neutral zone on in, thus simplifying the game and eliminating the stretch pass from the defensive zone that doesn't really lend itself to puck possession.
A lot of folks on Twitter wanted to blame injuries and a 16-point lead in the Metropolitan Division (in other words, what do the Penguins have to play for) for this pitiful excuse for hockey over the weekend. When you have the two most talented players in the world in Crosby and Malkin, you don't get to make excuses. This ties in to poor leadership.
Ok. I feel better now.
What are your thoughts? Agree or disagree?

The inbox is always open at TDTorraoTHW@Gmail.com. And your comments are also always welcome here at The Hockey Writers.