It is that time of the year again.  Fantasy hockey playoffs:  where trash talking, research, and strategy is most important.  With the playoffs around the corner, now is the time to make adjustments, be flexible and be open-minded.  Check out the following three tips and see how you may be able to rule with your roster.
FANTASY TIP 1: Don't Let Big Names Hold You Back
One of the hardest things a fantasy hockey patron may have to do is part ways with someone he/she drafted.  This is the time of year where parting ways may be essential to your advancement in the playoffs.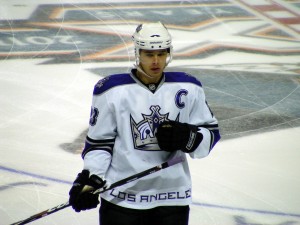 Take Dustin Brown for example.  He is a talented player who for several seasons has remained comfortably on fantasy rosters.  His consistent physical play and offensive contributions have made him a great asset in previous seasons.  In fairness, Brown returned from the olympic break on fire, amassing eight points in six games; however, the Kings' captain is currently suffering from an illness and a lower-body injury.  Though the team has not disclosed that this injury may be long term, it may be worth it to start thinking about parting ways.  Yes, you drafted him.  Yes, you do not want to lose him.  Yes, you want to win right?  Keep an eye on his status.  He's talented but he's had a bad season; moreover, there are plenty more productive players available on the waiver wire (more to come in this article).
TAKEAWAY:  Don't be afraid to cut loose a big name, especially if they are not producing for your team.  It is too late in the season to wait on a player to heat up again.  Your team needs production and it needs it now.  Take a look at how your players have done in the past 7-14 days and go from there.
FANTASY TIP 2: Look Beyond Scoring and Goaltending
One of the biggest mistakes commonly made is building a team on the sole basis of scoring or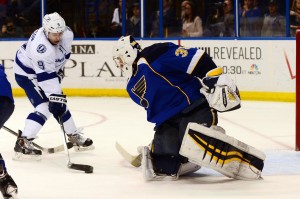 goaltending.  Sure it's great if you were able to draft Ryan Miller and Jonathan Quick; however, if you are in a standard Yahoo! or ESPN league, you know that there are many ways to win a match up.  
Categories such as shots on goal and +/- can be the difference between advancement and elimination in the playoffs.  With that in mind, now is the time to get strategic with your waiver wire.
TAKEAWAY:  There are a number of great players available who can contribute in those categories.  Most teams have that dispensable player or two that can be dropped at anytime.  Now may be the best time to start looking to the waivers for great players who can provide in those often overlooked categories (more to come on those players in this article).
FANTASY TIP 3:  Use the Waivers Wisely
As stated earlier, there are a number of fantastic players available on the waivers who can be the difference makers on your team during playoffs.  The following list presupposes that most readers have a dispensable player on their team that will allow them to play the waivers.  Here are five players available in many Yahoo! leagues who should be on your team as you head to the battlefield.
Tommy Wingels: 20% Owned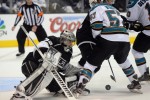 There are few players that have contributed to fantasy rosters in so many categories other than this young talent; yet he remains unowned by 80% of fantasy hockey patrons.  There are two reasons why Wingels should be on your roster.   First, he has dual position ability (C, RW), and second, he has been on fire as of late.  In the last seven days, the youngster has obtained a solid stat line of 1G, 1A, +3, 5 PIM, and 5 SOG.  Compare to Dustin Brown, 0G, 1A, -1, 0 PIM and 2 SOG in the last seven days.  Pick him up while he is available.
Mike Cammalleri:  31% Owned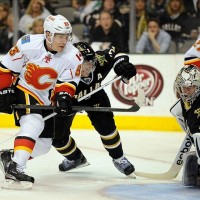 Like many players, Cammalleri is in the midst of a hot streak.  He has 4G and 2A in his last four games to go with 13 SOG during that span.  Again, another name that most people overlook, but a stat line that could help any team.  Moreover, the vet is also dual position qualified (C, LW).  Even if he hadn't scored 6 points in 4 games, his 13 SOG and dual position eligibility should make him an attractive player for your roster as he can help in those often overlooked categories.  Remember:  don't be afraid to ditch players who aren't contributing for you.
Marc-Edouard Vlasic: 37% Owned
Need a little help on defense?  Vlasic might be the answer for you.  Moreover, he may be able to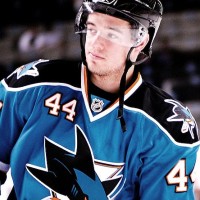 contribute in ways some of your forwards haven't been!  Let's start with his +30 rating.  This stat alone could benefit any team, no matter what the standings say.  However, it is his recent play that makes him an intriguing pick up.  According to Rotoworld.com, Vlasic has been been a solid producer since the olympics, adding 5 points in 8 games to his stat line.  Remember, think short term.  In the last seven days, the Sharks' D-Man has an elite stat line reading  1G, 1A, +7, and 11 SOG.  He could help folks.
Carl Soderberg:  10% Owned
Who?  Maybe folks don't place him in conversations with the likes of Sidney Crosby and Alex Ovechkin; however, he has been up there with the best of them in the last week.  Overlooked by most fantasy hockey participants, Soderberg has sported a ridiculous stat line in the past week of 1G, 2A, +3, 6 PIM and 11 SOG.  That's one more point, 2 PIM, and 5 SOG more than Crosby has put up in the last seven days.  The Bruins' weapon as of late also has dual position eligibility (C,LW).
Anders Lee: 4% Owned
The Islanders' center has been tearing it up as of late scoring 4G and 4A to go with a +6 rating in his last six games.  Read between the lines folks, even without his 8 points, his +6 rating may have been the difference between and win and loss for your team.  He is readily available in almost all leagues and will likely continue to be.  He also may be the boost your team needs as the playoffs approach.
In sum, now is the time to start being strategic.  Being strategic may sometimes involve risks.  Just remember these few things as you approach the battlefield.  First, think about the immediate future.  Next, stop looking at overall season stats and start looking at the past week.  Finally, play the players who are hot and drop the ones who are not.  Good luck and may the force be with you.
For more fantasy hockey advice, follow me @jessescott_THW.