Washington Capitals prospect Stanislav Galiev was hit with a tough injury earlier this season that he's recovered from, but he hasn't yet been rewarded with the opportunity and ice time he desires. After being scratched two straight games this weekend, the Russian born forward skated on the Bears' fourth forward line with Peter LeBlanc and rookie Nathan Walker Sunday night against Norfolk.
The 22 year old winger was selected by Washington in the third round of the 2010 NHL entry draft and Capitals' brass hoped he could develop into a top six forward. He's enjoyed success in the ECHL with the Reading Royals, totaling 28 points and 32 assists in 60 games, right at a point per game pace over the last few years.
He's yet to earn a substantial opportunity in the American Hockey League (AHL) however, getting marginal minutes while the Bears continue to dish out minutes to long tenured veterans both during even strength play and on the power play. He netted his first AHL goal earlier this season and has contributed seven points on the season. The message from Hershey Bears Coach Mike Haviland after the Bears most recent loss Sunday didn't sound promising for Galiev's playing time in the AHL for the remainder of this season.
"Maybe it's just time that if you're not going you're not going," Haviland said of allocating minutes down the stretch. "If we got to go down to two lines, we'll go to two lines if we have to.
Hershey Bears Playoff Hopes Fading
The Bears playoff chances continued to slip Sunday night, in a 3-2 loss to the Norfolk Admirals. The Chocolate and White fell four points out of the postseason race, with Providence and Albany picking up wins to push the Bears further down the Eastern Conference standings.
The Bears finished 0-7 on the power play and have not converted on any of their last ten opportunities on the man advantage over their last two contests. They previously scored on the power play in three straight games prior to their Saturday night home win over the last place Adirondack Phantoms.
"We got outworked on the power play," said Hershey Bears coach Mike Haviland. "The first period very nonchalant and when you get outworked on the power play, you go out there, you know they're going to be working hard, we went out and we thought it was going to be even easier on the power play. We couldn't get setup, we couldn't do anything."
"All of a sudden you give them momentum that way, special teams can be momentum and certainly they did that. We got outworked for the whole first period, it's as simple as that. We had a team coming in that played a lot more desperate than we did, they were outshot 40-12 last night in Wilkes-Barre, lost 4-0, showed in the first period what they wanted to do. We wanted an easy game, we didn't get it."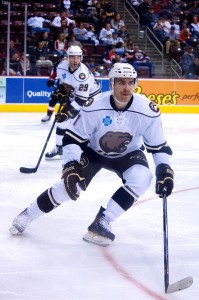 The Bears tough schedule continues with just four games left at Giant Center and 14 overall, including a three game road swing this week. The Bears face Providence , Worcester and Manchester in three straight games beginning Friday night.
Game Notes
Attendance: 10,753
Bears Injuries: Nate Schmidt, Tomas Kundratek, Garrett Mitchell and Dustin Gazley
Hershey Healthy Scratches: Chay Genoway, Joel Rechlicz, Ryan Potulny and Patrick Wellar
Bears Lines
Forwards
Dane Byers-Michael Latta-Matt Watkins
Jeff Taffe-Kris Newbury-Brandon Segal
Nicolas Deschamps-Ryan Stoa-Chris Brown
Nathan Walker-Peter LeBlanc-Stanislav Galiev
Defensemen
Cameron Schilling-Tyson Strachan
Julien Brouillette-Steve Oleksy
David Kolomatis-Patrick Wey
Three Stars
Emerson Etem (two goals, one assist, three shots on goal)
Andre Petersson (goal, one assist, five shots on goal)
Michael Latta (goal, four shots on goal)
You can follow Matthew on twitter @m_speck and email him at mspeck21@yahoo.com with any questions or comments.
Matthew Speck covers the Washington Capitals organization for The Hockey Writers. He provides coverage of both Washington at the NHL level and prospect related content. Matthew also covers local sports for the Lebanon Daily News in Central Pennsylvania. You can email him at mspeck21@yahoo.com with any questions or comments.