You'll hear the phrase "tanking" thrown around towards the NBA. However, when it comes to the NHL and the term tanking, it isn't a hot button topic yet. Next season the question will be will teams throw their season to increase their odds at drafting the next great superstar: Connor McDavid?
Already there have been small signs of this. For example, the Buffalo Sabres had a fire sale at the trade deadline. At a lesser extent the Calgary Flames and New York Islanders did whatever they could to shed players for draft picks. Although, this won't help these teams now. But, it will pay off for them next season when they have to be bad to get really good.
Although, you may say, "teams haven't tanked in the past for high draft picks." And, "just because you pick first it doesn't mean you'll have an instant turn around." To which you're right; if you're the Edmonton Oilers. They apparently haven't figured out how to get really good through the NHL Draft.
Looking through previous drafts where a "face of a franchise" player is going to go as the top overall pick and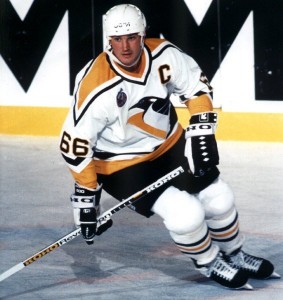 you'll see instances of tanking. You can look no further than the Pittsburgh Penguins who not only tanked once, but they did it twice. The first instance was back in 1983 when they did whatever they could, allegedly, to get the top pick for Mario Lemieux.
From a 2009 question and answer piece by Pittsburgh Post Gazette writer Dave Molinari he points out what the franchise did at the end of the season to finish behind the New Jersey Devils:
The most striking was trading one of the Penguins' few significant talents, defenseman Randy Carlyle, to Winnipeg for absolutely nothing — right away, at least. Oh, the Penguins got a pretty fair return in that deal — a first-round draft choice that became Doug Bodger, along with defenseman Moe Mantha — but Bodger wasn't drafted until a few months after the season and Mantha was a player-to-be-named, which means he wasn't officially identified as part of the trade until the Jets' season was over.

Also, there was an instance when goalie Roberto Romano had the temerity to string together a couple of strong starts late in the season, at which point general manager Ed Johnston sent him to the Penguins' farm team in Baltimore and brought up goalie Vincent Tremblay because "we want to see what he can do."
Then, there was the 2003-2004 Penguins that finished with one of the worst seasons ever in franchise history amassing only 23 wins and 58 points. That season they were led in points by a Defenceman, Dick Tarnstrom, with 52 and a plus/minus rating of minus-37.
But, does tanking the season really work for teams in securing the top pick? Last year, the Florida Panthers finished last among teams and had a 25-percent chance at drafting first. What happened was that the Colorado Avalanche, a 18.8-percent chance at number one, got the top spot and selected Nathan MacKinnon. If Florida won the draft, and selected MacKinnon would their season turnaround like Colorado's did? Probably not, as the Panthers have a lot more holes than the Avalanche. But the point is just because you finished last it doesn't mean you should pre-order your McDavid jerseys.
For now, the NHL doesn't have a tanking problem. They just have really bad teams like the Flames, Oilers, Sabres, Panthers and Islanders. However, this time next season you'll hear more and more about how the bad teams are purposely being bad. Which, for fans of teams that are contenders this will be good news come the trade deadline. However, for those of you who are stuck cheering for these tanks, well, I feel bad for you.