He may not be a leading candidate for the Calder Trophy anymore, but Dallas Stars rookie Valeri Nichushkin is still having a solid season.
One of the best steals of the 2013 NHL Entry Draft happened to fall in the laps of the Stars with Nichushkin. His pre-draft profiles found from various writers and analysts all included the same basic descriptions. At the age of 18, his 6-foot-4, 200-pound body is mature beyond its years and ready for the NHL. He has explosive speed that can give defensemen nightmares. His strength on the puck is marvelous, and he has great hands. Sixty-two games into his NHL career, and it is clear the profiles were on point.
Nichushkin showcases all of the above every game. He loves to take the puck with speed wide to his right in an attempt to skate around the defenseman and bring the puck back to his forehand for a shot. Even if the defenseman manages to stick with Nichushkin's speed on the play, they can't muscle him off the puck. His big frame and strong balance keeps the puck in his control as he is pushing to the net. Their best hope other than puck support is a poke check.
Nichushkin's Overall Game Developing
The most surprising aspects of Nichushkin's season so far are the improvements he has made to his overall game. His vision and patience have gotten much better since the beginning of the season. He has shown a sense of urgency and positioning on defense that very few expected before the season. He has quickly learned and bought into Lindy Ruff's system. He backchecks constantly and effectively. He can quickly break plays up and turn them into offensive chances with his speed or a quick pass.
Nichushkin is much better at the physical aspects of the game as well. He is not afraid to throw his body around and finish his checks. He is more much effective at board battles and tying his man up along the wall. Earlier in the season he struggled to clear the puck out of the zone when needed. His passes and clearing attempts were intercepted before reaching the blue line more than he and the Stars would have liked. He has grown more confident in his ability to get the puck out of the zone, and his effectiveness is leading to more quick counter attacks and odd-man rushes for the Stars.
Learning Valuable Lessons
One of the biggest concerns regarding Nichushkin this season has been his fatigue. He is not used to the mental and physical grind of an 82-game season on smaller ice against the best competition in the world. Ruff gave him a couple of games off earlier this season to recharge, and it proved beneficial. Also, Nichushkin used to overextend his shifts on a regular basis every game. He would remain on the ice 10-20 seconds, sometimes more, after his linemates had changed. He is now changing in a more timely manner, and he is doing consistently. It is possible that the overextended shifts led his energy being exerted more leading to more fatigue with every game. He seems to be doing better now with shorter shifts.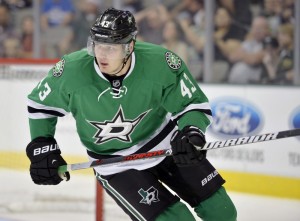 Although Nichushkin seems destined to make up one-third of the most dangerous lines of the future with Jamie Benn and Tyler Seguin, he has seen more time on the fourth line of late. Now that Peverley has been shut down for the rest of the season, he may return on a more permanent basis to the top line. He had developed good chemistry with the dynamic duo and saw his best production on that line earlier in the season.
Even off the ice, Nichushkin has made improvements. He moved out on his own and has slowly been picking up on the English language. He is better at understanding English hockey terms, but he is still trying to get a handle on general conversations. His 13 goals and 29 points may not exactly be what some predicted or hoped, but he brings more to the Stars than just points, and he is still developing.
Considering he is still in his first year in a new world, Nichushkin has done well developing on and off the ice. It is safe to say that he has grown more confident and responsible in all aspects of his game as the season has moved along. Even if he does not end up as the league's rookie of the year, he is certainly Dallas' rookie of the year and a very exciting and important piece of their bright future.
Mohammad received his Bachelor's Degree in Journalism from the University of Texas at Arlington with a minor in English.