Anton Karlsson
THW's NHL Draft War Room Rankings (E-Mac): #23 (Feb 2014)
THW's NHL Draft Rankings – The Next Ones Edition (aka Chris's List): #30 (March 2014)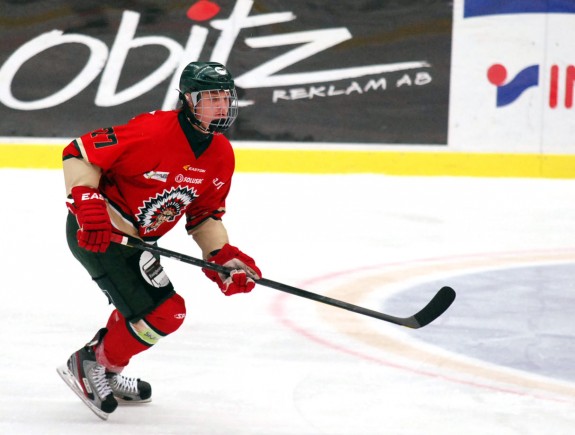 Hashtag: #MrCaptain
Team: 27, Frölunda J20, Sweden J20
Position: Left Wing
Shoots: Left
Height: 6'1
Weight: 187 lb.
Born: Lerum, Sweden, 3-Aug-96
Twitter: @Antonkarlsson61
Stats
Other Rankings
21 – ISS, Feb-14
22 – Craig Button, Jan-14
24 – Future Considerations, Feb-14
27 – NHL Combined – Mid-term, Jan-14
29 – HockeyProspect.com, Feb-14
31 – Bob MacKenzie, Jan-14
Worth Retweeting
http://t.co/dTmaEKMf2A
#21 Anton Karlsson @Antonkarlsson61
Competes… Aggressive physical game & dangerous offensive attack on transition.

— ISS Hockey (@ISShockey) March 7, 2014
New Hot List up, 2014 prospect Anton Karlsson in the spotlight: http://t.co/wrrDVRipuL

— Ryan Kennedy (@THNRyanKennedy) February 18, 2014
Prospector Files: FIN still strong without Kapanen #WJC; Stars at Shattuck; Outdoor HS hcky; Anton Karlsson for SWE. http://t.co/fuClQRB5b6

— Mike Morreale (@mikemorrealeNHL) December 26, 2013
Profiles
Quotable
Quote 1: Neate Sager at Yahoo! Sports Canada, "Sweden's youngest player, who just turned 17 in August, emerged as a "crowd favourite" with his tenacity during the two pre-competition games. Karlsson is considered a potential top-15 pick in the NHL draft. Also, for clarity's sake, he is the younger brother of the Erik Karlsson who is also with Sweden, not the Ottawa Senators defenceman."
From the THW War Room
Eldon MacDonald, THW: A few words on Anton Karlsson:

Leader –

Captain of two Team Sweden U17 teams plus the 2013 WJC U18 and the 2013 Ivan Hlinka.

Deadly on the rush

– His ability to make top notch plays at high speed make him especially deadly on the rush. 

High-end skills –

Explosive skater, high-end passer, soft hands around the net, elite wrister and a killer one-timer.

Tough to play against –

Excels at going to the net, undaunted physically, tenacious, solid checker; loves to roil the opposition and put them off their game.

Draft placement

– Mainly in the twenties; Anton will have to have a breakout 2014 U18 WJC to move up significantly as his results to date have not matched what was expected from his skill-set.
Video
Video 1: Anton Karlsson versus Team Canada at U20 WJC from aVilli16
https://www.youtube.com/watch?v=l8mC9tQ7ihE
About NHL Draft War Room Series
This series is compiled by Eldon MacDonald and edited by @ChrisRalphTHW)