by Eldon MacDonald (edited by @ChrisRalphTHW)
 Edgars Kulda
THW's NHL Draft War Room Rankings – Jun-14: #82
THW's NHL Draft Rankings – The Next Ones Edition (aka Chris's List):#156 (June 2014)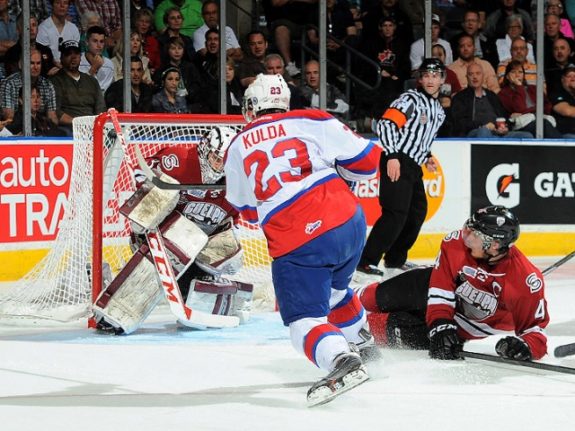 Hashtag: #KuldaApproved
Team: #23,  Edmonton, WHL
Position: Left Wing
Shoots:Left
Height: 6'0
Weight: 178lb.
Born:Riga, Latvia, 13-Nov-94
Twitter: Edgars does not have a twitter account (yet)
Stats
Other Rankings
197 – NHL Combined – Final, Apr-14
Worth Retweeting
#OILKINGS GOAL!!!! 2-0!!!!! Guess who? pic.twitter.com/nXdFccWg4I

— Edmonton Oil Kings (@EdmOilKings) May 19, 2014
https://twitter.com/NHLbyMatty/statuses/470699124963020800
ttps://twitter.com/arty_kulda/statuses/470707194938535937
Molodci! Chempioni! #MemorialCup pic.twitter.com/i6Qg4KsGRT

— Arturs Kulda (@arty_kulda) May 25, 2014
Close enough! #KuldaApproved MT @SamSmith1908: #OilKings Have the best fans in the World! It's been Kulda approved! http://t.co/RTUslzzZgj

— Edmonton Oil Kings (@EdmOilKings) May 28, 2014
Interviews
Interview 1: OttawaCitizen.com – On ice interview after Memorial Cup win
Interview 2: Edmonton Sun
Profiles
Quotable
Quote 1: The Hockey News– Ryan Kennedy, "Winner of the Stafford Smythe Memorial Trophy as tournament (Memorial Cup) MVP, the Latvian left winger put a cap on a remarkable sophomore year in Edmonton. The import jumped from 17 points to 60 points during the regular season and scored more than a point per game in the playoffs. Talented, determined and confident with the puck, Kulda was a force in London and a favorite of both fans and media. He went undrafted last year, but the late 1994 birthday seems like a lock to go the second time around now."
Quote 2: Edmonton Journal– Derek Laxdal, Edmonton Oil Kings Head Coach, "The one thing Eddie has is a great work ethic. He's got an inner motor that just doesn't stop. That's allowed him to go through that growing period and improve his game."
Quote 3: Puckrant.com – Richard Cloutier, "The Oilers have a bit of a problem in that they possess no second or third round picks. Memorial Cup MVP Edgars Kulda remind many people of a young Ales Hemsky, and he's worked himself onto the radar of several NHL teams. Belief is he'll be selected in the third round. The Oilers possess two – fourth round picks, but could bundle them to move into the third round for the specific purpose of drafting Kulda."
From the War Room
Eldon MacDonald, THW:  A few words on Edgars Kulda:
Kulda Approved– I will let you view the first video below to explain the origin and the hype behind "Kulda Approved". However, to give you a hint, I will say it is related to the teddy bear toss game – the game where everyone throws their teddy bears on the ice (for charity) after the first goal is scored. And yes, Edgars did score the first goal in the teddy bear toss game.
Offense – Edgars' offense is new this year and it is "Kulda Approved". In Africa, they would call Edgars a "Big Game Hunter" as he saved his best games for his most feared opponents and when they counted most. While Edgars does possess the skills, it is his energy, compete level, quickness, ability to work in traffic and get open down low that makes him special and helps explain why he has been successful this year. More importantly, these are the type of attributes that bode well for his success at the next level. Edgars is a player you can easily see fitting into your team no matter what team you are with. So to highlight Edgars' skillset:
First gears – High-end, it is what Edgars is all about – quickness and the ability to get open in crowded spaces. Steady on his feet.
Top gears – Very good, maybe not quite elite but very good nevertheless.
Shot – Love his wrist shot; love the release, love the accuracy – essential Edgars.
Passing – It is the quickness in his passes that makes this part of his game effective.
Stickhandling – High-end, especially in traffic – again, essential Edgars

Defense – It is all about his work ethic and his willingness to help others. Edgars Kulda is a 200 foot man and can be counted on to come back and help you out when you get in trouble.
Lovability – You don't have to be a teammate or even from Edmonton to know that Edgars Kulda is just about the most lovable guy in hockey. Humble, affable, always happy, always ready to laugh, even at himself; yes, Edgars Kulda's lovability index is simply off the charts.
Awards and Achievements
2014 Stafford Smythe Memorial Trophy – Memorial Cup MVP
Improvements to make – Edgars is a modest-sized guy (6'0, 178) so could use a little more strength to be successful in the bigs.
Draft placement – Before the Memorial Cup, Edgars probably would have been a late rounder as an overager of modest size and modest results (60 points in 66 games). However, a good playoff run (22 points in 21 games) playing mainly with Curtis Lazar and Mitch Moroz followed by his MVP performance at the Memorial Cup may have made many teams do a late revaluation on Edgars Kulda. I think his 200 foot game, topped by his timely goals and assists in the clutch has elevated Edgars to at least the third round.
Video