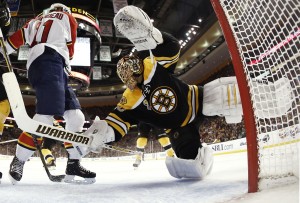 As the 2014 Awards presentation comes upon us in a few hours, it's a good time to review why Tuukka Rask remains the best in the league.
Although there are arguably five goalies in the league that are interchangeable as considered the best, only three are nominated each year. This time Tuukka Rask, Ben Bishop, Semyon Varlamov all put up solid work during the 2013-2014 campaign, but one stands out. Tuukka Rask deserves the award in the same manner as previous winners. Although Semyon Varlamov is the popular pick largely based on the shocking success of the Avalanche this past season, there are other important factors that highlight Rask as your winner, none of which involve him being the trendy pick of the year.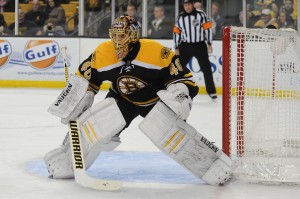 Save Percentage Rules
Although it's possible to make a case for all three — as is commonly the case every year — this one should go to Rask. As a general rule, save percentage is the overall best way to evaluate an individual goalie's performance. Unlike goals against average, widely considered a team stat, save percentage is on the goalie. Rask finished the season with a .930 save percentage, solid numbers and best of the three. Save percentage is, put simply, the figure used to assess how many saves are made versus shots against. Varlamov faced more shots, yes, but was far less consistent than Rask throughout the course of the year. Reliability is an important intangible measure of a goalie's worth, and Rask simply provided more of that. All of this occurred while defensive stalwart Dennis Seidenberg was out for an extended stretch, meaning Rask had less help than usual.
Playing with a handicap
In 2011, Tim Thomas played behind a similar team en route to their Stanley Cup. In that season, he too won the Vezina as the League's top goaltender. Although a team could offer better opportunities to garner a better number based on preventing higher-quality chances, a goaltender should not be penalized for having a high-quality defense. If Thomas went unpenalized for playing behind a solid defensive team, so too should Rask. Players in the vast majority of instances cannot control which team they play for, any more than a child can choose his parents. If Zdeno Chara can win the Norris and Patrice Bergeron the Selke — both defensive awards — the fact that Rask is on a solid puck-possession team should not negatively impact his chances in the same environment.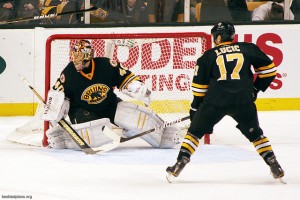 Numbers don't lie
Since Tuukka Rask entered the league, his numbers have been stellar. Starting in the 2007-2008 season, Rask's career numbers are 102-60, with a .928 save percentage and 2.11 goals against average. Included in those gaudy stats are 23 shutouts, among the league leaders during that stretch. There is a widespread perception that Henrik Lundqvist won in 2012-2013 largely in part because he was "due" in being nominated numerous times and not winning. Like Lundqvist, Rask has the body of work and should walk away with the award. GMs and hockey writers that vote on these things often consider — right or wrong — the "fairness" of their votes. Rask may be the best remaining goaltender without the Vezina, and this should change by later tonight.