With the draft just hours away, it's time to see who the Columbus Blue Jackets will call up to the stage at the Wells Fargo Center in Philadelphia, PA. In the past week, the Blue Jackets brought in Scott Hartnell, and shipped both R.J. Umberger and Nikita Nikitin out of Columbus. With some picks in the draft, the Blue Jackets can add  to their wealth of talent on all their lines. Here is the person to most likely be selected by the Blue Jackets in the first round.
… Sonny Milano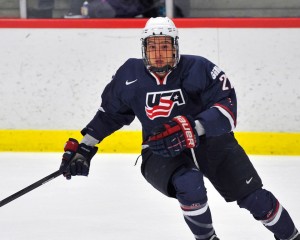 Milano is a point scoring machine that can play either Center or Left Wing for the Blue Jackets. Who else plays Center for the Blue Jackets? Ryan Johansen, who also happens to be a point scoring machine — he led the team last year in total points. By bringing in Milano, the Blue Jackets put the pressure on Johansen to re-sign. Earlier in the week, I wrote that Johansen would probably end up re-doing his contract. If general manager Jarmo Kekalainen can get Johansen to come back to the Blue Jackets, Milano can be the successor to Johansen. Or even better, Milano can be moved around on offense, allowing for both Johansen and Milano on the same line. The Blue Jackets could be wielding a duel-threat scoring machine within a few years.
Worse case scenario for the Blue Jackets is that Milano developes in the minor league affiliate, and gets called up whenever he becomes NHL ready. Instead of throwing a top prospect into the fire, let him spend a year getting his barring of what the pros are like. At that point, put him into the rotation and see what happens.
What have the Blue Jackets done recently with draft picks?
The Blue Jackets have a solid draft history. Currently, Ryan Murray and Ryan Johansen are a few of the first round picks the Blue Jackets have made within the past five seasons. Last year, the Blue Jackets had three first round picks. Alexander Wennberg was the first of the selections at 14th, then Kerby Rychel at 19th, and Marko Dano at 27th. Even though those players don't play were the Blue Jacket sweater, they are proving their worth in the minors or other hockey leagues.
The Blue Jackets are building  a future of bright stars via the draft. They can add another one with the selection of Milano.