Entering the 2014 offseason, the grocery list for Craig MacTavish and the Edmonton Oilers is a long one indeed. MacTavish has been up front and aggressive in what he wants to do and the changes he expects to make for the upcoming season.
With the draft and free agency looming, we take a look at the state of the franchise.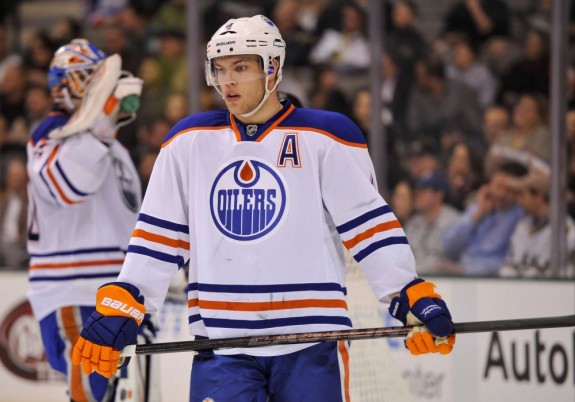 2011-12: 32-40-10 (29th overall)
2012-13: 19-22-7 (24th overall)
2013-14: 29-44-9 (28th overall)
Immediate Needs
Unfortunately the two biggest needs the Oilers have are also the two hardest to fill. They need a top pairing defenseman, ideally one to play the left side with Justin Schultz. They also need a No. 2 centre with some size.
They also need size in their top six group of forwards in general and more scoring depth in their bottom six group.
MacTavish potentially has filled the weakness in goal if Ben Scrivens and Viktor Fasth prove to be a legitimate NHL tandem.
Organizational Strengths
Depth on the wing is their biggest position of strength with Hall, Eberle, Yakupov and Perron at the NHL level and Tyler Pitlick, Mitchell Moroz and Jujhar Kaira in the pipeline.
Depending on your perspective, it could be a strength or a weakness, but the defense position, at least in the system is one of strength. They have size, skill and guys who can play in multiple roles.
They have a number of top prospects including Darnell Nurse, Oscar Klefbom, Martin Marincin and Dillon Simpson waiting in the wings. All of the above are projected to be NHL calibre defensemen.
Organizational Weaknesses
The centre position is one that is extremely weak at all levels. Ryan Nugent-Hopkins is a legitimate top centre and Boyd Gordon is a valuable face-off and checking centre, but that's about it. Who knows whether Sam Gagner will even be there this season and if he is whether he'll even play centre.
Anton Lander's development has not gone as planned and they have Marc-Olivier Roy and Bogdan Yakimov as their top prospects. Intriguing yes, but hardly blue chip.
The organization is hoping the defensive strength of their system also becomes a strength in the NHL, however right now proven NHL defense talent is a weakness.
As mentioned they have depth in defense prospects, but one area they do lack is a bonafide pucking-moving power play guy that can go north-south.
While they have improved their goaltending overall by adding Scrivens, Fasth and Laurent Brossoit to the system, there is still a lot of question marks and not much depth.
Top 10 Prospects
1. Darnell Nurse, D 2. Oscar Klefbom, D 3. Laurent Brossoit. G 4. Mitchell Moroz, LW 5. Dillon Simpson, D 6. Tyler Pitlick, C/W 7. Jujhar Khaira, LW 8. David Musil, D 9. Bogdan Yakimov, C 10. Martin Gernat, D  
Possible Targets with the 3rd Overall Pick
Aaron Ekblad, D, Barrie Colts – perfect fit and just imagine a future top pair of Nurse and Ekblad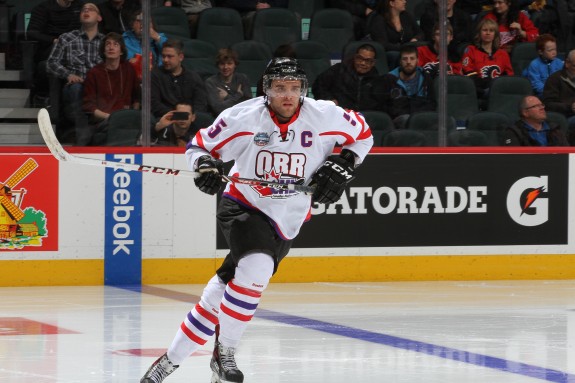 Leon Draisaitl, C/W, Prince Albert Raiders – would be the big skilled centre they have been looking for
Sam Bennett, C, Kingston Frontenacs – has been compared to Jonathan Toews and could be a No.2 centre fit
Possible Free Agent Targets
Paul Stastny, C – strong two way centre would be exactly what the Oilers need. Colorado still hoping to retain him
Daniel Winnik, LW – brings the size and intangibles MacTavish wants. Would look good with Hendricks and Gordon on the third line
David Booth, LW – size and speed, could be an inexpensive, low risk high reward signing
Matt Niskanen, D – capable of playing big minutes and in all situations, will have to out-bid a lot of teams for his services
Anton Stralman, D – upped his stock with a strong playoff alongside Marc Staal for the Rangers
Players Who Need to Make an Impression Early
Anton Lander – Oilers would hoping he would've already grabbed a permanent roster spot. He could find himself following Magnus Paajarvi out of town as a disappointment without making some noise this year.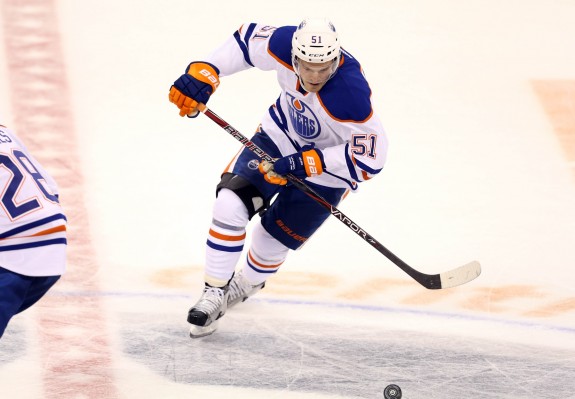 Ben Scrivens – is already an improvement and will be given the No.1 spot, however fans have been on pins and needles with Edmonton goaltending for so long they deserve a sigh of relief.
Nail Yakupov – Oilers are pretty sure what they'll get from the likes of Hall, Eberle and Nugent-Hopkins, but nobody knows what to expect from Yakupov.
The 2012 1st overall pick is dripping with game-breaking talent, however has yet to crack the top six or even make a favourable impression. They will need him to this year to avoid constantly hearing words like, "bust" or "trade bait".
__________________________________________________________
Follow Carl on twitter @carlTHW and Google+ for more articles