Leon Draisaitl
THW's NHL Draft War Room Rankings: #5
THW's NHL Draft Rankings – The Next Ones Edition (aka Chris's List): #5 (March 2014)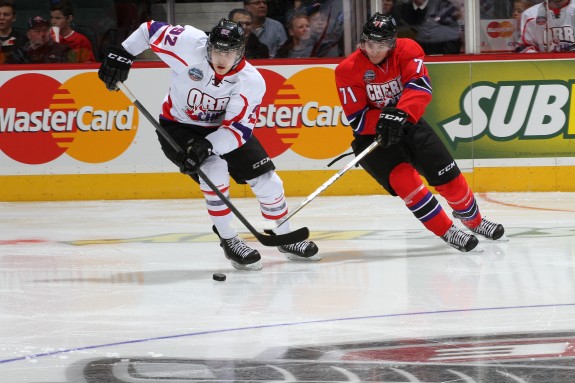 HashtagNickname: #TheDeutschlandDangler, #GermanGretzky  
Team: #29, Prince Albert, WHL
Position: Centre
Shoots: Left
Height: 6'2
Weight: 208 lb.
Born: Cologne, Germany, 27-Oct-95
Twitter A/C: @Drat_29
Stats
Other Rankings
2 – NHL Combined – Mid-term, Jan-14
5 – Bob MacKenzie, Jan-14
6 – Future Considerations, Feb-14
11 – Craig Button, Jan-14
11 – ISS, Feb-14
Worth Retweeting
Very candid response from Draisaitl there when I asked about the weak part of his game. Admitted his defensive game is not great and skating

— Guy Flaming (@TPS_Guy) February 15, 2014
Leon Draisaitl, ranked No. 2 by @NHLCentralScout, idolized Marco Sturm & Jochen Hecht while growing up in Germany. http://t.co/hDsJdSvIiD

— NHL Public Relations (@PR_NHL) January 13, 2014
BMO CHL/NHL Top Prospects Video Profile – @PARaidersHockey Leon Draisaitl http://t.co/n0YFNyoS7f #BMOTP

— The WHL (@TheWHL) January 6, 2014
http://t.co/TMB326PEad
#7 Leon Draisaitl @Drat_29
Dominating on puck… powers his way up ice & protects well. Determined difference-maker

— ISS Hockey (@ISShockey) January 22, 2014
Profiles
Quotable
Quote 1: Dan Marr, NHL Director of NHL Central Scouting at NHL.com, "All season long he's continued to develop as a prospect. You noticed him all the time last year and he's gone out there and become a dominant player for Prince Albert this year. We like him as a top-five pick."
From the War Room
Eldon MacDonald, THW: A few words on Leon Draisaitl:

Big man size – Every team could use a big centre with elite skills. Although, he is not a hitter per say, he has that big man swagger about him.
Hockey sense – Leon reads the play well and immediately acts on that read.
Soft hands – Leon can be the scorer or the set up guy – he has those soft hands that makes the puck do what he wants it to do. They call him "The German Gretzky".
Potential growth – As good as he is now, a few more improvements in his skating, a little more physicality and this guy could be close to unstoppable. Top five in my books but a team betting on those improvements could take him much higher.
Video
If you didn't see Leon Draisaitl's hat trick from last night, watch it right now – http://t.co/pCWCWDPdlv via @HPdraftvideo

— Zenon Herasymiuk (@ZenonHerasymiuk) February 5, 2014
http://www.youtube.com/watch?v=0i517J5l5QE
About NHL Draft War Room Series
This series is compiled by Eldon MacDonald and edited by @ChrisRalphTHW)