Chase Perry THW Close-Up:
Team: Wenatchee Wild
Date of Birth: 02/08/1996
Place of Birth: Andover, Minnesota
Ht: 6' 2.5″     Wt:  189 lbs
Catches: Left
Position: Goalie
NHL Draft Eligibility: 2014
Twitter: @CPerry35
THW Ranking: N/R
Other Rankings:
ISS (North American Goalies): N/A
CSS (North American Goalies): 8
Future Considerations: N/R
Craig Button: N/R
***
*Check out THW's 2014 NHL Draft Guide, your quintessential draft resource*
***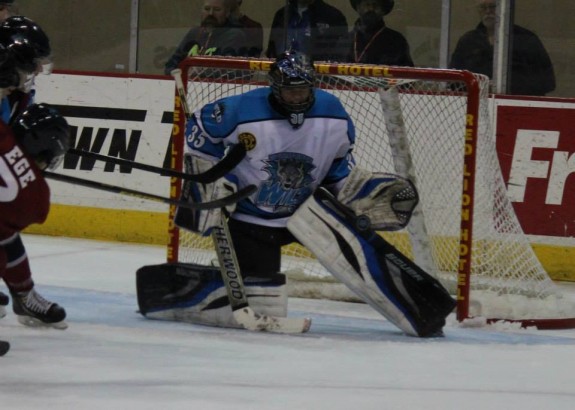 "Chase-ing" The Puck
After playing for the Andover High School hockey program from 2010-2013, Chase Perry made the jump to the NAHL for the '13-'14 hockey season and was able to turn quite some heads. As a member of the Wenatchee Wild, Perry managed to record some fairly impressive numbers (2.35 GAA, .905 Save Percentage) in his first NAHL season – something that undoubtedly figured into his draft ranking and stock.
Making the jump to the NAHL from Andover was certainly a big step in Perry's development, but the goaltender handled it with a perfect balance of confidence and composure. Not only did Perry receive his biggest single-season workload (35 games played) with the Wild this season, the goalie also came into a league where he encountered arguably the most dangerous shooters that he has had to face thus far in his young hockey career.
While Perry had a relatively smooth transition to the North American Hockey League, it wasn't unexpected for a goalie that carries himself with confidence and backs it up on the ice. Standing at 6′ 2.5″, Perry might be a tad bit smaller in stature in comparison to top-ranked netminders such as Thatcher Demko, Mason McDonald, and Brent Moran, but his flexibility and reflexes make him stand out.
There are many facets of Perry's game that will appeal to NHL teams at the draft, but the most important part of the goaltender's development – his mental approach to the game of hockey – is seemingly already well under way. Of course it's cliche to say that "Confidence is key," but for a young netminder it's simply something that cannot be taught – rather, it is something that is acquired through learning experiences.
Going from Andover to the NAHL – and eventually Colorado College for the '14-'15 NCAA season – Perry has had his fair share of learning experiences that have molded him into the confident, yet composed, individual that he is on and off the ice. When and where Perry will be drafted is anyone's best guess at this point in time, but there is no doubting the fact that the Minnesota native has positioned himself for success through hard work, dedication, and a positive demeanor.
Scout's Honour:
"Former Andover (MN-HS) stand-out Chase Perry has found his collegiate home after leaving home for Wenatchee of the NAHL this season – Colorado College. The 6'3 stopper is an NHL prospect thanks to his inherently high potential, moves cleanly and looks huge even for his size, but at the high school level we wanted to see more post-to-post quickness, general agility and a calmer presence from the crease. He may have found that with Wenatchee."
– Brock Otten via OverTheBoards.net
"A confident goalie with great size and athleticism, Perry will likely find himself drafted in the same middle range as NAHL peer Halladay this summer. Colorado College hasn't had a lot of good news this season, but grabbing a commitment from the Wenatchee Wild goaltender will help. Perry is slated to join the Tigers next season, where the graduation of starter Josh Thorimbert will lead to ample opportunities to impress."
– Ryan Kennedy via TheHockeyNews.com
"He's a pretty good prospect. He's got good size, great instincts and exceptional butterfly and five-hole coverage. He absorbed high shots like a vacuum when I saw him last weekend. He's also a very strong skater and his lateral movements are controlled with decent overall quickness."
– Al Jensen via NHL.com
Where He'll End Up In June:
Chase Perry could very well be drafted toward the mid-to-late stages of the NHL Entry Draft.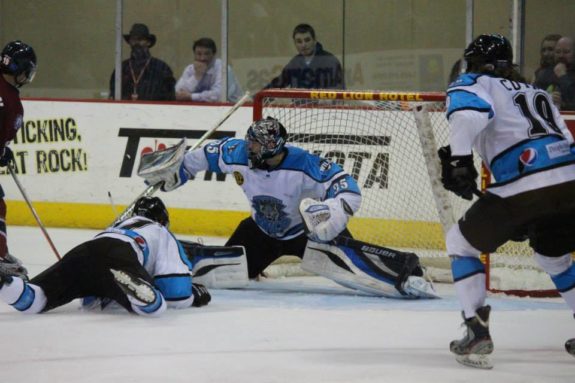 Statistics:
Bio/Interviews:
International Tournaments:
Perry has not participated in any international tournaments thus far.
NHL ETA:
Risk/Reward Analysis:
Risk: 2/5 Reward: 3.5-4/5
NHL Potential:
Number one starting goaltender.
Strengths:
Good reaction.
Flexibility.
Strong skater.
Good instincts.
Athleticism.
Confidence.
Mental toughness.
Flaws/Aspects He Needs to Work On:
Rebound control.
Slight tweaking of lateral movements in order to maximize efficiency.
Fantasy Potential:
Video:
** THW's The Next Ones prospect profile template design architect: Chris Ralph
In his third year with The Hockey Writers, Toli covers all things related to the New York Islanders. Focusing on the Islanders, the NHL Draft & draft-eligible prospect goalies, and hockey history, Toli can be contacted on Facebook by searching/messaging Toli Metter and on twitter by searching @ToliMetterTHW.