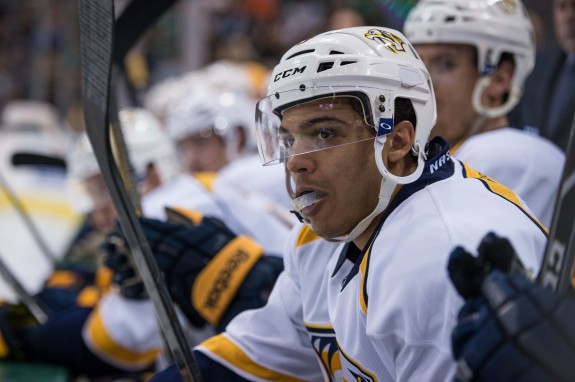 New Nashville Predators head coach Peter Laviolette has already had the pleasure of coaching a few of the players on the current roster heading into next season. Seth Jones and Craig Smith played under Laviolette for Team USA at the 2014 IIHF World Championships in May. Laviolette may not have been entirely pleased with the inability of getting situated in a new organization immediately, but he got a feel for some of the players in Minsk, Belarus.
Jones made the biggest impact on Laviolette after being awarded best defenseman of the tournament for his 2 goals, 9 assists in 8 games, tying Russian superstar forward Alexander Ovechkin.
"The kid deserved it," Laviolette said. "He was great. To be able to be a part of his future and watch him grown and develop into the type of player he is going to be is going to be special for all of us.
"I can already tell you that his game has already taken another step, just watching [him handle] the responsibilities that we put on him at the World Championships. He was playing 25-to-27-to-29 minutes per night and playing them very effectively for the United States. His game is already evolving and is going to continue to evolve."
Jones surprisingly fell into the Predators' lap at 4th overall at this past year's draft. After strong showings at development and training camps, general manager David Poile did not think twice about reassigning Jones to the Portland Winterhawks in the Western Hockey League and kept him on the team throughout the 2013-14 season. In 77 games, Jones had 6 goals, 19 assists.
"I actually watched Seth quite a bit while we were scouting players for the US Olympic team. Seth was on the map and was on the radar. I saw him do a lot of good things. To watch him do the things he was able to do as a rookie was impressive."
Laviolette sees Norris-worthy potential from the sub-21 year old. The job now for Laviolette is to what he did to NHL superstar Eric Staal of the Carolina Hurricanes to Jones, as well. Staal went from 31 points in his rookie season to 100 points the following season.
"Eric went from being a player who was finding his way around the NHL; a tough league, a man's league. The next year, he blossomed. That's the progression you see from the high end draft picks when coming into the league. If they can get through that first year, which Seth did admirably, then you really see them take the next step in the second year, third year, fourth year."
Laviolette is known for being an offensive-minded coach. He was able to develop Staal into a great scorer, but how will he do so with a defenseman like Jones? By using his assistant coaches. It is not a fluke that Laviolette added a defensive-minded Kevin McCarthy alongside Phil Housley, who played a major role in Jones' development since the 2012 World Juniors. Together, they could mold Jones into a unique, elite player truly worthy of a Norris Trophy later on down the road.
"A young defenseman in the NHL is a very tough position to be in. There is a lot of learning that has to go on.
"I think you have to give them some responsibility. These players are well groomed, well taught long before they get to me. Players now and their path to the NHL is much different than it was 20 years ago. Their strength and conditioning, fitness level, eating habits, sleeping habits; they understand that they have an important job and they are their livelihood. And they're responsible for that. Once they reach here, we can continue to teach what they had before them and continue to develop their skill and professionalism in the NHL. You have to give them the opportunity to grow, and if you do that, good things will happen."