by Eldon MacDonald (edited by @ChrisRalphTHW)
Jacob Middleton
THW's NHL Draft War Room Rankings – Apr-14: #57
THW's NHL Draft Rankings – The Next Ones Edition (aka Chris's List): #53 (March 2014)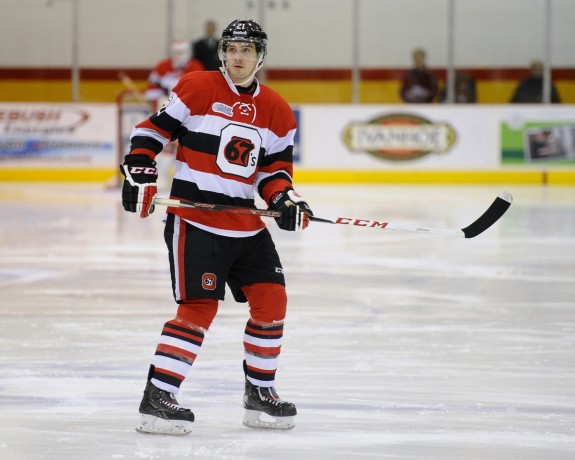 Hashtag: #MrSimCity
Nickname: Midds
Team: #21, Ottawa, OHL
Position: Defense
Shoots: Left
Height: 6'3
Weight: 208 lb.
Born: Stratford, ON, 2-Jan-96
Twitter: @MiddzClassy
[Your quintessential draft resource:
 Stats
Other Rankings
237 – NHL Combined – Final, Apr-14
Worth Retweeting
Jacob Middleton always gives such engaging interviews. He's well-spoken, genuinely conversational and always intriguing.

— SJ (@sarahjeanmaher) March 2, 2014
http://t.co/TMB326PEad
#30 Jacob Middleton @MiddzClassy
Long term upside in his mobility, massive frame, vision and overall 2-way game.

— ISS Hockey (@ISShockey) December 15, 2013
Jacob Middleton topples Aaron Haydon in a fight where neither #OHL'er has a chance of experiencing the taste of #BranchJustice.

— Nathan Sager (@n8sager) January 16, 2014
Profiles
Contains All the Prospects Profiled in This Series]
Interview
Ottawa 67's– Jake interviewsteammates Nevin Guy and Dante Salituro
Quotable
Quote 1: Brock Otten at OHLProspects.Blogspot.ca, "But he's a terrific defensive player who is tough to beat one on one, shows toughness and does a great job pinning along the wall. I don't think he's a first rounder, but he should be a solid 2nd/3rd rounder at this point. Reminds me a lot of the way Adam Pelech was forced to mature quickly in Erie."
Quote 2: Ben Kerr at LastWordOnSports.com, "At 6'4″ Middleton has the ideal size that NHL teams are looking for and will catch many scouts eyes this season.  He is also tough, throwing hits, playing mean and clearing the front of the net, and being aggressive in the corners.  He is a decent skater, with good edgework and agility, making him a bile big man on the blue line."
From the War Room
Eldon MacDonald, THW:  A few words on Jacob Middleton:
Mr. Sim City – OK, I admittedly didn't like Mr. Sim City's game very much at the beginning of the season. His skating was awkward, his judgments weren't always sound and he was inconsistent from one game to the next. Then, something happened: his skating got a whole lot better, he had much fewer of those awkward moments and he was much more consistent and consistently good from game to game. Could it be that the hockey simulator works, I don't know but something happened. Read up on the hockey simulator at TheGlobeAndMail.com.
Size – He has the NHL size at 6'3 and over 200 lb. plus the skating and physicality to make that size effective. He also exudes the character and maturity that give NHL teams comfort that they are making the right choice when they call out his name.
Offense – Jacob will never be an offensive juggernaut but he is decently mobile for a big guy and does not hesitate to join in the rush. He also makes a good first pass.
Defense – Jacob displays the toughness that NHL teams find so attractive. He is tough to beat one on one and will take the body, block shots, makes you pay on the wall. He is your go to guy in all the tough situations, a minute eater.
Draft placement – Some really like him, some have grown to like him and some, like NHL Central Scouting, have little use for him. For me, a player with his size, his mobility, his toughness and his maturity is worthy of a second round investment.
Video
Video 1: JimKorn20 – Fight with Aaron Hayden of Niagara Ice Dogs at the CHL Top Prospects Game