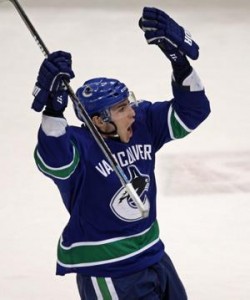 The Tweets Heard 'round the (Canucks) World
With the Conference Finals set to begin this weekend, Vancouver hockey fans are begrudgingly turning their gaze to the East, where the Montreal Canadiens remain as the sole Stanley Cup candidate north of the border. Dark days in the Lower Mainland, indeed. But now that Vancouver has had some time to breathe in between sobs following a dreadful season, there appears to be a new distraction for Canucks fans before they finally hop on the bleu, blanc et rouge bandwagon. Enter Gary Mason of the Globe & Mail, who tweeted out recently about some details of John Tortorella's reign in Canucksland. They aren't exactly flattering, especially considering how awful this year has gone for Vancouver.
Some fascinating tidbits coming out about the brief Tortorella era in Vanc; including fact he wanted team to buy out Alex Burrows' contract — Gary Mason (@garymasonglobe) May 15, 2014
Also hearing Torts didn't have a single convo with farm team head coach Travis Green all season; hard to imagine. #canucks — Gary Mason (@garymasonglobe) May 15, 2014
Also hearing players didn't feel Torts liked practicing enuf; he also accused David Booth of being late for team meeting he was early for — Gary Mason (@garymasonglobe) May 15, 2014
Now, my name isn't Gary Mason so I can't pretend to know what sort of sources he's going off of. If these allegations are in fact true, then it says a lot about what happened behind the scenes. Maybe it even spells out how Tortorella couldn't push this team into the playoffs. Since Torts has already been let go, however, all of this is really just kicking a horse on its way to the glue factory, so to speak.
That buyout tho…
What does interest me is the notion of buying out a player like Alex Burrows. Forget the fact that he is essentially one of the only players on this team that can be put out in almost any situation and be effective (you'd also have to forget the praise Torts had for Burrows' style of play at the start of this year). Instead, let's say that Gillis and the rest of the management team at the time decided to drink the Kool-aid that Torts was apparently brewing up and see what kind of scenarios this buy-out would present the team.
Bizarro Scenario #1: Burrows leaves; Torts is genius
Imagine this: Tortorella demands to see Burrows' bags on the next bus out of town, wagging his finger at Gillis enough that he finally cries 'UNCLE!' and does the bidding of his head coach. Now the Canucks have freed up about $4.5 simoleans to toss around at free agency. After Gillis changes his newly soiled trousers after that terrifying experience, now he has to think about who he might target on the open market. In the spirit of realism in this unrealistic post, let's say he goes out and signs a guy like Clarke MacArthur.
MacArthur is a guy who has been known to make a creative play or two, much like this one:
Courtesy YouTube user Frank Murtz
That's an okay pass, I guess.
With Burrows gone and MacArthur in, the Canucks  top line is re-invigorated with some new chemistry that trickles down through the lineup, eventually leading to MacArthur's game winning goal in Game 7 of the Stanley Cup Finals against Boston. All of this after MacArthur one-punches Chara in a dust-up following a devastating 'double-Dion'-esque hit that knocks both Brad Marchand and Milan Lucic out of the post-season. Because screw those guys.
Tortorella is lauded as the new messiah, while Alex Burrows signs in Winnipeg where Claude Noel glares at him long enough to put him in a permanent fetal position at the end of the bench. Roger Nielsen's "White Towel" statue is taken down and replaced by one of Torts screaming obscenities (complete with speakers!) at fans entering Rogers Arena.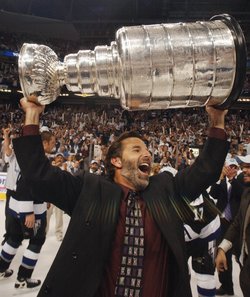 Bizarro Scenario #2: Burrows leaves; Torts is sad
Just like in the previous scenario, Torts screams at Gillis enough to get his way. Gillis dries his last tear after Torts tosses him a towel saying "Stop being such a baby, Mike". It takes all of Gillis' gumption to think up a strategy to replace the resident Canucks francophone fan favourite. His solution? Guillaume Latendresse. Latendresse, or "The Tender One" as he would become known in Vancouver, comes out of the gate like a mule at a horse track. It's not long before Tortorella is demanding that "the new French guy" be bought out as well, despite many reassurances that the Canucks no longer have any compliance buyouts. This both enrages and perplexes Torts.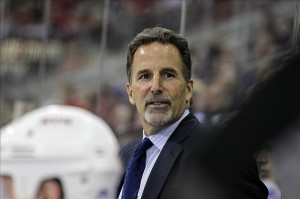 With the playoffs firmly out of their destiny by the time Christmas comes in 2013, the Canucks later will lose the final regular season game to the Calgary Flames, solidifying their spot as the worst team in the NHL for 2013-2014. Vancouver then experiences its worst flood in history, believed to be fuelled by the tears of sorrow Canucks fans shed between October and April. Burrows, on the other hand, signs with the Pittsburgh Penguins in the off-season. He helps bolster a gritty Pens third line centered by Brandon Sutter that provides the depth needed for Pittsburgh to make it to the Stanley Cup. Burrows then scores the Game 7  OT winner against Chicago, because screw those guys too. All the while, Torts sits comfortably in his Point Roberts home, assuring his dogs that the torch bearing mob massing at the border must be for some other coach of a Vancouver sports team.
Why didn't any of this actually happen?
Most likely because despite popular belief these days, Mike Gillis was not an idiot. Buying out Alex Burrows makes less sense than trading Luongo to the Florida Panthers for Shawn Matthias and….wait that actually happened. Regardless, with Burrows signed for a few more years and really not showing much regression in his statistics (prior to this season) it simply lies in the realm of ridiculousness that he would be bought out. A lot of what happened this season would not have been a realistic prediction before October, of course, so who knows what might have been in a "sans Burrows" era.
Sports journalist based out of Vancouver, BC. Chasing stories all around the Lower Mainland. Living the dream.