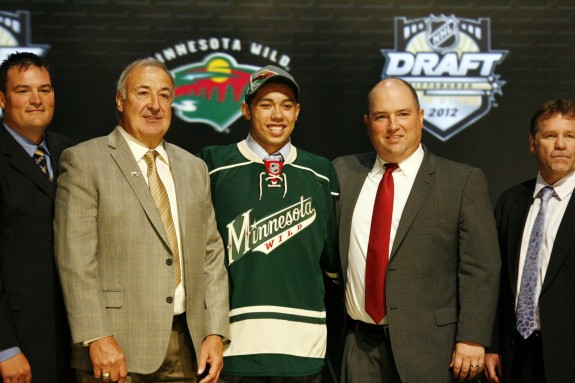 The Minnesota Wild signed Assistant General Manager Brent Flahr to a multi-year contract on Friday, according to the Star Tribune's Michael Russo.
#mnwild assistant GM Brent Flahr has agreed to a new multi-year deal

— Michael Russo (@Russostrib) May 16, 2014
The re-signing of Flahr indicates an impulse on the part of GM Chuck Fletcher and owner Craig Leipold to stay with the status quo as far as coaching and the front office are concerned. (As mentioned earlier today, the team is likely to re-sign coach Mike Yeo.) And that's probably the way it should be after Leipold asserted mid-season that the team needed to do better in the playoffs this year and the coaching staff delivered.
Flahr spent time under Fletcher in Anaheim as the team's amateur scout and then moved to Ottawa where he was the director of hockey operations for two seasons before coming to Minnesota.
A Flahr for Scouting and Development
Flahr was named Assistant GM in July 2009, with Fletcher praising his skills as one of the league's best "talent evaluators." That role was desperately needed on a team who had left the cupboards bare under the leadership of former GM Doug Risebrough.
Under Risebrough the team had sought to repeat the team's trip to the Western Conference Finals in 2003 immediately and it left them wanting for the future. Flahr and an incredible scouting team have restocked the cupboard with waves of talent, despite many critics not seeing it that way.
Under Flahr the Wild have drafted exciting prospects like Mikael Granlund, Jonas Brodin, Darcy Kuemper, Jason Zucker, Matthew Dumba, Johan Larsson (traded to Buffalo in the Pominville deal), Gustav Olofsson, Brett Bulmer, and Erik Haula.
He's also built up the team through acquiring young talent through trades and undrafted free agency, including the acquisition of Charlie Coyle and Nino Niederreiter through trades and signing free agents like Jared Spurgeon (drafted by the Islanders, but never signed to a contract), Justin Fontaine, Christian Folin, Zack Mitchell, and Brady Brassart.
Some of those names may be unknown to Wild fans, but that likely won't be the case for long. Zucker and Bulmer are likely to get a shot at the big league next year — Fletcher even called out Zucker in Friday's press scrum as a player who needs to work his way onto the team next season.
Mitchell and Brassart had impressive years in the OHL and WHL respectively and may find their way to Iowa next season. And exciting defensive prospects Dumba, Folin, and Olofsson should make a run at the opening day roster as well, though Olofsson is likely to spend another season in the AHL developing.
The team also has Mario Lucia, John Draeger, Adam Gilmour, and Nick Seeler developing and waiting to make the jump into pros in the years to come.
In short, Flahr and the Minnesota scouts — it's not just Flahr who deserves credit, surely — have done a great job of scouting and developing young talent in the Chuck Fletcher era. There's a lot to be excited about for Minnesota Wild fans. In fact, there's a lot to be excited about that doesn't involve the names Parise, Suter, Koivu, Pominville, or Vanek.
Many have argued that the Wild bought a playoff team when they signed Zach Parise and Ryan Suter on July 4, 2012 (and there's no arguing they paid for a significant upgrade there), but that denies one of the biggest reasons the team was competitive this postseason: the development of young players who made a big impact in key moments. Where would that team have been without Granlund, Haula, Coyle, Kuemper, Niederreiter, and Spurgeon stepping up into expanded roles? It's a question that begs: Where would the 2013-14 Minnesota Wild have been without great scouting?
Dustin Nelson writes about news and the Minnesota Wild for The Hockey Writers.