To answer the question simply: Im really not sure.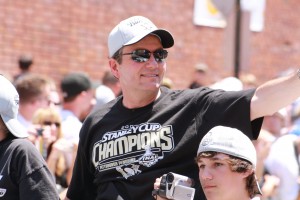 As I write this column, I've had just over 12 hours to digest the news of Ray Shero's dismissal. Then listen to, read, and process all that the Pittsburgh sports media had to give us on the matter. And I'm still not quite sure that I understand it fully.
My guess is, not many of you are real sure about any of this either.
So let's start with what we know: Ray Shero was relieved of his duties today by co-owners Mario Lemieux and Ron Burkle. Team President and CEO David Morehouse delivered the news to the gathered media.
In what was thought to be at first, an accidental omission by Morehouse to not also mention that head coach Dan Bylsma had been fired along with Shero, turned out to be a calculated move by ownership.
The Pittsburgh Tribune-Review's Dejan Kovacevic was able to sit down with ownership (Lemieux & Burkle) and Morehouse after the press conference to ask anything he felt necessary, all on the record. I highly suggest that you click the above link and read his entire column.
Because without those questions and answers being published, we as Penguins' fans would know next to nothing of the team's plans moving forward.
Having read Kovacevic's piece numerous times throughout the day, I've tried to make some sense of the answers provided by Penguins' ownership, and how it pertains to yesterday's actions.
So far as I can tell, ownership prefers to take a "systematic approach" to revamping the franchise's front office and hockey operations department. Rather than completely gutting the organization's executives, ownership seems to prefer that the new GM be able to come in and make all of the necessary decisions for himself.
Which includes retaining or firing Bylsma.
Okay I get that. Lemieux and Burkle seem to want to be assured that whoever the new GM is, he has as many options in terms of a head coach available to him as possible. That includes Bylsma.
When asked about the view that ownership retained Bylsma to prevent him from taking another job, specifically with a division rival such as the Washington Capitals or Carolina Hurricanes, Lemieux responded:
"No. If Dan was fired, he'd get a job tomorrow."
Which is precisely why the question was asked. Lemieux made Kovacevic's point for him. Byslma would most certainly end up with another job prior to the start of the Stanley Cup Final this year, which would be right around two weeks time from now.
So then, if its not malicious intent to keep Bylsma from taking a coaching position with a division foe, then why keep him around? The only logical conclusion to draw here is once again, ownership wants as many candidates in the running as possible for the new GM.
Fine.
What can't be ignored here is one of the things that Penguins' beat reporter Rob Rossi mentioned in a piece published two days ago:
"Crosby and Malkin grew disenchanted with perceived harsh criticism they received from Bylsma during meetings, the sources said. They and other veteran players were unhappy with Bylsma's numerous meetings and long practices and the decreasing sense of fun within the Penguins' environment, the sources said."
This news begs the question: if Crosby, Malkin, and other veteran players were unhappy with Bylsma, and he is somehow retained by new management, how on earth will the locker room react to this?
This is where it becomes increasingly difficult to back the decision to not let Bylsma go.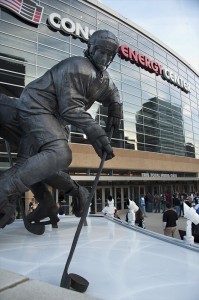 I'm not at all saying that I think he'll be back behind the bench next season. I have all but no doubt that new management will want to bring in a new coach. "Their guy" as it were.
Unfortunately, the question once again has to be asked: "What if?"
The mantra for this team used to be "In Shero We Trust."
With him now gone, at least for the foreseeable future the mantra MUST be "In Lemieux We Trust."
Lets face it Penguins' fans, he's never let us down before.
Inbox is TDTorraoTHW@Gmail.com
On Twitter: