Making predictions is an impossible task. You can cite all the stats you want, look towards which team seems to have the momentum, and even  go with your "gut feeling". But it's really a crap-shoot in a game as unpredictable as hockey. There are so many variables, most of which can't be measured before a single game is played. But it's fun to make predictions. And even more fun if you're right. So without further ado, here's my Stanley Cup final prediction: Habs vs. Kings.
Why the Montreal Canadiens can win the East
Before the playoffs began, the Habs weren't the popular choice to be one of the final four teams. They are inexperienced for the most part, and don't boast as much depth as some of their opponents. But make no mistake about Montreal: they are well coached, they make the most of their chances, and they have an out of this world goaltender.
Like Tim Thomas in 2011 and Jonathan Quick in 2012, Carey Price looks pretty much unstoppable. Since backstopping Canada to a gold medal earlier this year, Price has been on top of his game, and it couldn't come at a better time. There are going to be moments when Price will have to steal a game, but the Canadiens as a team are a lot better than people give them credit for.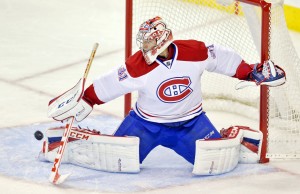 They have a lot of speed, they have a committed defensive structure, and they have an x-factor in P.K Subban, who can absolutely take a game over. The New York Rangers also have a strong goalie, and when comparing rosters, neither side really stands out. So it will come down to which team can adjust when needed, and execute their game plan more efficiently.
This series might look like a pick-em on paper, but there is something special about this Habs team. It's that intangible that you need to go far into the playoffs, when everything just seems to be clicking at the right time. The Rangers looked dead in the water against the Penguins but railed around Marty St.Louis to win the series, and they certainly shouldn't be overlooked.
Some feel that the Habs magic is going to eventually run out, and it might, but not in the Conference finals. They'll be one of the last two teams standing with Lord Stanley's mug on the line.
Why the Los Angeles Kings can win the West
It's really difficult to pick against the defending Stanley Cup champions, especially when they look so good and so focused on repeating. Chicago's weak link will always be seen as goaltending, which isn't really fair to Corey Crawford who does nothing but win. However, in a match-up with Jonathan Quick, he is certainly the underdog. The Kings had a historic comeback against the Sharks in round one, rallying from 3-0 to win the series, and took out the feisty Ducks in a hard-fought seven games.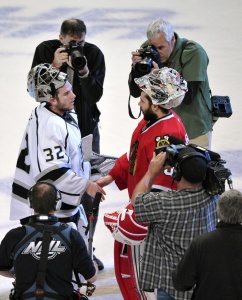 Quick found his game midway through the first round, and has looked every bit the stone wall that the Kings need him to be. L.A has something different than they have had in years past, and that's a sniper in Marian Gaborik. With nine goals already, Gaborik has provided that offensive spark that the Kings needed. Anze Kopitar is on top of his game, Drew Doughty is playing well, and they look to be on a mission this year.
A re-match of last season's conference final means that L.A will be looking for redemption. The Blackhawks boast a lot of talent, but the Kings aren't far behind. When they go into their defensive lock-down, they're very difficult to beat, even for the talented Chicago forwards. The Kings will have played two seven-game series while the Hawks will be quite well rested, and that could certainly factor in, but L.A looks strong, and hungry, and have continued to get better as the playoffs have progressed.
If the Kings can continue to execute as well as they have, and if guys like Gaborik, Kopitar and Jeff Carter can continue to score clutch goals, there's every reason to believe they can take down the champs.