by Eldon MacDonald (edited by @ChrisRalphTHW)
Gavin Bayreuther
THW's NHL Draft War Room Rankings – Jun-14: #59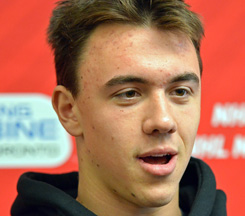 Hashtag: #MrBigShot
Team: #7, St. Lawrence, ECAC
Position: Defense
Shoots: Left
Height: 6'1
Weight: 195 lb.
Born: New Canaan, NH, 12-May-94
Twitter: @Gavinbay18
Stats
Other Rankings
61 – NHL Combined – Final, Apr-14
Worth Retweeting
Gavin Bayreuther only second SLU freshman in school history to be named All-League. (2nd Team) finished third league scoring as defenseman

— Greg Carvel (@CoachCarvelUM) March 21, 2014
Gavin Bayreuther ECAC co-Rookie of the Year! Congrats Gavin. pic.twitter.com/tTGKAMpadS

— Greg Carvel (@CoachCarvelUM) March 21, 2014
St. Lawrence defenseman Gavin Bayreuther invited to NHL Draft Combine | @SkatingSaints | #NHLDraft #ECACHockey http://t.co/Bbk5v1xJNy

— SBN College Hockey (@SBNCollegePuck) May 15, 2014
NCAA Freshman Gavin Bayreuther, twice passed over, a good bet to be taken in this year's NHL Draft: http://t.co/pa2kHedo5b #ECAC #NHLDraft

— Chris Roberts (@ChrisRoberts_7) February 17, 2014
Profiles
@CMSsports & @TeamHolderness Alum @Gavinbay18 Gavin Bayreuther NHL Scout prospect on the rise http://t.co/Dz2KxJ1BHg @NEPSAC @USHRhockey

— Cardigan Athletics (@CMSsports) January 17, 2014
Interview
Quotable
Quote 1: NHL.com– David Gregory of NHL Central Scouting, "From seeing him as a high school player [at Holderness School in New Hampshire] and his progression, he's always had a great sense of the whole game in front of him. He really manages the ice well all the time. You add to that his skating ability with and without the puck and you have a solid prospect. He's an excellent passer and can quarterback the power play."
Quote 2: RidertownUSA.com– Mark Carlson, Cedar Rapids' Head Coach, "The sky's the limit. (Kids like Bayreuther) are the thing that excites me the most about scouting. When we see a three-sport athlete like him, we get really excited. I love to see it. I wish there was more of it in the United States of America. Kids should play two or three sports growing up and not specialize until as late as possible."
From the THW War Room
Eldon MacDonald, THW:  A few words on Gavin Bayreuther:
Mr. Big Shot – It's all about the shot, baby. Gavin's team's power play was over 30% and he was one of the biggest reasons for its success. It's safe to say that league goalies are not singing Pat Benatar's "Hit Me With Your Best Shot". He is this year's Josh Godfrey, a late-blooming, overage defenseman who has a great shot. Scouts will have a hard time passing up on again. While Josh Godfrey didn't make it to the bigs, I wouldn't count this guy out.
Offense – Gavin could be that power play quarterback your team is looking for at a relatively low cost draft choice. He has the shot, the passing, the vision, the smoothness in skating that give him a good chance of being successful at the NHL level in spite of his relatively modest size (6'1, 195).
Awards and Achievements – Awards and achievements, there were a few.
Improvements to make – The most critical area that Gavin needs to work on is improving his strength to be able to defend at the top level.
Draft placement – NHL General Managers are such copycats. This year they caught a glimpse of how good Philadelphia Flyers' prospect Shayne Gostisbehere could be when he led Union College to the NCAA championship (Shayne was thefrozen four's MVP). I am betting that one of those GM's will be placing their Gostisbehere-like power play quarterback bet in the second round on one Mr. Gavin Bayreuther.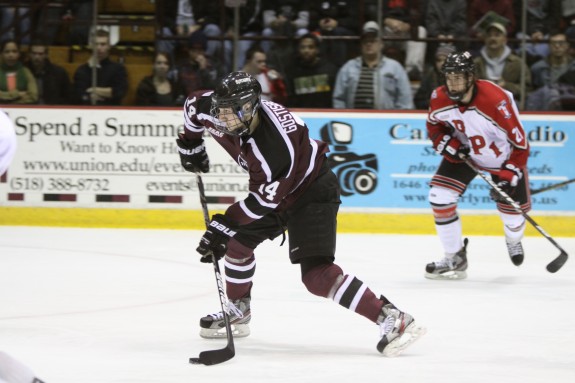 Video