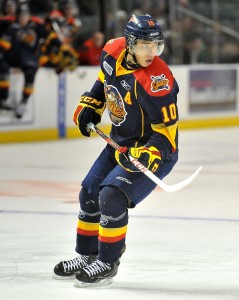 Stephen Harper THW Close-Up:
Date of birth: March 25, 1995
Place of birth: Burlington, ON
 Ht:  6'02″ Wt: 200
Shoots: Left
Position: Left Wing
Twitter Handle: @stavy_10
NHL Draft Eligibility: 2013 1st year eligible
THW Ranking (January 2013): 52
Other Rankings:
When hockey fans think about NHL draft prospects from the Erie Otters, the name Conor McDavid comes first to mind. But while his time has not yet arrived, another Otter is set to rise up to the pro ranks, one who has the distinction of sharing a name with another famous Canadian.
A 1st round selection of the Erie Otters in the 2011 OHL Priority Selection Draft, Stephen Harper impressed during his rookie season by scoring 24 G & 11 A in 63 GP. As a team, however, the Otters struggled, affording them the opportunity to add McDavid prior to the 2012-13 season. Instead of moving into the background in lieu of the young phenom, Harper stepped up both on and off the ice.
Not only was an "A" added to the front of his jersey, but he also willingly took on the added responsibility of mentoring McDavid, a request that was honoured by the Otters. This was a sure sign of trust from the organization, one that brought with it increased responsibility and confidence.
Harper's game did show signs of maturation in his second OHL season, as evidenced by a more balanced scoring line of 18 G & 20 A in 67 GP. Harper also bulked up prior to this past season, and a bump in his PIM suggests that he took some strides in developing a more physical presence on the ice.
Having said that, many characterized his overall production as disappointing, as the expectation was that he would take a bigger step forward this year, especially with McDavid as a line mate.
As Dominic Tiano of InTheORadio.com put it in their recent rankings:
Probably the biggest disappointment this season based on expectations from last season. He failed to reach his goal total from last season despite playing in more games although his 20 assists were an improvement over the 11 last season.

Harper has all the tools, including size, to be successful but on many nights he loses battles he shouldn't be losing. Maybe it's a lack of motivation, or a lack of work ethic, but I believe the right coach and system may be able to tap into that potential.
Harper may indeed have been the victim of raised expectations and heightened pressure in 2012-13, with NHL scouts and OHL defensemen keying in on him on a nightly basis. Despite all that, he was able to raise his overall point totals, and his potential remains sky high.
Look for Harper to go in the 2nd or 3rd round, and, given the right opportunity, he may just become the long-sought after power forward for one luck NHL squad.
Scout's Honour:
Mid-season comments from Josh Deitell of Hockey's Future:
Saw two very different games from Harper. The first night, he was a high energy force in the mold of Dustin Brown. Forechecked hard and played the body with frequency in all zones, doing damage with hard hits. Skated well and played with a lot of intensity. Showed skills as a triggerman in the offensive zone with a quick slapshot. Liked to set up in the slot on the power-play. Did great work along the boards in all three zones and showed fantastic determination to win battles where he had no right to be coming out with the puck. The second night, he didn't have the same energy. Was lost in coverage and slow getting to pucks. Flashed good hands on a filthy toe drag move and scored a goal off a power-play one-timer. But, aside from a few select shifts, he was uninvolved. Interested to see which player shows up next time I see Erie play.
***
Statistics:
Interviews:
International Tournaments:
ETA: 3-4 years
Risk-Reward Analysis: Risk = 2/5, Reward = 3/5
NHL Potential: 2nd or 3rd line LW
Strengths:
Strong mix of scoring / play making ability
Size / grit factor
Leadership potential
Flaws/Aspects He Needs To Work On:
Consistency
Physical assertion
Fantasy Hockey Potential: Offensive = 7/10   Defensive = 5/10
NHL Player(s) Comparison:
Evander Kane, Winnipeg Jets
Chris Stewart, St. Louis Blues
***
Follow Ian on Twitter for more hockey commentary and updates.
THW's The Next Ones prospect profile template design architect: Chris Ralph