by Eldon MacDonald (edited by @ChrisRalphTHW)
Marcus Pettersson
THW's NHL Draft War Room Rankings – Apr-14: #45
THW's NHL Draft Rankings – The Next Ones Edition (aka Chris's List) : #47 (March 2014)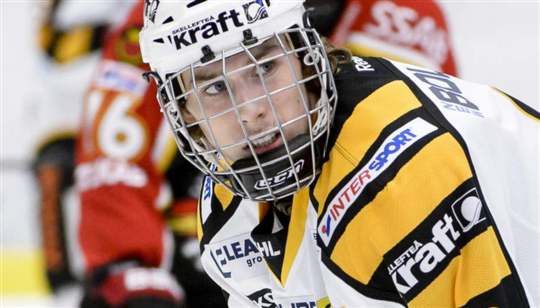 Team: #16,  Skellefteå J20, Swedish Jrs
Position: Defense
Shoots: Left
Height: 6'4
Weight: 167 lb.
Born: Skellefteå, Sweden, 8-May-96
Twitter A/C: @mpettersson16
[Your quintessential draft resource:
Stats
Other Rankings
31 – Craig Button, Apr-14
31 – NHL Combined – Final, Apr-14
35 – Bob MacKenzie, Jan-14
[Your quintessential draft resource:
Worth Retweeting
New article out, read about "following his fathers footsteps. @mpettersson16 @dannemalt
– http://t.co/StM7BhiYqI

— Martin Nilsson (@M_alterno) February 20, 2014
#SAIK signs another of their talented young defenders to a first team-contract. 18 year old Marcus Pettersson played 10 #SHL-games this year

— sillycity (@hockeycube) May 12, 2014
Lycka till @mpettersson16 i SHL debuten ikväll!!!! #alternoklass

— Peter Wallén (@P_alterno) December 10, 2013
You see the tools of SWE D Marcus Pettersson. He's big, very mobile, skilled but his D zone work little cringe worthy.

— Corey Pronman (@coreypronman) April 26, 2014
Profiles
Contains All the Prospects Profiled in This Series]
Interview
This kid is one of the highest risers for the upcoming draft. He's showing why at the U18. Marcus #Pettersson: http://t.co/58WqKCFH9p

— Chapin Landvogt (@Csomichapin) April 21, 2014
Quotable
Quote 1: Goran Stubb, NHL Central Scouting's Director of European Scouting, at Flames.NHL.com, "He is used in all game situations and has grown up to become a leader on the team. He's tall and uses a long stick and has a very good reach. He's difficult to pass against and his passing game is very good. He has good size, but needs more weight and physical strength. His dad [Daniel] played in the Swedish league with Skelleftea."
Quote 2: Ryan Kennedy at TheHockeyNews.com, "One scout said Pettersson has the most upside of any European in the draft. A big kid who covers a lot of ground, Pettersson has an edge to his game and can move the puck pretty decently. He has a ways to go, but he's already playing up with the men in Skelleftea after a successful start to the campaign in junior."
From the War Room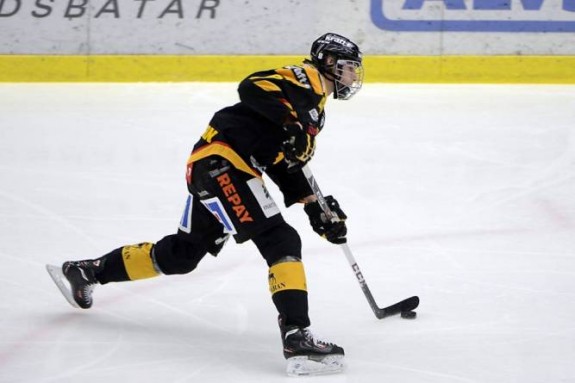 Eldon MacDonald, THW:  A few words on Marcus Pettersson:
Mr. Up – I am referring to Marcus as Mr. Up not just because of his 6'4 height but also because there is so much potential upside to his game.
Offense – Marcus is a converted centre so, yes, he can do offense. Marcus is just a natural at offense, hockey sense, skating, passing, shot, all the skills. However, it is his ability to make quick decisions in the moment that sets him apart from the pack.
Defense – His size, skating and positioning along with an active stick and a long reach make a case for his defensive game (which is still a work in progress) now. Add high level passing skills and an ability to join the rush and Marcus starts to get interesting as a defenseman on the way up.
Improvements to make – At 6'4 and only 167 lb., Marcus needs to fill out. This will then allow Marcus to introduce some physicality to his game which for now is virtually non-existent.
Draft placement – To many, Marcus is a glass half full. However, many of those same people are also saying that Marcus could fill that glass. To put it more clearly, if Marcus is this good now, how good can he be when he fills out? As the above rankings indicate, Marcus is getting a strong look in the early second but the early second could very well turn into a first because of his potential for growth.
Video