Brent Moran THW Close-Up:
Team: Niagara IceDogs
Date of Birth: 07/05/1996
Place of Birth: Ottawa, Ontario
Ht: 6'3.5″     Wt:  186 lbs
Catches: Left
Position: Goalie
NHL Draft Eligibility: 2014
Twitter: @BMoran31
THW Ranking: N/A
Other Rankings:
ISS (North American Goalies): N/A
CSS (North American Goalies): 3
Future Considerations: N/R
Craig Button: N/R
***
*Check out THW's 2014 NHL Draft Guide, your quintessential draft resource*
***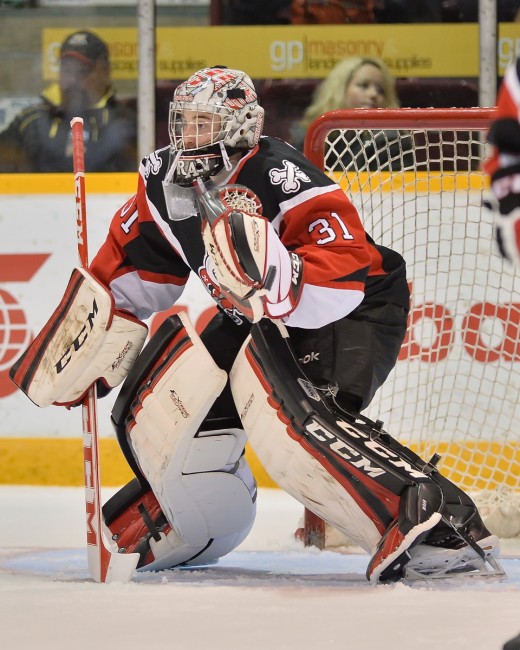 Niagara's Glacier In Goal
One might look at Brent Moran's peripheral statistics from the '13-'14 OHL season (40 GP, 3.85 GAA, .891 Save Percentage) and not be overly impressed with what they see. While Moran's stats could lead one to believe that the goalie didn't have an impressive second campaign in the OHL, one must also factor in the fact that Moran was playing on an IceDogs team that was going through a rebuilding phase.
Not only did Moran hold down the fort for Niagara, he illustrated that stability between the pipes could help a rebuilding team as the IceDogs made it to the OHL playoffs where they played in seven games. Despite losing in a seven game series to North Bay in the '13-'14 playoffs, Moran stepped his game up during the postseason run as he played to the tune of a 2.86 GAA and .921 Save Percentage in all seven of Niagara's postseason contests.
Seeing as how Moran took over starting goaltending duties this season after the departure of Christopher Festarini, there is certainly some merit to be given to a netminder that undertook his duties and responsibilities with such diligence. Improving upon his GAA by nearly half of a goal this past season, Moran demonstrated that he has the pedigree necessary to be successful as he progresses in his hockey career.
Of course, some might look at the fact that Moran is aided by his height (6'3.5″) as a tall goaltender, but there is more to the goalie than the amount of space that he takes up in the net. For one of the bigger North American goalies available at the 2014 NHL Draft, Moran is definitely one of the more mobile netminders – so NHL teams won't have to worry about sacrificing mobility when thinking about selecting someone like Moran.
Given his ability to improve upon his game – be it in bantam, midget, or juniors – Moran has displayed that he has the desire to work on whatever it is that will make him a better goaltender down the line. Although numbers and statistics might not offer the most flattering picture of Moran, his story and draft stock won't be written based on his stats. After all, there is a reason that Moran wound up being ranked so highly by scouts – which is a testament to the goalie's work ethic and abilities as a goaltender.
Scout's Honour:
"Moran is now the starter in Niagara with Chris Festarini leaving the team, and should get better with more work. He's not a guy you'll be able to judge on numbers, he won't be insulated well on a rebuilding Niagara squad, however the size, mobility and raw tools impress."
– Sean LaFortune via TheScout.ca
"When overager Chris Festarini left the IceDogs, it opened up the doors for Moran to take the starter's job and run. The club's 2ndrounder in 2012 is the goaltender of the future…and present for Niagara, which has to be an incredibly exciting thought for the Orelans, Ontario native. After a slow start to the year where he was trading starts with Festarini, Moran has responded well to the new challenge, posting an above .900 save percentage in 5 of his last 6 starts (including 4 victories). He has everything scouts want in an NHL netminder these days; a mix of size and athleticism. Alex Nedeljkovic seems to be the clear top netminder for North America this year but the 2nd spot is up for grabs. With a strong finish to the season (and maybe an Under 18 invite?), Moran could really elevate his draft status."
– Brock Otten via UltimateHockeyNetwork.com
"He has a very big presence, especially on initial shots. He's very quick for his size and his technical ability is very good. He has strong legs which allow him to push off his post and move laterally very quickly. He plays most of his game in the paint, and with his size you don't see many holes; he gets his body in front of a lot of shots."
– Al Jensen via NHL.com
Where He'll End Up In June:
Moran could very well be drafted in the middle or late stages of the 2014 NHL Entry Draft. He will have to go up against other tall netminders such as Thatcher Demko and Mason McDonald, but there is still a lot about Moran that will intrigue and interest NHL teams.
Statistics:
Bio/Interviews:
International Tournaments:
Was a member of Canada Ontario's U17 WHC-17 team during the 2012-2013 season and also accompanied Team Canada to the WJC-18 in Finland this year.
NHL ETA:
Risk/Reward Analysis:
NHL Potential:
Number one starting goaltender.
Strengths:
Good technical abilities.
Quick lateral movements.
Strong legs.
Overall quickness for a goaltender of his size.
Mobility.
Athleticism.
Relishes pressure-filled situations.
Mental toughness.
Flaws/Aspects He Needs to Work On:
Fantasy Potential:
NHL Comparable:
Tries to mimic Carey Price's demeanor and style of play.
Video:
** THW's The Next Ones prospect profile template design architect: Chris Ralph