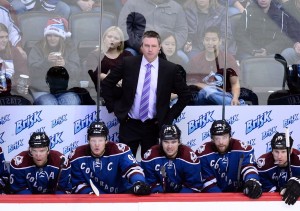 The fans of the Colorado Avalanche have something to be proud of once again. It took some painful years to get back to the wining ways Avalanche fans have enjoyed in the past. Now it's time for this team to be a top dog once again. The Colorado Avalanche went from being worst to first, placing 29th in the league the year before and finishing this year as the Central division champions creating the Colorado Avalanche's evolution back to prominence. Coach Sacco just didn't seem to get through to the players, no solid system, and constantly made questionable decisions regarding the lineups. They were not a fun team to watch under Joe Sacco, something had to change, and fast. From Sacco to Sakic, that says it all really. The changes came quickly indeed. They exceeded all expectations this past season and this Avalanche evolution all started when Joe Sakic took charge as President of Hockey Operations. Sakic's first move could go down as being his best move. Coaching was a top priority coming off their worst ever season in Denver. Joe Sakic had only one man in mind for the job, and that was Hall of Fame goaltender Patrick Roy.
Reunited, and it Feels so Good
Roy, who had been spending the last 8 years or so managing and coaching the Quebec Remparts of the QMJHL, was previously offered the job in 2009 but turned the Avalanche down because he didn't feel he was ready just yet. During his time managing & coaching in the QMJHL, he won the hardest trophy to win in minor league hockey, the Memorial Cup. Roy enjoyed much success in that role for the Quebec Remparts but when Joe Sakic and the Colorado Avalanche came calling a second time, he knew he was ready for the challenge, it was time to come back to Denver and coach the team he played his heart out for.
The combination of Joe Sakic and Patrick Roy was great to see on the ice, having won the Stanley Cup twice together with the Avs and now they're doing something great together off the ice. Roy didn't just want to be the head coach however, he wanted a say in the every day hockey decisions as well. He got his wish, as the Avalanche appointed him as Vice President of Hockey Operations to go along with his head coach duties, a role he knew was capable of, having gone through a similar scenario in Quebec. These two guys are class acts, winners, and above all else, passionate about the game of hockey and bringing the Colorado Avalanche back into Stanley Cup contention.
Proving Everyone Wrong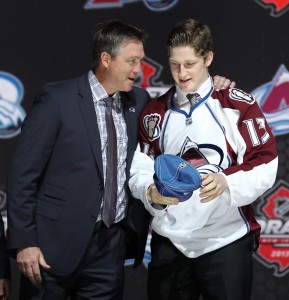 There were of course, many people who doubted Patrick Roy and his ability to not only coach at the NHL level, but also whether or not he could control himself. Add that to the fact everyone was expecting the Avalanche to be bottom feeders once again with or without a good coach. Boy were they ever proved wrong, a lot of so called experts of the game were completely shocked. Not only did the Colorado Avalanche turn things around, they made a complete 180 degree turn for the better. Joe Sakic and Patrick Roy knew they had a very strong core of young players that just needed a change in coaching and culture. They quickly decided to go with the famous "Why Not Us?" mantra, which seemed to bring everyone even closer as a team.
The Colorado Avalanche had something to prove this past season, and as Patrick Roy said "We want to shock the hockey world". With the amount of talent the Avalanche possess throughout their lineup, it surprised me that so many people were surprised to begin with. No doubt winning the lottery and thus being able to draft rookie phenom Nathan MacKinnon first overall definitely helped. A lot of people thought however, that the Avalanche should have picked Seth Jones first overall to help fix their defense, but you don't draft based on need, especially when there is a player of MacKinnon's talent level available. You don't pass on that because your current defense needs help and there happens to be a defender available. Not saying Seth Jones won't be a great player, he probably will be, but I can say that I wanted the Avalanche to pick MacKinnon over anyone else and that is exactly what happened. There is no disputing the pick now. He joined a already solid, young, and promising core of players that ended up finishing as one of the NHL's deadliest offensive groups.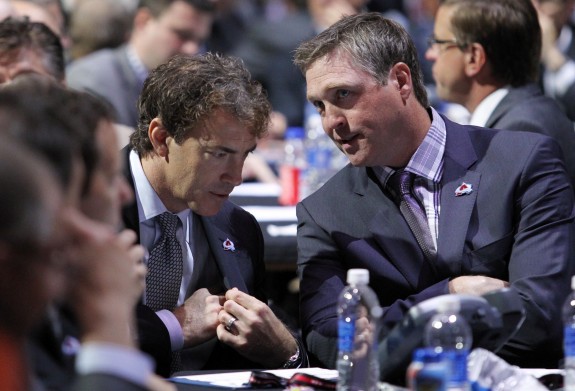 It was a fresh new beginning that was welcomed with open arms by Avalanche fans. It all started with the hiring of Joe Sakic followed by Patrick Roy, and under these guys, the Colorado Avalanche are looking forward to new exciting times. Winning is what it's all about again in the mile high city, restoring faith to Avs fans and players alike. This season served as a huge stepping stone for this young team as well as Joe Sakic and Patrick Roy. They'll need to keep improving now, as the winning culture is back. Everyone will expect it to not only continue, but get better as well. The Avalanche will be looking to make their team better just like the rest of the league so there isn't any time to sit back and be satisfied with what they accomplished, and they won't, that is the beautiful thing about having Joe Sakic along with Patrick Roy running the team. The two of them care about one thing right now, bringing back the winning culture they both experienced while playing together and most of all, getting that Stanley Cup back to Colorado.